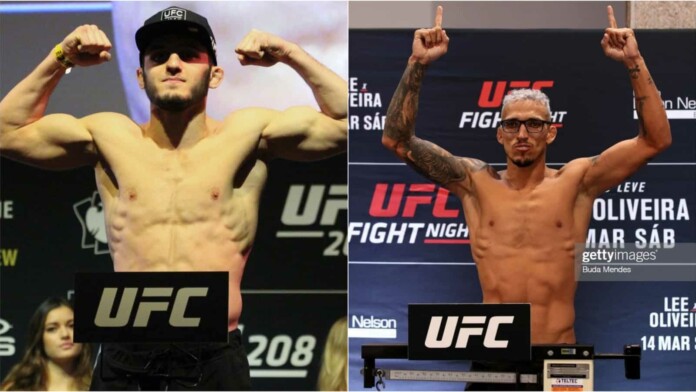 Islam Makhachev has sent out a stern warning to Charles Oliveira that he would soon see him at the top. Oliveira clinched the vacant lightweight title after a wild main event against Michael Chandler at UFC 262. After being battered in the first round by the Bellator Legend, he switched gears in the second round.
Just 19 seconds into the second round, Oliveira knocked Chandler out, with a flurry of punches. 'Do Bronx's joy knew no bounds as he leapt out the cage running in wild excitement. He thereby became the 11th lightweight champion in UFC history. And, the last time a Brazilian won a lightweight title? It was Rafael Dos Anjos in 2015.
'Keep that belt for me' – Islam Makhachev
"Congrats @CharlesDoBronxs keep that belt for me. See you soon," Makhachev tweeted.
Makhachev is currently ranked number 10 in the lightweight rankings, but he has been on an impressive win streak like Oliveira, as well. The Russian is undefeated since 2015, and is on a 7-fight win streak. But his climb to the top of the lightweight rankings has been pretty slow because he doesn't fight that often. 7 fights in almost 6 years, is pretty less.
Oliveira, on the other hand, has just struck gold, he will be looking forward to successfully defending it against the winner of Conor McGregor vs Dustin Poirier, sometime in the coming months.
Islam Makhachev unhappy with top 10 fighters of lightweight division!
Islam Makhachev has been scheduled to fight Thiago Moises on the 17th of July. The Russian was quite unhappy with the opponent, since he is ranked out of the top 15, and none of the top 10 lightweights Makhachev called out responded to him.
However, Makhachev assured that he would put on a show against the Brazilian. He tweeted, "TOP 10 of LW division is a bunch of old ass slick fighters. Not a single one accepted the fight they were offered. NO MATTER WHAT, I'M GONNA KEEP MOVING AND GET THAT BELT SOON, with or without these clowns. See you July 17 @ufc@espnmma."
Also Read : UFC 262 (Main event): Charles Oliveira is the new lightweight champion; knocks out Chandler in round-two
Also Read : UFC 262 (co-main event): Beneil Dariush dominates Tony Ferguson; wins via. unanimous decision