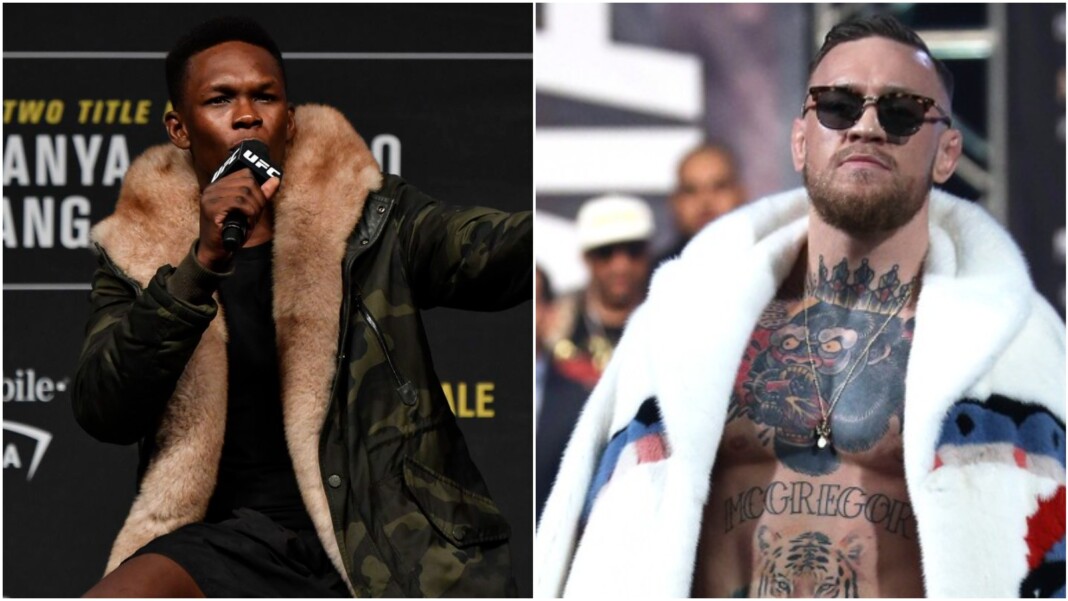 Conor McGregor almost single-handedly turned the UFC into a money-making machine. The Irishman's charisma and personality have been unparalleled, and he has inspired millions and continues to inspire until today. Although, he has looked rusty of late, he is still the biggest superstar in the promotion.
Speaking to his personal videographer Jeff Sainlar on his YouTube channel Jeff Sainlar Visuals, middleweight champion Israel Adesanya explained the inspiration he has drawn from the Irish MMA superstar, Conor McGregor, while also going on to reveal that he had his own consumable brand which was currently under development.
"I see how he hustles" – Israel Adesanya on Conor McGregor
Adesanya was quoted as saying when asked if he had any business plans in mind, "Yep, definitely. I have mine. I'm sure I told you in confidence, but I've figured out my own consumable product. The thing is like, over time it became three different consumable products that will, I feel like, change the marketplace for their fields respectively. [h/t Firstsportz.com]
About McGregor being an inspiration, Adesanya said, "I take inspiration from Conor in that sense. I see how he hustles, I see how he pushes the brand [Proper 12]." [h/t Firstsportz.com]
Adesanya recently defended his title against Marvin Vettori at UFC 263. The king of the middleweight has still not been defeated in the division. He is expected to face his rival, Robert Whittaker in a rematch soon. The pair fought previously in 2019, which saw Adesanya beat Whittaker to become the middleweight champion.
As for Conor McGregor, he is right now in a difficult predicament. The Irishman suffered back-to-back losses for the first time in his MMA career, both against Dustin Poirier. His recent loss to Poirier, also saw his left ankle snap, which resulted in a 6-month medical suspension.
Also Read: Who is Islam Makhachev? How is he related to Khabib Nurmagomedov?
Also Read: Teddy Riner Net Worth: Know all about The French Judoka, Bio, Career achievements, Coach, Parents, and more