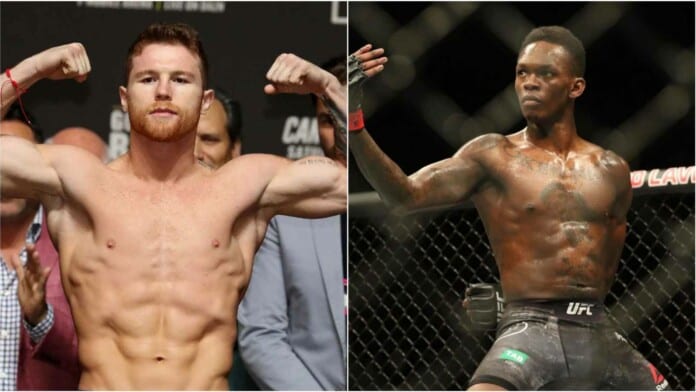 It looks like everyone wants to have a crack at boxing. It all began when a crossover fight was largely popularized by Conor McGregor and Floyd Mayweather in August 2017. Mayweather won the fight via. TKO in the 10th round. It generated huge amounts of cash for both the fighters. Mayweather alone made around $285 million for that fight.
The recent development is that, middleweight champion Israel Adesanya being completely uninterested in a crossover fight has resurfaced again. Speaking to HOT 97 FM's Ergo in the Morning, Israel Adesanya fresh off his victory over Robert Whittaker speaks about the sports of boxing taking away almost everything he had in his arsenal.
Adesanya refers to Canelo Alvarez as the best pound-for-pound boxer in the world, but refuses to acknowledge him as the best fighter in the world.
'I want to strangle someone' – Israel Adesanya
Israel Adesanya was quoted as saying, "This [UFC] is where I'm going to end my career. It's silly. Why would I come to the proving ground of all fighting – the UFC – and then afterwards, fight a guy and take away like 80 percent of my weapons. I just want to kick people. I want to strangle someone. I can't do that in boxing. I don't want to get into the clinch and then okay, break."
He continues, "Same thing with kickboxing, same thing with jiu-jitsu, same thing with judo, same thing with wrestling, they're all limited styles of fighting. Pound for Pound – everyone throws that greatest fighter, Pound for Pound is Canelo [Alvarez]. He's the Pound for Pound maybe greatest boxer right now. Not fighter."
Canelo Alvarez recently beat previously unbeaten Billy Joe Saunders to win the WBO super-middleweight championship. Had he not lost his fight against Floyd Mayweather he would have already been hailed as the GOAT.
Boxing crossover fights are becoming more and more popular!
With the advent of popular YouTubers like Jake Paul, Logan Paul, KSI taking up boxing, crossover fights are becoming more and more popular. Jake Paul is already 3-0 up in his professional boxing career, having defeated the likes of Ben Askren and Nate Robinson.
Paul's brother Logan is set to take on Floyd Mayweather on the 6th of June, in an exhibition match. The ruckus has already began after Jake Paul stole Mayweather's hat during the press conference.
Also Read : Dana White teases a fight between Jon Jones and Stipe Miocic
Also Read : Dana White on his recent meeting with Nick Diaz
Also Read : Anthony Joshua vs Tyson Fury set for August 7th or 14th in Saudi Arabia!