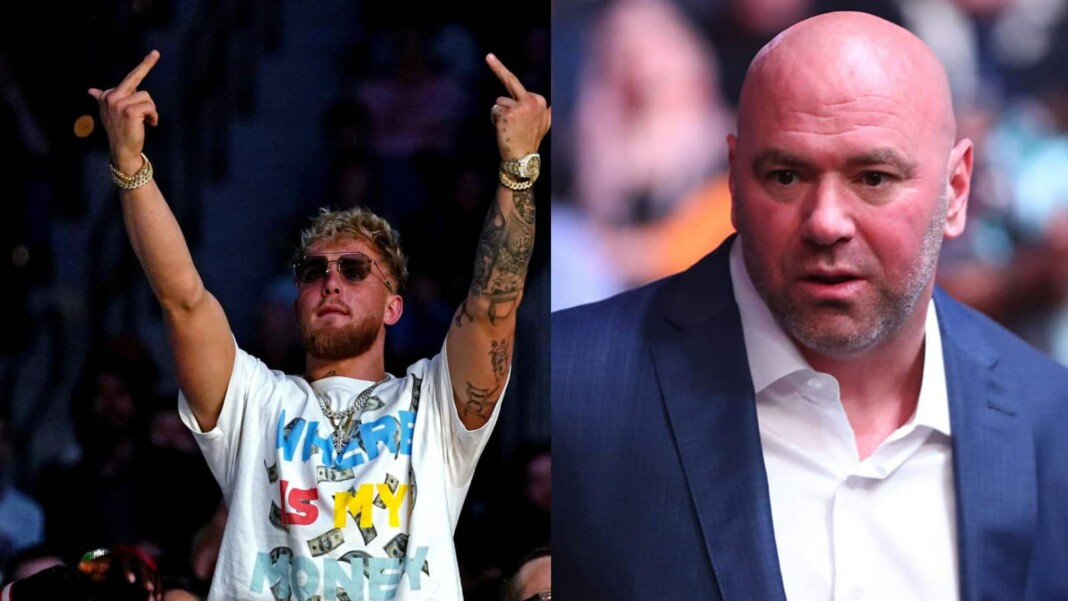 It looks like Jake Paul will not calm down until each and every UFC Fighter get the pay they deserve. The YouTuber-turned-professional boxer has been quite vocal about the UFC paying their fighters less, bringing up the issue whenever he can during press conferences. 'The Problem Child' never fails to lash into UFC President Dana White as well. In fact, not a week goes by without Paul bashing White.
In a recent interview with popular magazine Maxim, Paul drew comparisons from the NBA, NFL and other leagues, referencing a Goldman-Sachs' study of the same. He made it clear that the UFC was a monopoly according to him, since they paid their fighters less despite the sport being a life-threatening one.
"That's a crazy massive difference" – Jake Paul
Jake Paul was quoted as saying, "Recently this study came out from Goldman-Sachs, saying the UFC only pays fighters 10 percent of the UFC's total earnings, whereas in other leagues like the NBA, the NFL, the players get paid 50 percent." [via Maxim]
He continued, "That's a crazy, massive difference. And in the NBA, you're not risking your life. You can die in the ring. That's how I see it. It's so backwards. There's a problem that needs to be fixed here. It's a monopoly that the UFC is running. They basically sign these fighters to career-long contracts, and they have no other choice, and they're just bound to oblige and be a puppet." [via Maxim]
A lot of fighters have also been voicing out their displeasure of late. It will be interesting to see how the fighter-pay issue pans out in the future.
Just a month left for Jake Paul vs Tyron Woodley!
As for Jake Paul, he will be taking on Tyron Woodley on the 29th of August in a professional boxing match. He is coming off a knockout victory over Ben Askren in the first round of their fight, in April, 2021. Paul is currently 3-0 in his pro-boxing career.
Woodley, on the other hand has never professionally boxed before. In fact he will be making his debut against the YouTube star, and will be backing his powerful striking to do the talking.
Also Read: Zhao Shuai Net Worth: Know all about The Chinese Taekwondo practitioner, Bio, Career achievements, Coach, Parents, and more
Also Read: Jang Jun Net Worth: Know all about The South Korean taekwondo practitioner, Bio, Career achievements, Coach, Parents, and more