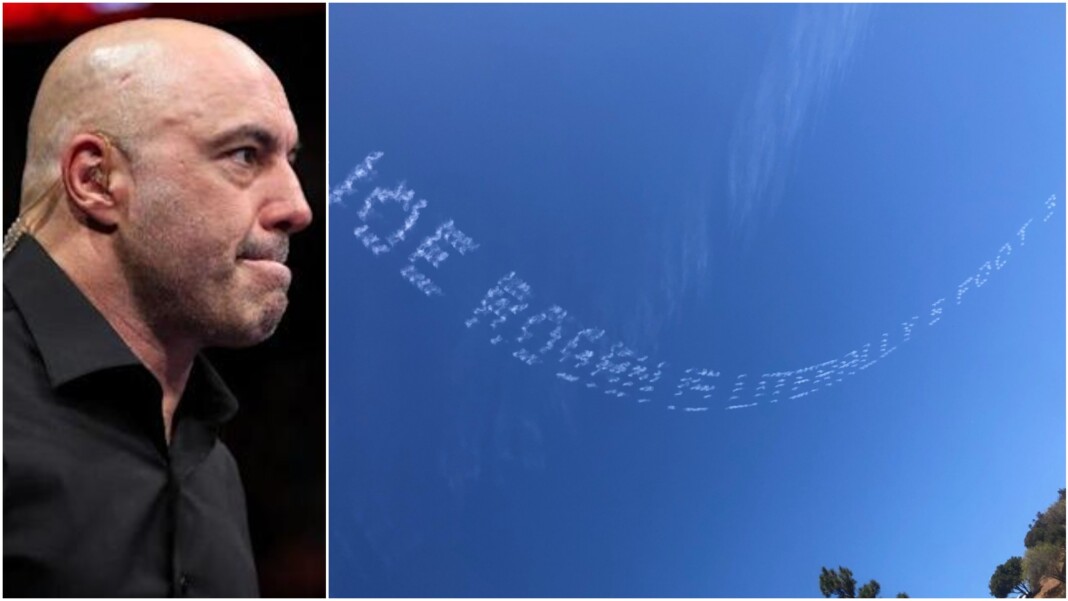 Joe Rogan isn't a tall man. In fact he is nowhere close to even being considered tall. The 5 foot 7 (listed height), UFC commentator and podcast host of the popular Joe Rogan Experience, has been a regular part of the UFC since time immemorial. A martial arts enthusiast himself is a very popular man in American and is one of the most influential comedians in modern history.
Joe Rogan is often trolled for his height, despite having a jacked and well-maintained physique. A majority of Rogan's memes are based on his height. More recently in one of the most expensive trolls ever, a person in Los Angeles hired a pilot to write "Joe Rogan is literally 5 foot 3", on the clear blue sky of LA.
"Congrats Mollie I guess?" – Joe Rogan trolled
The whole troll was basically a proposal, which began with, "Will you marry me Mollie Pratt?",
It then read, "She said yes", "I love you more than anything", "Excited to spend my life with you", "Until death do us apart", "Got one more thing to say".
And finally it read, "Joe Rogan is literally 5 foot 3."
No one knows why poor Rogan was brought into this whole conversation. In fact Rogan himself must be flummoxed, unless and until he really knows who "Mollie Pratt" is. With all said and done, this has to be one of the most expensive and cheeky trolls ever.
Twitter reacts to Joe Rogan being trolled!
The message was all over the LA skies, and a truckload of people posted captures of the same on social media. The bright sunny day proved to be a perfect troll setting.
Rogan is yet to react to this.
Also Read: Demian Maia says he "would be honored to have his last fight against the 'Stockton Slugger' Nate Diaz
Also Read: UFC 263: Leon Edwards beats Nate Diaz via. unanimous decision after late scare from Diaz