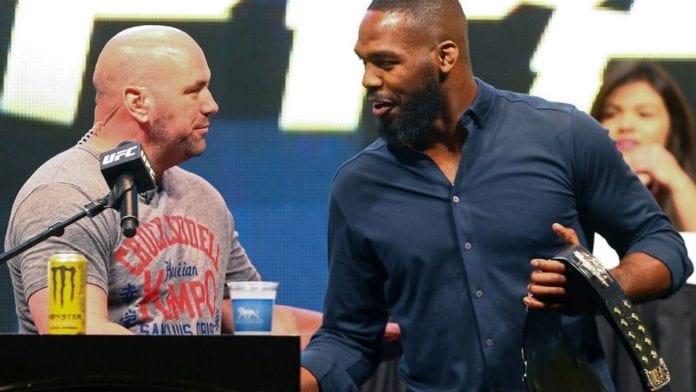 UFC President Dana White has sent a stern message to Jon Jones that he would be going ahead with Stipe Miocic facing the winner of Derrick Lewis vs Francis Ngannou for the heavyweight title. Just two months ago, it looked like Jon Jones was set to face Ngannou on his heavyweight debut. Since Jones asked for a huge paycheck, the fight was handed to Derrick Lewis.
And now, it looks like Jones has let another fight slip through him, after refusing to fight Stipe Miocic on his HW debut. White had recently revealed in an interview that he was looking to set up Jones with Miocic. No sooner the info went to Jones' ears, than he began Tweeting that he wouldn't face someone who is down and out like Stipe, to mark his HW debut.
On hearing this, White has come up with a plan to set up Miocic against the winner of Derrick Lewis vs Francis Ngannou. This puts a further question over Jones' future in the HW division.
'Jon Jones is under contract' – Dana White
Speaking in an interview with SM Radio Network's Jake Asman Show, White said, "Jon Jones is under contract. He has a contract. We have tried to work with him and see if there are things we can do to make him want to fight at heavyweight. But if he doesn't want to fight at heavyweight, he doesn't want to at the end of the day. What are you going to do? You can't make the guy fight." [via MMA Junkie]
He continued, "The reality is Derrick Lewis is really the No. 1 contender for the heavyweight championship right now. It doesn't matter if Jon Jones wants to fight or doesn't want to fight. Well, Jon Jones made it very clear that he has no interest in fighting Stipe, so it doesn't really matter. What you do is you do the fight with Derrick Lewis and Francis and then Stipe gets the winner." [via MMA Junkie]
It looks like Jon Jones has been caught up in a Catch-22, he will have to make a decision fast, or else he will be letting fights slip on and on. Or maybe, he could wait for the dust to settle – once Miocic is done fighting Derrick Lewis or Francis Ngannou for the title.
How do you think Jon Jones' heavyweight future is going to pan out in the UFC?
Also Read : Beneil Dariush initially misses weight by 0.5 lbs at UFC 262 weigh-ins; weighs in successfully in the third attempt
Also Read : Tyron Woodley lashes out at 'Culture Vulture' Jake Paul; Says he is ready to fight the 'Problem Child' "right now"!