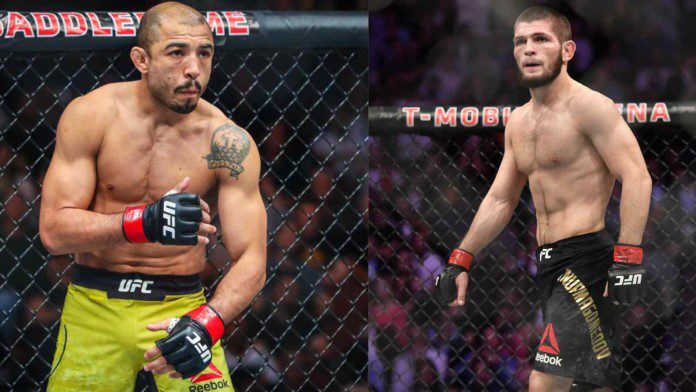 The MMA world almost breaks out into a war while arguing who the greater MMA fighter is. Khabib Nurmagomedov and Jose Aldo have led a lot of breakups in friendships over arguments on who the GOAT is.
Khabib Nurmagomedov and Jose Aldo are both two of the dominant and iconic fighters to ever grace the UFC octagon. The two fighters have careers that many could only dream of. The debate of who is greater on the GOAT ranking is always a never-ending one but YouTube MMA analyst, TheWeasle has tried his best to end the debate with his recent breakdown video.
When it comes to determining who is greater, it is only right if the criteria for greatness are discussed at first. It is widely accepted by MMA fans all over the world that title accolades, title fights, title fights, and longevity are some of the main factors to look at before calling someone the GOAT. While both Khabib and Aldo top the charts in most of the criteria, the Brazilian gets the better of Nurmagomedov.
Jose has a record of 31-7-0 in his professional career and is still fighting while the fighter Dagestan retired with a clean, undefeated record of 29-0-0 in his professional career. Khabib retired in the year 2020 when he was arguably in his prime.
"Jose Aldo was three times the champion Khabib was"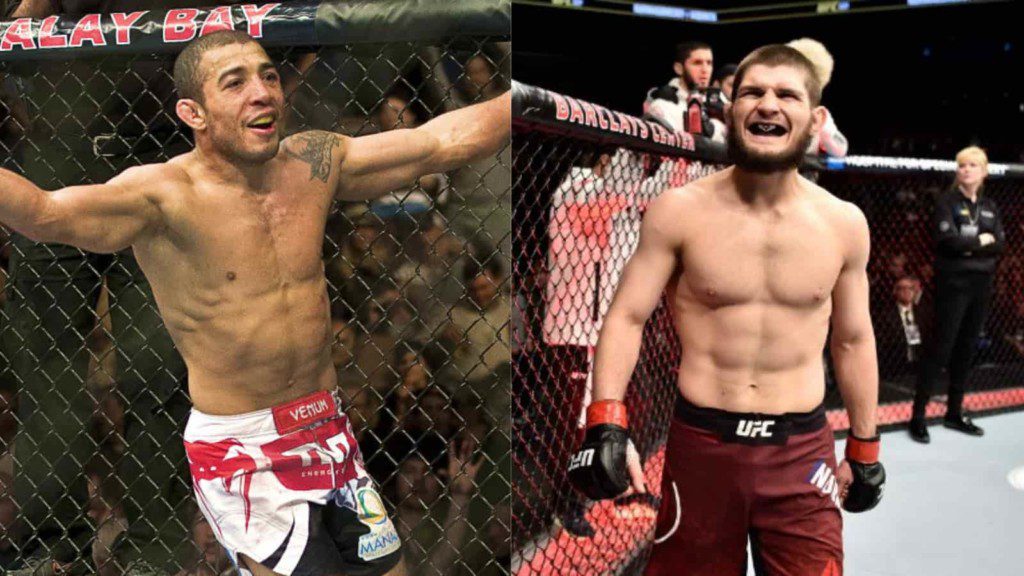 In the video, the analyst breakdown both the legends' careers and shows how Aldo is better. When it comes to longevity, Aldo fought in the UFC/WEC for almost 13.5 years and had a total of 27 fights. While Nurmagomedov fought in the UFC for 9 years and had only 13 fights. It is also worth mentioning that Jose was the champion for 8 years while Khabib only 2.5 years.
Talking about title accolades, Aldo has a total of 11 title wins and 9 title defenses. Aldo is now fighting at the top of the bantamweight division aiming to become the champion. Meanwhile, Khabib has only four wins and three title defenses in his career in the UFC. Though Khabib was significantly more dominant against his opponents in fights, it does not stand well against the level of competition Aldo has had to go through.
TheWeasle makes a great point in his video which is worth taking into consideration. Jose Aldo had to go through different generations of fighters. From fighting against guys like Mendes, Faber, Korean Zombie, to fighting against Conor, Max Holloway, and Alexander Volkanovski, Aldo tested himself in all possible ways. While Khabib did not fight all the top guys in the lightweight division.
What is your opinion on this debate? Who do you think ranks higher in the list of all-time greats?
Also read "There's no way Aldo is having a second peak," Khabib Nurmagomedov isn't buying Jose Aldo is having second prime