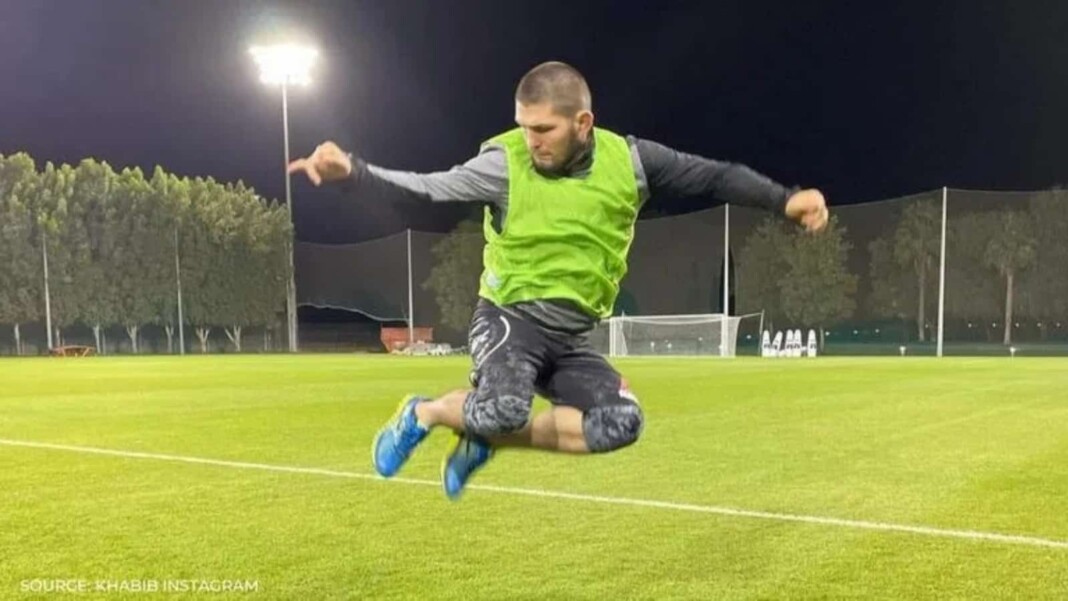 Khabib Nurmagomedov might be on his way to becoming a footballer soon. The whole world knows about the UFC legend's love for the 'Beautiful Game'. From time to time, The Dagestani shares videos of himself and his friends playing football. And going by the videos he posts, Khabib does seem like he would be a decent footballer.
A couple of weeks ago, Khabib posted a video on Instagram which showed him scoring a stunning goal, pretty similar to the way the Brazilian legend, Ronaldo Nazario, scores. After scoring the goal, 'The Eagle' also performed Ronaldo's finger-wagging celebration.
Ronaldo then responded to his video with applause in the comments section. Khabib Nurmagomedov had also tagged FC Legion Makhachkala which plays football in the Russian third division.
'We hope that the signing will take place'
Following Khabib's post, Legion Makhachkala's assistant manager Akhmad Magomedkamilov said: "We offered a contract to Khabib and we are waiting for his answer. We hope that the signing will take place. We did what Santiago Bernabeu, the late president of Real Madrid, did in due course. When he saw Lev Yashin, he gave him a check and told him to enter any amount in it. Khabib and I did the same. The main thing for him is to come to play. Now we are waiting for the answer."
Khabib has always expressed his desire to play football professionally someday. He might do so in the coming years if he accepts this offer and builds on from there.
Khabib Nurmagomedov claims football is his "first love"
In a recent Q&A on his Facebook page, Khabib claimed that he loved football more than any other sport, in fact even more than MMA. He also went on to say that, he would accept an offer, if it enticed him.
Khabib was quoted as saying, "A lot of football clubs, they offer me [a contract]. But I have to, a little bit, get in football shape. Because football shape is a little bit different than MMA [shape]. When you have to fight in MMA and you have to play football, this is two different [things]. But I don't know. If some clubs offer me [a deal] and they make me an interesting [offer], I'm going to accept this…This is my childhood dream…I love football…this is my first love." [h/t firstsportz]
Also Read: Demian Maia says he "would be honored to have his last fight against the 'Stockton Slugger' Nate Diaz
Also Read: UFC 263: Leon Edwards beats Nate Diaz via. unanimous decision after late scare from Diaz