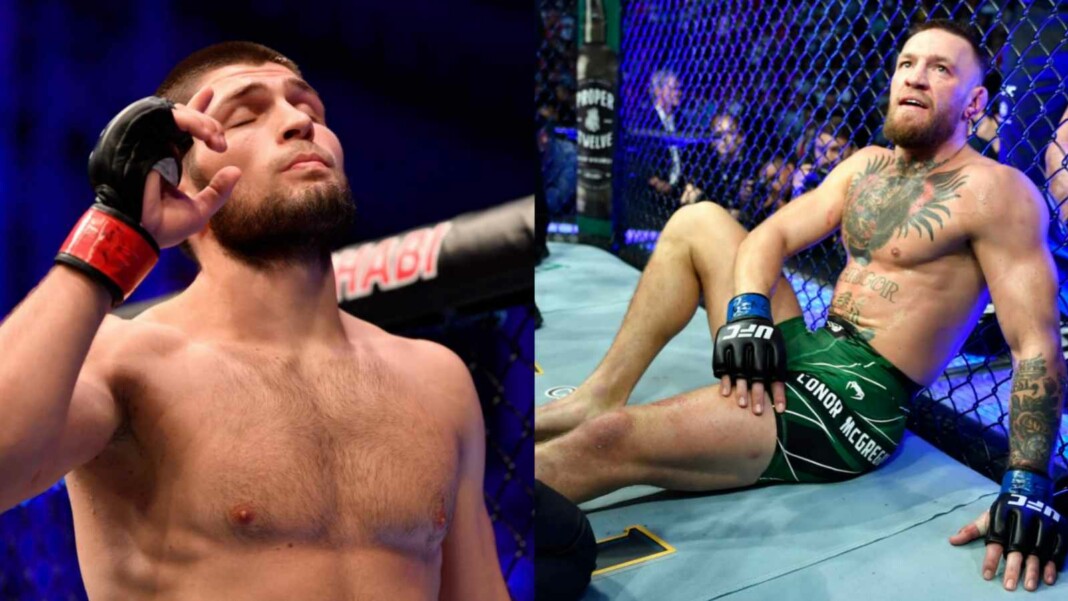 Khabib Nurmagomedov wasn't impressed with the 'Conor McGregor' that turned up at the recently concluded UFC 264. The Irishman lost the fight to Dustin Poirier via. TKO due to a doctor stoppage after he broke his left ankle at the end of the first round. After a brief check from the officials, Poirier was awarded the fight.
In a recent interview with Brett Okamoto of ESPN, McGregor's famous nemesis Khabib Nurmagomedov provided his honest verdict on the McGregor-Poirier trilogy fight. He claimed that this version of Conor McGregor would be beaten by Poirier, even if it fought more than 100 times.
'He's good for promotion' – Khabib Nurmagomedov on Conor McGregor
Khabib was quoted as saying, "He have chance like second fight in Abu Dhabi. Nothing happened. What was going to happen? Judges give for Dustin Poirier like 10-8. He like maul him on this [first] round. I think if they fight 100 times, Dustin beats him 100 times." [via MMA Fighting]
He then went on to say that McGregor was finished. He said, "Without broken legs, yes, [he could be the same]. But with broken legs, he's never going to kick the same. With him, no, I don't believe [he'll return to the top]. Conor have good age [32], but what happened with his mind, legs — this guy is finished, but he's good for promotion." [via MMA Fighting]
McGregor and Khabib fought at UFC 229, in a match that featured one of the nastiest, if not the nastiest post-fight brawl in history of combat sports. Khabib won the fight via. submission in the fourth round, following which all hell broke loose.
While Khabib retired two years later, after beating Dustin Poirier and Justin Gaethje following his victory over McGregor, McGregor went on to fight thrice, winning once and losing twice.
Also Read: Watch video: Conor McGregor breaks his ankle against Dustin Poirier at UFC 264
Also Read: UFC 264 (main event): Dustin Poirier beats Conor McGregor as 'The Irishman' breaks his leg; doctor stoppage victory