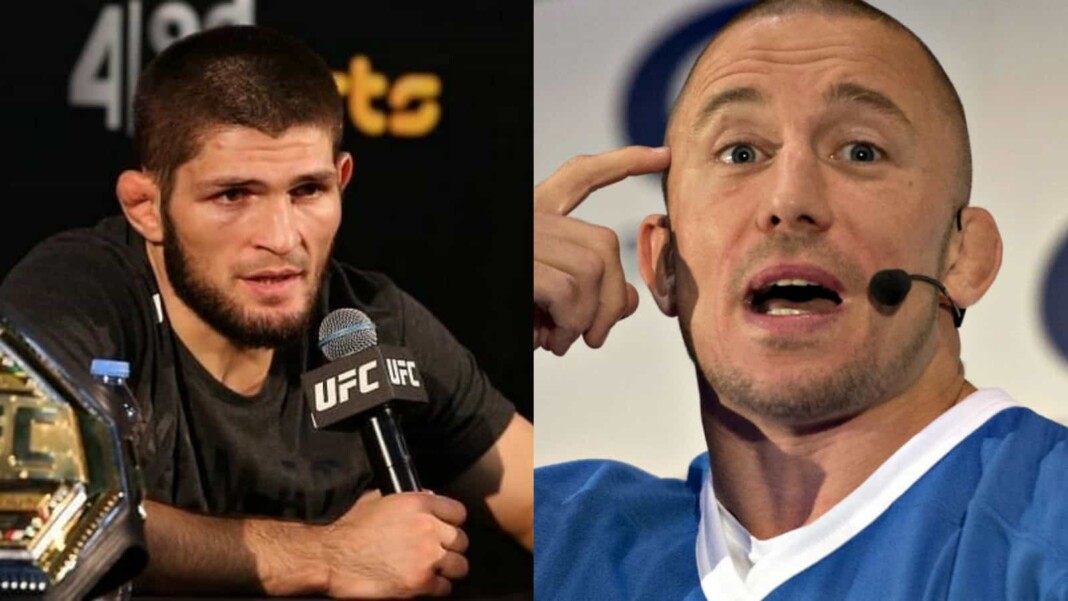 Khabib Nurmagomedov announced his retirement way back in October 2020. This decision came after his father passed away due to the Coronavirus, and his mother asked him to not compete without his father in his corner.
Dana White was pretty confident that he would convince Khabib to come back and he's still trying, Dana never misses the opportunity to have this conversation with Khabib but the end result remains the same. One of the most anticipated fights was Khabib vs Georges St-Pierre, even Khabib revealed that this was his father's dream fight.
Recently Khabib's manager Ali Abdelaziz talked about this fight on Mike Tyson's podcast, he said that Dana presented an extremely lucrative offer to fight St-Pierre, but Khabib turned it down.
Now in an interview with MMA Junkie, Khabib accepted the fact that this instance did happen, he said, "He sent me a message and said, 'Hey, Georges St-Pierre wants to fight with you. 'What can I do?' I don't know. I'm finished, you know? I think Georges is finished, too, you know. Let this guy be a legend. He's 40 years old and I don't understand why he has to fight. I think he has money, too. I'm finished. I'm really finished."
"People are going to talk about this maybe the next seven eight years," Khabib Nurmagomedov thinks people aren't going to let this one go
No other fighter has been as dominant as Khabib, even in his last fight against Justin Gaethje he went through so much, and still came out as dominant as ever. Khabib believes that people will never stop asking him to fight again,
"I'm only 32 years old," Nurmagomedov said. "People are going to talk about this (for) maybe the next seven (or) eight years. Because for MMA, a lot of guys on the top are 37, 38, 39. They're still on the top. People are going to talk about this until that day comes I think."
Also read: Khabib Nurmagomedov named best MMA fighter at ESPN's ESPY awards