Retired undefeated mixed martial artist and former UFC lightweight champion Khabib Nurmagomedov will not only do anything as a coach to make his trainee and former teammate Islam Makhachev a better fighter, but will also exceed his responsibilities as a promoter for Russian MMA. In this case, making sure Makhachev gets the title shot he deserves after his first-round win over lightweight Dan Hooker last month at UFC 267.
Khabib retired from MMA as UFC's lightweight champion last year after amassing a record of 29 wins and no losses. This meant that Khabib's belt was relinquished and up for grabs for the newly crowned champion. At UFC 262, Charles Oliveira defeated Michael Chandler to become the new UFC Lightweight Champion. Since then, Oliveira has to defend his title for the first time in December against former interim lightweight champion Dustin Poirier.
Now amongst people who are next in line to get a title shot, we have Islam Makhachev, Khabib's protege who just came off a first-round submission win over the then #5 ranked lightweight in Dan Hooker and is now #4 himself. Also, former UFC interim-lightweight champion Justin Gaethje came off a unanimous decision win in a fight of the year candidate against Michael Chandler, making a spectacular return after a year lay-off.
Khabib Nurmagomedov goes off on former rival Tony Ferguson after the latter calls out Islam Makhachev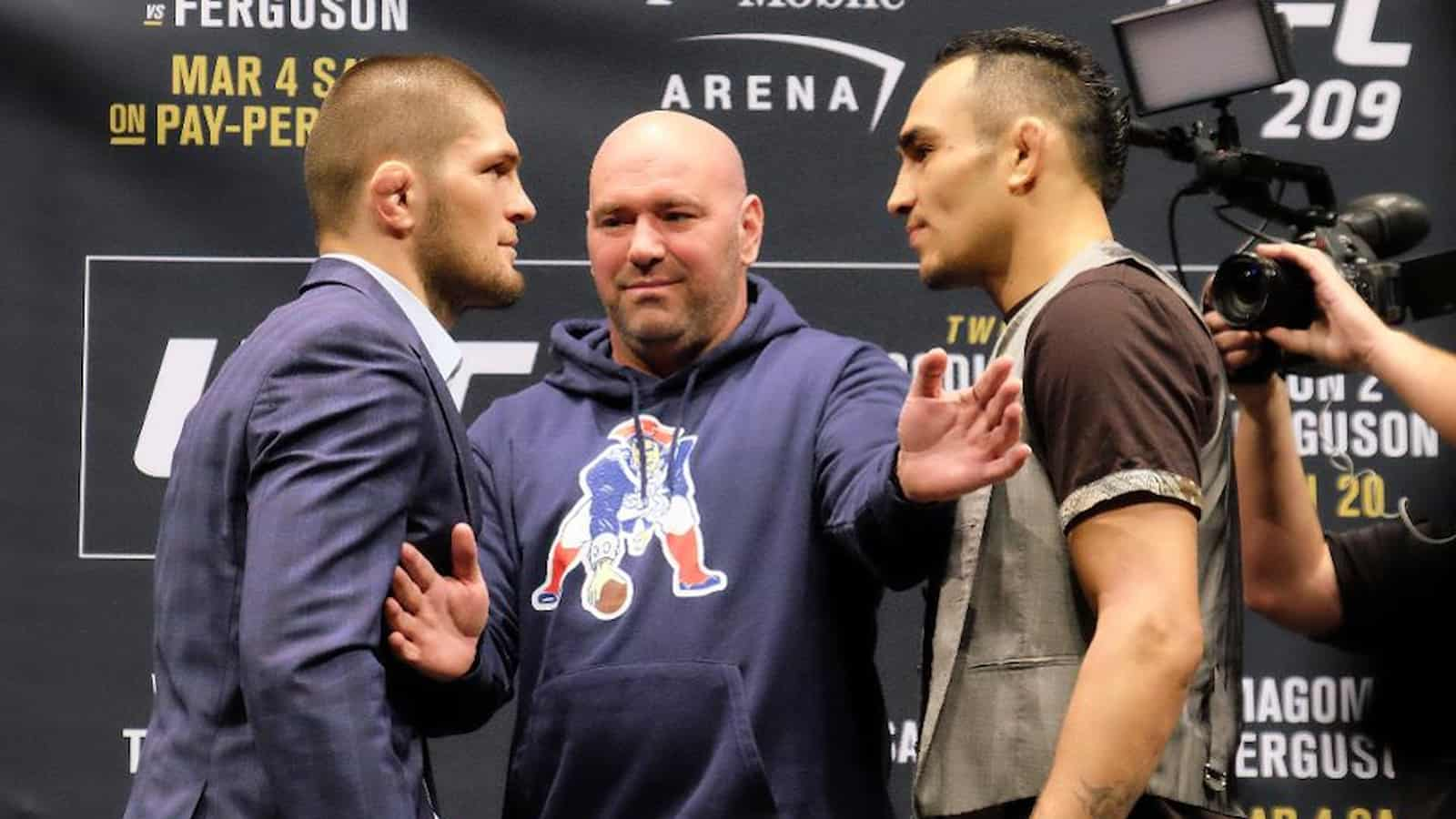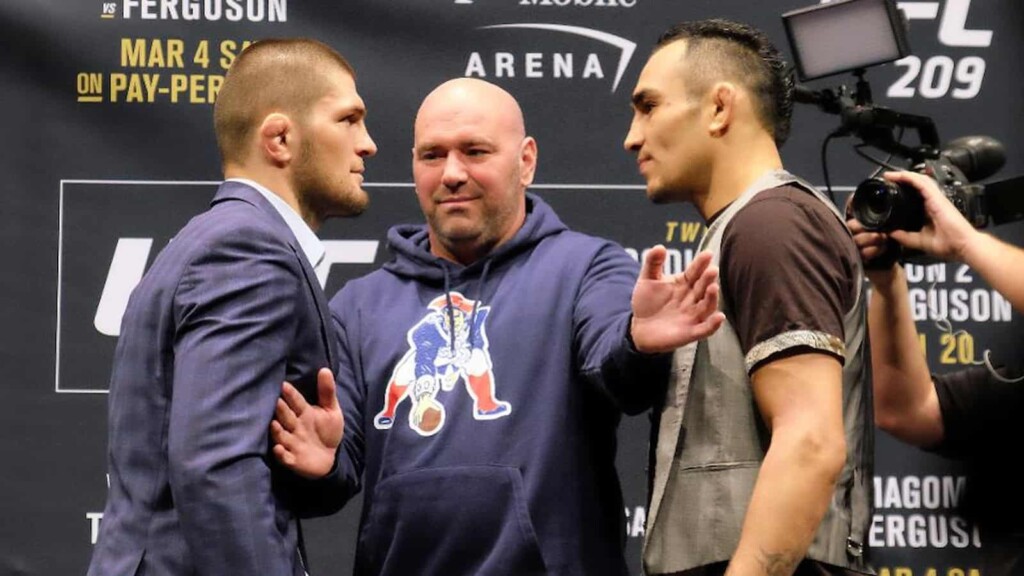 Tony Ferguson and Khabib were scheduled to fight each other a shocking 5 times, but the fight had to be called off each time for one or the other reason. The last time this fight was booked was in mid-April of 2020 but the fight had to be called off due to pandemic and Khabib was stuck in Russia, after which, Gaethje filled in the shoes for him against Ferguson.
Tony then had his hopes to fight Islam Makhachev sometime soon, but the fight never came to fruition. Because of this, Islam's manager Ali Abdelaziz and Tony went back and forth on Twitter based on what happened to the negotiations for the fight. Ferguson also had some things to say for Khabib midway.
"Listen You Fat Phuck @TeamKhabib Last Time I Saw You, Ya Ran Off To A Different Country Like A Little Bitch To Avoid Our Title Fight. The Time Before That Ya Faked A Stomach Ache To Get Out Of Our Title Fight. Shut Cha'Trap. Leave The Man Shit To The Ones On The Front Line" Tony tweeted.
Now, Khabib took to Twitter, to address Tony Ferguson about some harsh "facts" that Khabib believes doesn't allow Tony to fight Islam Makhachev or even fight for the title anytime soon.
Khabib tweeted "For the last three years Tony Ferguson you never won a single round in the @ufc some of the rounds you lost 10:8. Since 2015 you won only one fighter from top 15. Tony, it's a clear picture here, I'm not gonna go low and personal, not gonna insult you. It's just facts."
What do you think about this tweet Khabib put out to silence Tony? Do you believe these "facts" stated by Khabib to be true? This rivalry between Khabib and Tony was put to rest a long ago when it was sadly accepted this fight was not going to happen ever, now they fight through Islam Makhachev, it's safe to say the rivalry would've been resolved had the fight happened between Khabib and Tony. But it seems like we are nowhere close to seeing the end till the wheels go off in their old age.
Also Read: Former 2 division champ Conor McGregor calls out current UFC Champion for an interesting challenge; offers to host opponent's team in Ireland