The main card of UFC 269 took a major blow when the former two times UFC Welterweight title challenger, Jorge Masvidal was ruled out of his highly anticipated fight against Leon Edwards due to an undisclosed injury. Apart from the two title fights, the fans were waiting really excited to see Masvidal and Edwards setting their beef.
But as soon as the news of Masvidal pulling out from the fight came out, many UFC fighters volunteered to replace him. Khamzat Chimaev, Gilbert Burns, Belal Muhammad, and even Nick Diaz were the stars who are ready to throw down against 'Rocky' at UFC 269.
Chimaev was one of the most prominent fighters in this lineup because his fight was booked against Leon Edwards in 2020 for three different times. But this fight never happened due to COVID-19 related issues with both fighters. Khamzat Chimaev was the first one to respond and he was even ready to jump into the next plan and accept the fight.
Although, no word is released from the UFC's side that Leon Edwards is going to fight someone else on the same card or he is going to get a new date for his next fight. Still, one of the most interesting call-outs came to him from the UFC veteran and one of the biggest names in the promotion, Nick Diaz.
Diaz made his return inside the Octagon at UFC 266 and faced a defeat against Robbie Lawler. But it looks like he is ready to grab the limelight again, by replying to Brett Okamoto's Instagram post, Diaz says, "Put me in."
Khamzat Chimaev mocks Nick Diaz, asks Nate Diaz to face him instead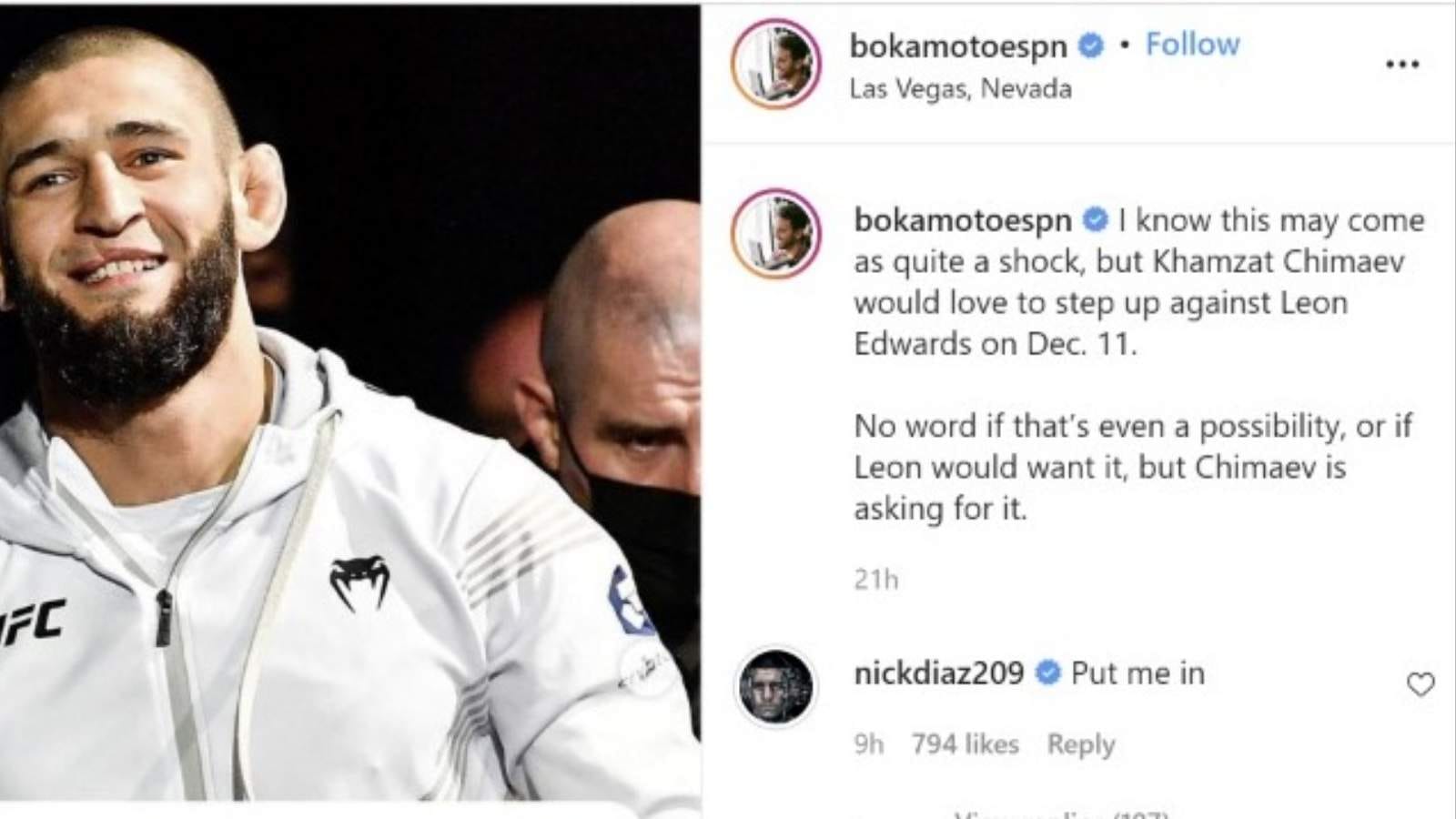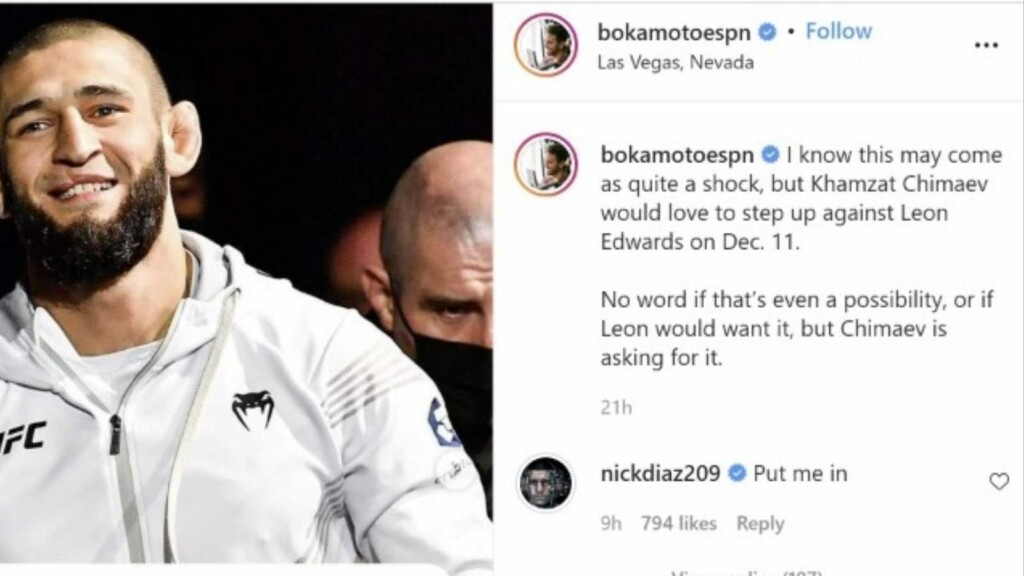 The number 10th ranked UFC Welterweight fighter, Khamzat Chimaev called out Nate Diaz after his dominating win over Li Jingliang at UFC 267 in the post-fight press conference. But Diaz wasn't interested in fighting him, as he wasn't impressed by Khamzat.
After Kamaru Usman defended his title against Colby Covington at UFC 269, Nate Diaz asked Khamzat to defeat Usman first then he will be entitled to face him. But the 'Borz' also knows to play this game of trash talk, so he took a dig at Nick Diaz, with his tweet which says,
"You're too old for this sh*t bro Nick Diaz, let me fight your brother Nate Diaz," Diaz hasn't replied to this until now. It is going to be interesting to see, how Nate Diaz is going to reply to Khamzat for insulting his brother.
Also Read: "Put me in," Nick Diaz throws his name in the mix against Leon Edwards as Masvidal pull out due to an unexpected injury.