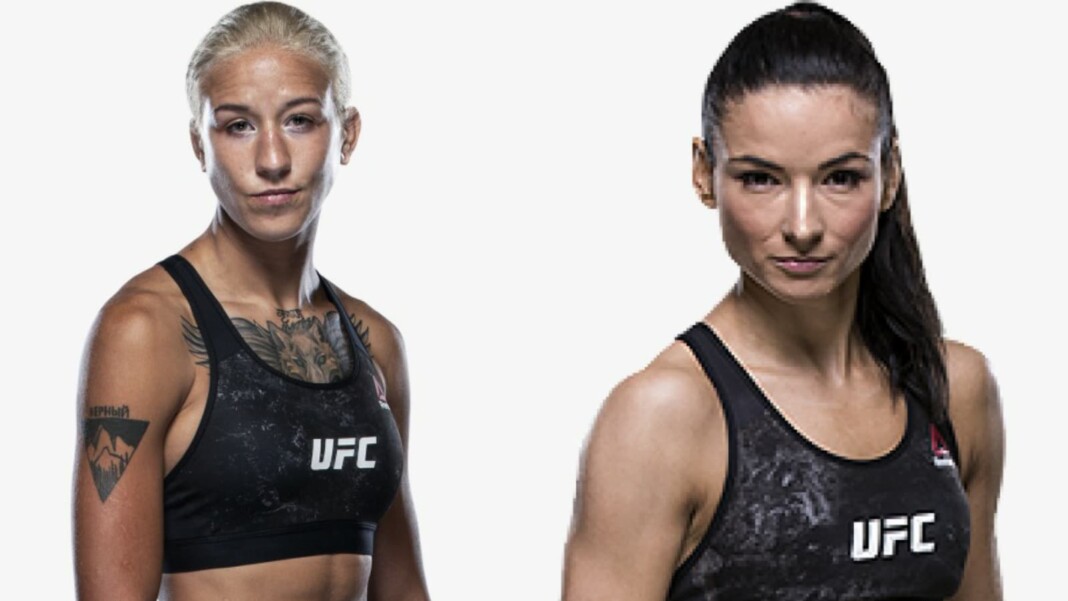 Mariya Agapova is at the top of the world with her unexpected submission win over her opponent Sabina Mazo at UFC Vegas 39. However, she will catch more attention as soon as the fans know that we have a potential rivalry at flyweight division as Agapova attempts to brutally expose her former teammate Maryna Moroz.
This comes from the post-fight interview backstage recorded by MMA Junkie and other sports media. Agapova, a Kazakh fighter, and Moroz, a Ukrainian fighter, used to train together at American Top Team. Just as recently as this fight, Agapova has changed her training center and since then, she claims that Moroz has been nothing but a menace to her life for Moroz has been using false claims to defame Agapova as per Agapova herself.
Mariya Agapova's harsh take on Maryna Moroz
"She's jealous, and she's sneaky," says Agapova "Like she is trying to destroy my career. I lost sponsorship because of her interview and got in a big trouble situation and I would like to punish this bi**h because she is trying to destroy my career, I wanna smash her." Agapova continues to talk about her being a former teammate with Moroz and her reason to change the gym. "Yes we were teammates then I left and she started lying and talking sh*t about me. I left not because I was threatening someone with a knife, I left because I had an argument with some guy and yeah, she's a liar" says Agapova.
"She also cheated on my manager with money. My manager Alex (Davis) is a super good person and a nice guy… she [Moroz] f**ked him up." Agapova has fought all these claims she's reacting through her manager Alex Davis when she was accused by Moroz being kicked out of the American Top Team because of drug use and stalking back in July, Alex responded to all this on behalf of Agapova through a statement given to MMA Fighting.
"Mariya went through some difficult moments," Davis explained. "She was all alone [in the United States], but now she's been through therapy, she's much better and she's already training for a fight. It had nothing to do with drugs. Absolutely nothing."This is Mariya's private life that we're not going to make an issue to make her private life public. She came to the states from Kazakhstan, she went through some difficult moments, she had some crises, she got therapy, she's doing very, very well now. She's already training for a fight. There are no drugs. It has nothing to do with it."
It's unfortunate if an athlete encounters drugs in their life, but Mariya Agapova, irrespective of the validity of the claims by Moroz, seems to be in a much better position in her life now beyond the octagon, and we wish her prosperity with the new gym for training and changed style of preparation. This rivalry though seems to have traces of teammates turned rivals Jorge Masvidal and Colby Covington.
Also Read: UFC Vegas 39: Marina Rodriguez def Mackenzie Dern via UD with a dominating performance