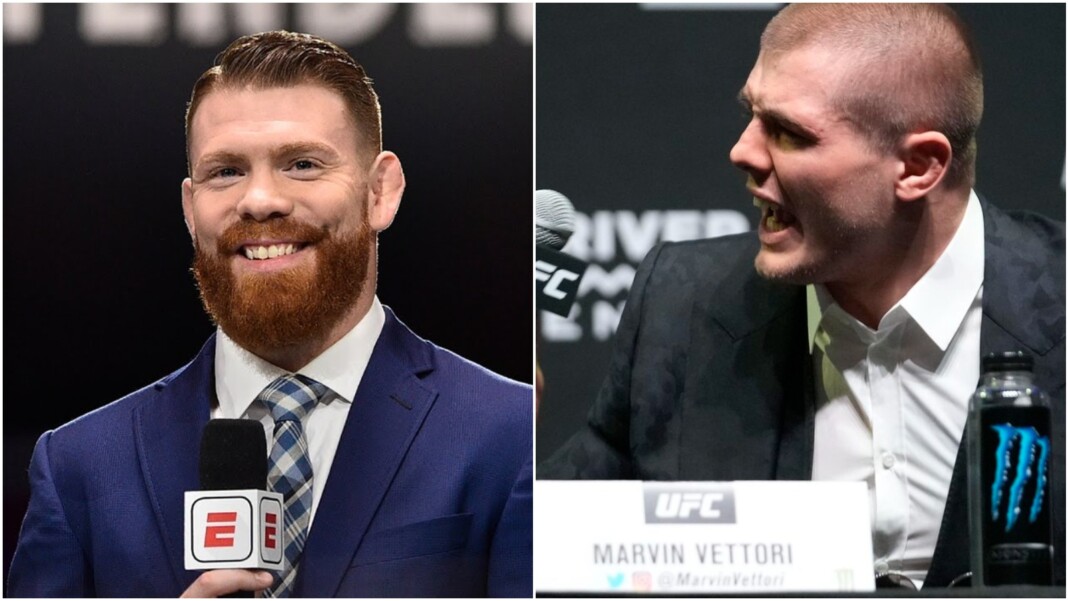 Marvin Vettori was critical of Paul Felder's commentary. Commentators in any sport, often come under fire for expressing their opinions. Though there is considerable freedom given to them, things have been tough of late with the Internet predators waiting to pounce on them anytime. UFC commentators are no different.
Paul Felder, former UFC lightweight, who announced his retirement on the 22nd of May, 2021, has been criticized by number 5 ranked UFC middleweight Marvin Vettori. In a recent interview with MMA Fighting, 'The Italian Dream' fired shots at the 'Irish Dragon', accusing him of biased commentary.
Calling Felder a puppet, Vettori said that no commentator must unfairly criticize fighters who put their heart and soul, week in and week out. He is also looking forward to catching up with Felder during UFC Fight Night in Las Vegas next week.
"We put our heart and soul out there" – Marvin Vettori on Paul Felder
Vettori was quoted as saying, "Sometimes I feel like commentators, they just try to bias the public and whoever watched the fight cause they have that power sometimes and it's wrong. We put our heart and soul out there and even him being a fighter and even him talking to the fighters before they fight, he should know better. Sometimes, I don't know what goes on but I just feel like him in particular, he's a puppet." [via. the MAC Life]
Felder has been a part of the UFC commentary panel for a couple of years now. Usually calling things live during Fight Nights, he also occasionally features in the PPV events. Having recently retired from the sport, Felder recently hinted that he might make a comeback.
As for Vettori, he is a few days away from his fight against number 2 ranked middleweight Paulo Costa. Both Costa and Vettori are coming off losses against Israel Adesanya at UFC 253 and UFC 263. A win here for either one of them, would do a world of good.
Also Read: "Please send the address" – Junior dos Santos calls out 'The Tribal Chief' Roman Reigns
Also Read: WATCH: Stadium stand collapses as Vitesse Arnhem fans celebrate victory