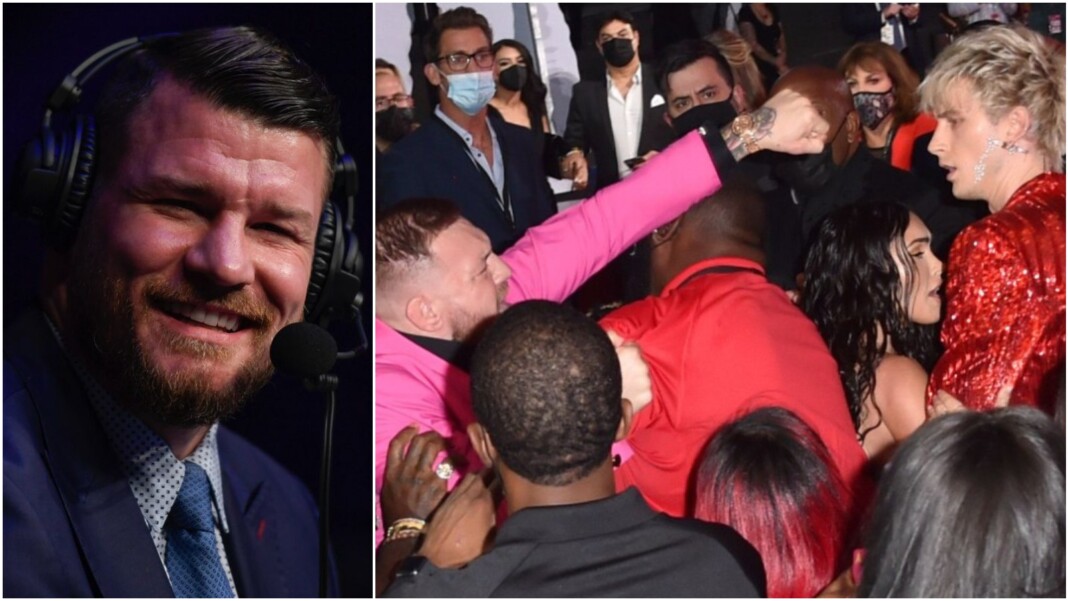 Michael Bisping weighed in on the recent nasty run-in Conor McGregor had with rapper Machine Gun Kelly at the VMAs. The Irishman and MGK almost came to blows, during the awards show, with McGregor also throwing a drink at the rapper. McGregor later revealed that he didn't even know who Machine Gun Kelly was, and that he knew only his partner Megan Fox.
It is not exactly known what caused the fight, with many outlets reporting that Conor McGregor had approached MGK for a picture (with some reporting that the Irishman approached Megan Fox). MGK is believed to have not obliged the Irishman's request, which possibly sparked the outrage.
In a recent Instagram Live session with his son Callum Bisping on Fight Club Instagram, Michael Bisping hit out at McGregor for approaching MGK for a picture.
"Machine Gun Kelly's securtiy king of shoved Conor McGregor away" – Michael Bisping
"I'm having my cup of coffee, I saw it last night. when I went to bed. I'm having my coffee this morning, I'm looking around and I'm scrolling and I saw, I forgot what website it was and they added an eyewitness. Now you never know, maybe the eyewitness is full of sh*t.
"The eyewitness account that I read said that he went up to Machine Gun Kelly, I feel like an idiot even saying that sentence… He went up and said (In Conor's accent), 'Hey Machine Gun Kelly, how are you there? Hey, how about you there Machine Gun Kelly.'
"So he went up and tried to get a picture apparently and his security, Kelly's security kind of shoved him away. And that's when Conor sh*t the bed. Who in the right mind, what self-respecting man asks Machine Gun Kelly for a picture? That's what I wanna know." [via Firstsportz.com]
McGregor is currently recovering from the ankle injury he suffered following his defeat to Dustin Poirier at UFC 264. He underwent surgery the next day (after the fight). He was also slapped with a medical suspension for six months, meaning he would be available only from the second week of January.
Also Read: UFC Vegas 36: Alex Morono beats David Zawada via. unanimous decision
Also Read: UFC Vegas 36: Paddy Pimblett destroys Luigi Vendramini on debut