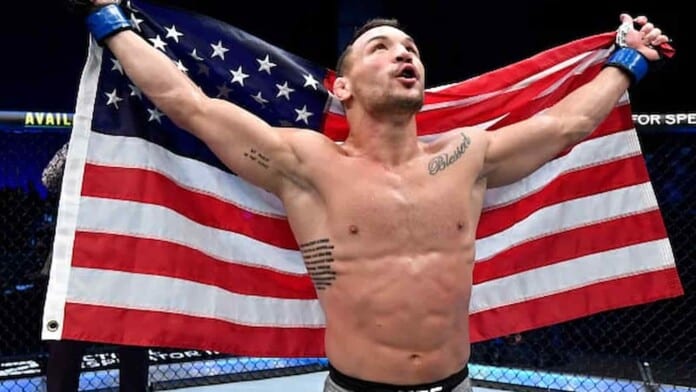 Michael Chandler made a statement at UFC 257, after knocking out the seasoned Dan Hooker on his UFC debut. The Bellator Legend quickly burst into the top 5 of the lightweight rankings, with that victory. And now, he is set to fight for the vacant lightweight title at UFC 262.
Chandler will be taking on Charles Oliveira, who is also on his first ever lightweight title challenge. The pre-fight press conference just concluded, and Chandler spoke about how life has become even better after making his UFC debut, and starting it off with a bang.
Marc Raimondi from ESPN asked Chandler how life has changed since moving to the UFC. Chandler stated that he has bigger responsibilities now, but assured that he was just getting started now and will have another two or more years at the top.
'Life has changed in a lot of ways' – Michael Chandler
Chandler was quoted as saying, "Life has changed in a lot of ways. A bigger spotlight, a bigger platform, a bigger opportunity. And now getting this title shot…Just blessed to be in this position. I feel great about it. I feel like I'm just now scratching the surface, I feel like I've got another couple of years of having blast, right here in the UFC." [H/T FirstSportz]
If Chandler stops Oliveira, he might bring a lot of laurels to his previous organization – Bellator. The American is known for his explosive fighting style which was evident against Dan Hooker. Whereas, Oliveira on the other hand, is a huge ground-game specialist. Chandler also acknowledged at the press conference that he would be the toughest wrestler that he would have ever fought.
The winner of the fight is expected to defend their title against the winner of Conor McGregor and Dustin Poirier. Who have you got this Saturday?
Also Read : Tony Ferguson mocks Michael Chandler at the UFC 262 pre-fight press conference
Also Read : Dana White on his recent meeting with Nick Diaz
Also Read : Anthony Joshua vs Tyson Fury set for August 7th or 14th in Saudi Arabia!