The UFC women's Bantamweight fighter, Aspen Ladd had a terrible weight cut before her fight against Macy Chiasson at UFC Vegas 39. Ladd was shaking on the scale and she almost got fainted, after this incident the former UFC women's Bantamweight champion, Miesha Tate accused her of cheating on the scale.
After Aspen Ladd missed weight, Tate fired shots at her with a tweet that says, "It's one thing to miss weight, it's another thing to try and cheat the scale and use every excuse in the book to not weigh in properly. Everyone saw you cheat and still came in a lb over. I bet you were every bit of 139."
She further added, "She was acting like she couldn't put both of her hands up in the air w/out shaking violently (making it impossible to get an accurate weight) even though she had been standing just fine on there prior. She needed 2 hold the inside of the curtain rods in hopes of taking lbs off."
Following all this Ladd was offered a short notice fight against Norma Dumont in the main event of UFC Vegas 40 after Holly Holm pulled out from this fight due to an injury and talking about Miesha Tate's comment in the UFC Vegas 40 pre-fight press conference, Ladd says,
"I respect Miesha very much as a fighter, she is probably one of the biggest names of women's MMA besides Ronda Rousey and Cris Cyborg. There's a thing when somebody else is going through something unpleasant, I would rather never comment on it, like Miesha did me on that time, we'll see maybe we'll meet down the road."
"If anything I'd say I'm defending Macy," Miesha Tate counters Aspen Ladd for calling her tweet a cheap shot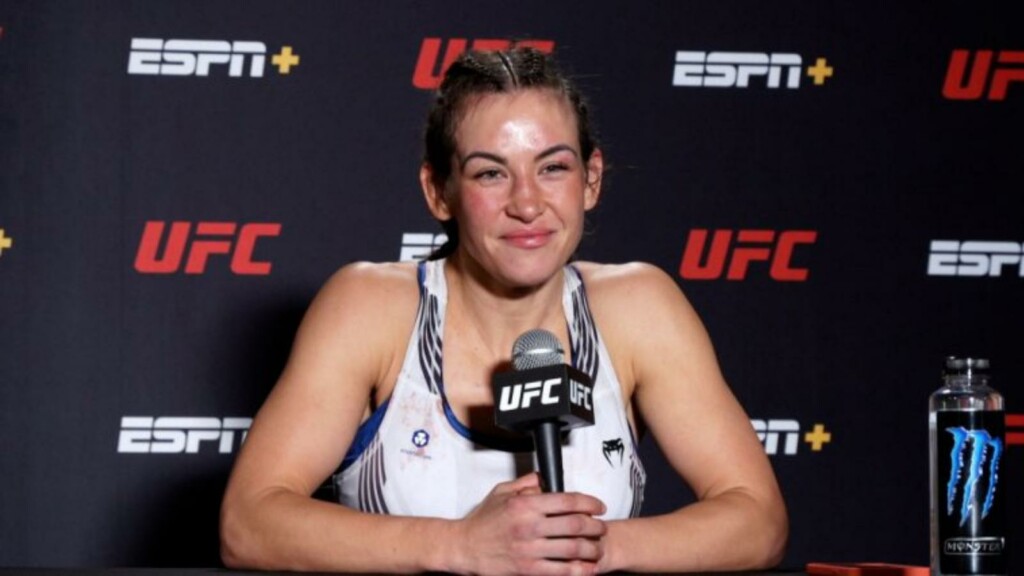 The main event of UFC Vegas 40's fight card was first going to be headlined by Miesha Tate herself but after getting positive for COVID, she pulled out her name from the fight. After a series of incidents it turned out to be Aspen Ladd highlighting the same card and after she called out Tate's tweet a cheap shot, she defended herself by saying.
"Some people aren't afraid to call it like they see it. It's not an attack on you going through something unpleasant, I don't wish bad on anyone. You tried to manipulate the scale to read a weight that was not accurate. That's unfair play, If anything I'd say I'm defending Macy."
Also Read: "Everyone saw you cheat", "You are a champ" – Miesha Tate hits out at Aspen Ladd; Ladd responds.