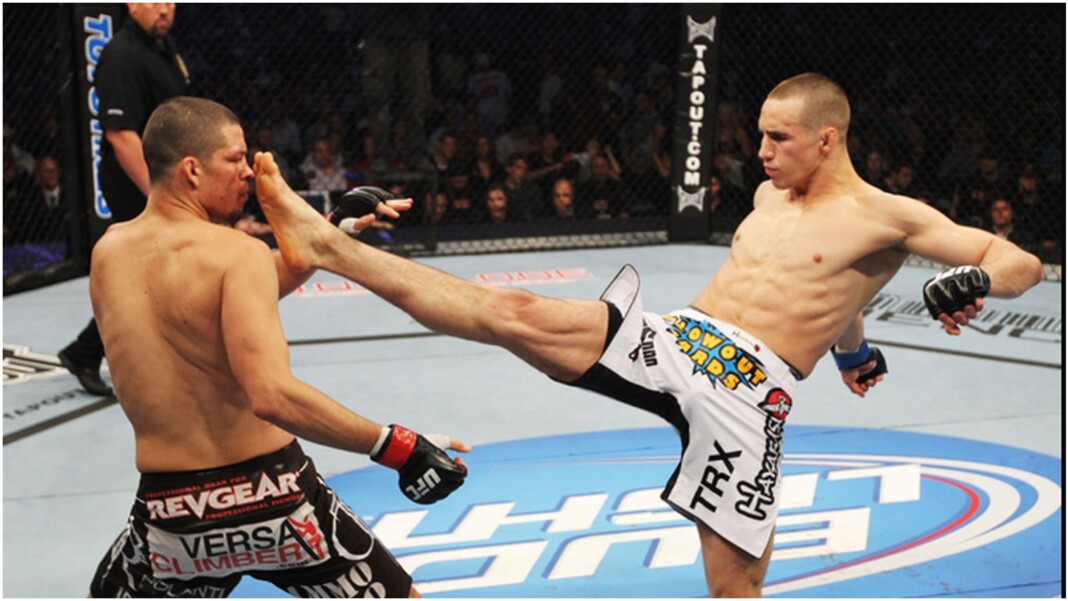 Throwback to Rory MacDonald vs Nate Diaz: Diaz is known for his toughness. It is not easy knocking 'The West Coast Gangster' out. Although, he gets outstruck in most of his fights, Diaz makes sure he puts on a warriors performance. He currently has a record of 20 wins and 13 losses (most of the losses have been via. unanimous decision).
One rare instance when Nate Diaz was ragdolled, was against Canadian MMA star Rory MacDonald. It was the 30th of April, 2011 at UFC 129. A crowd of 55000+ at the Rogers Center (MacDonald's home country)were set to watch the fight. Diaz had stepped in place of James Wilks, and was ready to bring it on.
Nate Diaz gets pummeled by Rory MacDonald in the final round
From the word go, MacDonald began dominating Diaz. Although Diaz was able to land a couple of strikes in the first two rounds, he was pulverized in the final round. A total domination from the Canadian. MacDonald was slamming Diaz for fun, going on to execute three successful slams in the final round. However, Diaz held on, but could not avoid the inevitable unanimous decision loss.
The final score on the judges' scorecard read 30-26, 30-26, 30-27 in favour of MacDonald. Two of the three judges had scored the final round 10-8 in favour of the Canadian. Following the fight, Diaz stepped down a weight class and moved to the lightweight division.
It has been over 10 years since that fight, and Nate Diaz is still a part of the UFC. MacDonald, on the other hand, left the promotion after back-to-back defeats against Robbie Lawler and Stephen Thompson, and joined Bellator. Following a two-year stint with Bellator, MacDonald moved to PFL.
Also Read: Everything you need to know about the Bellator 266 judging controversy – Phil Davis vs Yoel Romero
Also Read: Who was Heather Ceballos? Here's everything you need to know about the deceased UFC employee