Despite knocking out Sean Strickland in a brutal manner, Alex Pereira said that Strickland scared him ahead of their fight at UFC 276. The newly crowned Brazilian middleweight champion talked to So Papos MMA about the same. He revealed that it was not Strickland's trash talk or antics outside the cage but something he did inside the octagon before the start of their fight.
Pereira said, "I'll tell you when I was most afraid. Everything he said up until the weigh-in, everything was fine. When he entered the octagon, he started staring at me. He hadn't looked at me that way before. That was when I became scared…'I thought this guy wants to kill me.' I'm telling you, this was a different guy from everything else."
"Poatan" also added that seeing Strickland like that woke him up and that it was actually a good thing. He said it made him more cautious and led to him fighting smarter.
Going into this fight, Strickland was favored by most given he edged out Alex Pereira both in terms of experience and ranking. And despite being the betting favorite, Alex Pereira was counted out by many. However, Poatan made sure to leave no doubters by the end of the fight. He knocked out Strickland in highlight reel fashion as he cemented his title shot after this win.
Related: WATCH: "Saw Izzy changing a flat tire" – Fans react to VIRAL video of Alex Pereira working as mechanic before decorated fighting career
Alex Pereira stared into arch-rival Israel Adesanya's soul at the UFC 277 press event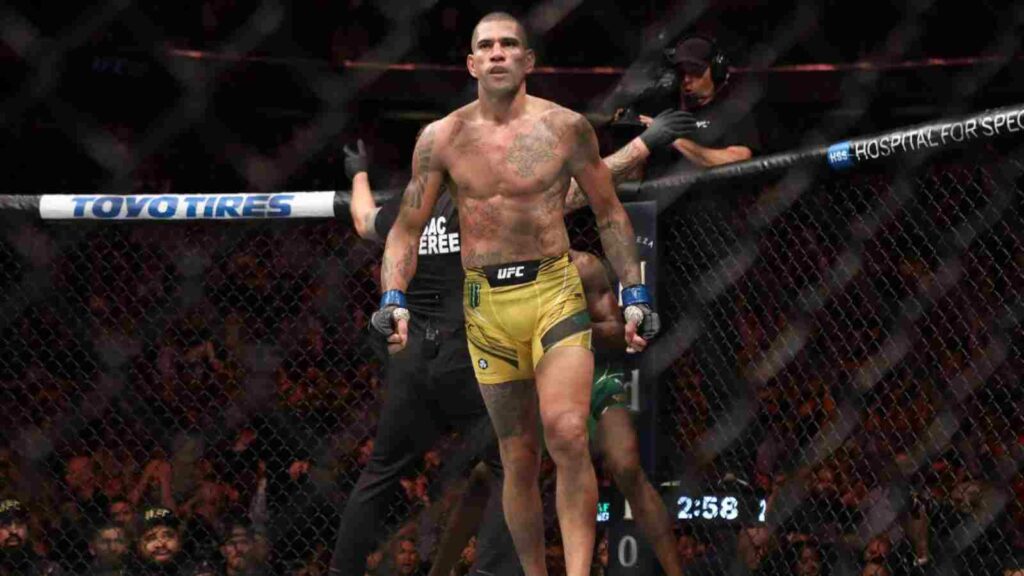 UFC Middleweight champion Alex Pereira and the man he beat for the title, Israel Adesanya, have a storied history. They fought twice, years before their main event fight at UFC 281. These bouts happened in Glory Kickboxing. Those bouts went the same way their encounter on November 12th went with Pereira now making it 3-0 against Adesanya.
However, the groundwork for their fight within the UFC was laid even as early as UFC 277. At that event's press conference, Alex Pereira could be seen staring daggers at Israel Adesanya. Even when a journalist asked Pereira for a final comment on a potential fight against the champion, he never averted his eyes from 'The Last Stylebender.'
Also Read: WATCH: 48 years old Terrell Owens flatlines man who was harassing people at CVS
To call the moment "intense" would be an understatement. Fans lost their minds when they uncovered this video in the leadup to this fight as Poatan's cold, stoic gaze only added to the hype of their grudge match. Now it seems, fans may be treated to a second MMA fight between the two former kickboxers. And if their previous fights are anything to go by, spectators are in for a treat.
Also Read: "Not my cup of tea" – Joe Rogan not pleased with Dana White's latest venture, The Slap Fighting championship