If Israel Adesanya wants to continue fighting, Alex Pereira's advice is for the Last Stylebender to not fight him again. Adesanya vs Pereira's rivalry has come to a point where the Brazilian is being courteous towards his nemesis. That should say a lot about the kind of confidence Pereira's riding on right now after beating Adesanya for the third time in his career.
Alex Pereira is truly the embodiment of a video game's "final boss". There is no doubt that "Poatan" is the villain in Israel Adesanya's story. The fighter now has three wins over The Last Stylebender and has finished him twice brutally. If having two wins in kickboxing was not enough, Pereira followed Adesanya all the way to UFC and ended up dethroning him as the middleweight champion.
After the loss at UFC 281, Adesanya is immediately looking for a rematch against Pereira. In a recent interview with Ariel Helwani, Pereira wants his nemesis to think "thrice" about accepting another rematch. "Adesanya is a young man. He has a good career. Huge potential. A lot to do yet. And from that perspective, I wouldn't fight against him," said the new middleweight king about fighting the 33-year-old again.
When Pereira's translator asked, "You wouldn't fight him so that his career isn't ruined?", the cold-blooded fighter replied, "Yeah. To not screw up his career. I wouldn't fight him." Adesanya was unbeaten in his UFC middleweight career before he met Pereira again in his career in the octagon.
Pereira is confident that Adesanya's fate would be the same as his previous meetings and warns him to look for other potential matchups. However, if Israel Adesanya is truly desperate for an immediate rematch, Pereira wouldn't come in the way of his nemesis' wishes.
Read more: "Followed him to MMA and obliterated" – Zayn Malik, Khamzat Chimaev, and other fans react to Alex Pereira dethroning nemesis Israel Adesanya at nail-biting UFC 281 fight
Alex Pereira snatched Ariel Helwani's soul during their interview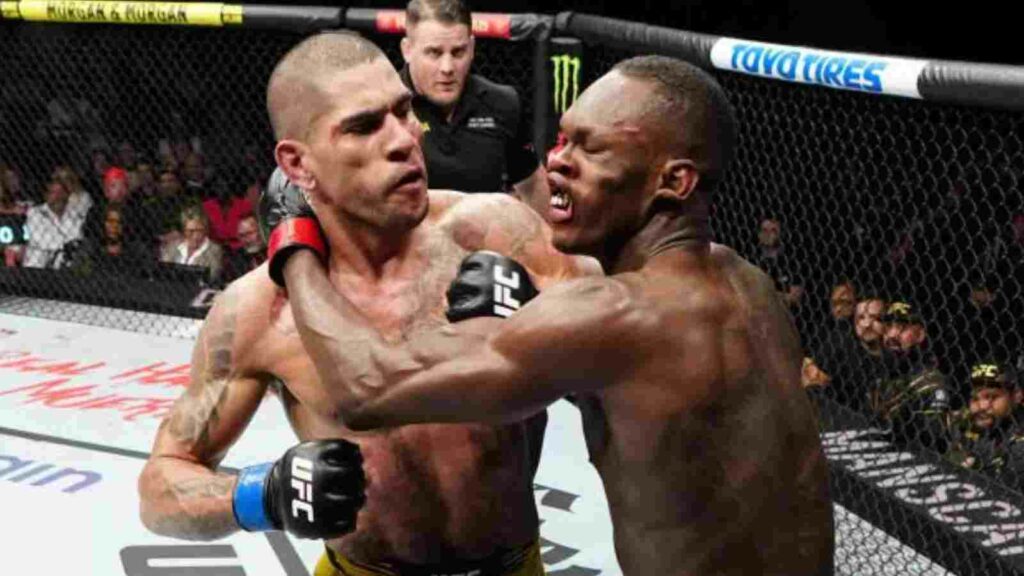 Alex Pereira is undoubtedly one of the scariest fighters to step into the octagon. The aura of the Brazilian middleweight is oddly terrifying and is enough to intimidate his opponents. If that wasn't scary enough, Pereira's devastating left hook surely makes his opponents take a step back. Ariel Helwani recently interviewed the Brazilian after his win and had the b*lls to let him know that the fight was prematurely stopped according to him.
Also read: "Bring him back" – Israel Adesanya claims he would still be champion if infamous referee Steve Mazzagatti was at his last fight
Even Pereira's translator wanted to double-check if he wanted him to let the fighter know his thoughts. Helwani, after the interview was done, posted a video of the middleweight champion staring right into the interviewer's soul as his translator was talking to him. "When Pino [translator] is translating, he [Pereira] is just staring at me the whole time," said Helwani.
Pretty sure Alex Pereira owns my soul now 😨😅🥶😱 pic.twitter.com/qLwkZPdMCU

— Ariel Helwani (@arielhelwani) November 29, 2022
Pereira not speaking the English language and having a straight face with no emotions as many of his opponents try and talk trash to him is a sight to watch. Even in the leadup to the fight against Adesanya, Pereira just directly stared at Adesanya as the former champ tried to play mind games.
Also read: "He's taller than lil Joe" – 5'7" Joe Rogan gets brutally trolled by fans for calling Lionel Messi "little dude"