Khamzat Chimaev might have become the next new villain of the UFC and Aljamain Sterling is all for it. The UFC bantamweight champion has an amazing reaction to the rising superstar's performance at UFC 279.
UFC 279 will be remembered as the event where Khamzat Chimaev made fans turn against him. The fighter went from being the most-liked fighter on the roster to the most hated in a span of a day. Khamzat's drama at UFC 279 pay-per-view event was one of the main selling points of the card.
From backstage brawls to his weigh-in mishap, and finally his jaw-dropping performance, Khamzat "Super Villain" Chimaev has fully arrived. Chimaev weighing in more than 8 pounds the contractual weight led to the entire main card of UFC 279 being shuffled. This resulted in Nate Diaz fighting Tony Ferguson and Khamzat fighting Kevin Holland.
Poor Kevin Holland. "Big Mouth" got absolutely ragdolled by the Chechen and Aljamain Sterling was fully in awe of Chimaev's dominance. "Khamzat Chimaev, just an absolute beast and stud of an athlete and stud of a fighter, man," said the bantamweight champion on his YouTube video.
Related: "There are NO MUSLIMS around him" – Khabib Nurmagomedov makes controversial statement about Khamzat Chimaev's teammates after UFC 279
Aljamain Sterling sees Chimaev going all the way to the top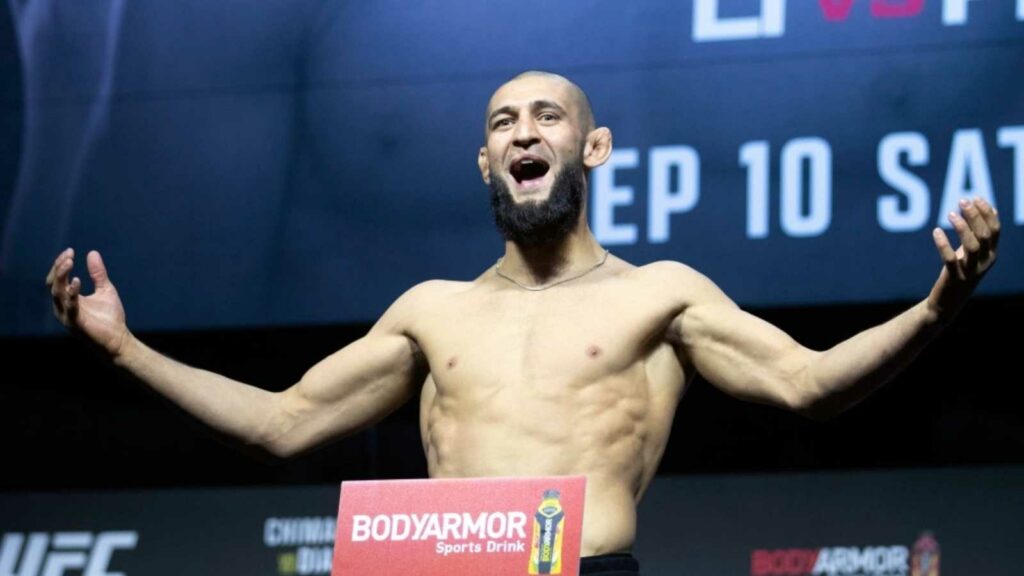 Chimaev has six fights in the UFC and in four of them, he has absorbed a stunning zero significant strikes. His last bout against Kevin Holland also contributed to that record. Chimaev won the fight via submission after only 2 minutes of the fight and Sterling believes it will be tough for anyone in the official UFC rankings to take on this guy.
"The guy is just a special gift to this generation of MMA. In my personal and humble opinion. I can't see anyone else on this list who can really give him a significant challenge unless they are going to be specialists in the grappling department," said Sterling, praising the Chechen.
Also read: WATCH: Khamzat Chimaev DEMOLISHES 'big talk' Kevin Holland in less than ONE round at UFC 279
Sterling also believes Khamzat has embraced being the heel perfectly. "Even though Khamzat became a villain after mission weight by 8 pounds, I think people are still intrigued by him, he has this aura, this zen," added Aljamain. Khamzat has the praise of many fighters while also being criticized heavily for his unprofessional behavior.
Also read: "Ate too much tiramisu" – Khamzat Chimaev TAUNTS Mini Khabib for commenting about his weight disaster at UFC 279