Amanda Nunes has just adjusted herself back to the position of being called the most incredible women's mixed martial artist of all time and that too in a dominant fashion. Nunes secured a unanimous decision victory over former bantamweight champion Julianna Pena in the rematch at UFC 277 and reclaimed what was once her title for 6 years. What's next for Amanda is not sure, a trilogy against Pena can be a good guess but for now, the champion is in need of a victory lap.
Nunes however not only won via all the judges' scorecards, but she won with such scorecards as 50-45, 50-44 and 50-43! Except for a few submission threats that lasted a few seconds, Nunes never had any threat to be faced against Pena and rather than getting into Pena's game of playing fire with fire, Nunes decided to stick to her brilliant strategy of using her southpaw stance to land counter strikes, especially a powerful check hook, that knocked Pena down multiple times, 3-times in the second round itself! On the ground, Nunes cut open Pena's forehead with vicious elbows during ground and pound.
Also Read: Amanda Nunes takes her revenge in a bloodied war against Julianna Peña to win the bantamweight title at UFC 277
"The best thing I did"- Amanda Nunes on having her own gym after leaving ATT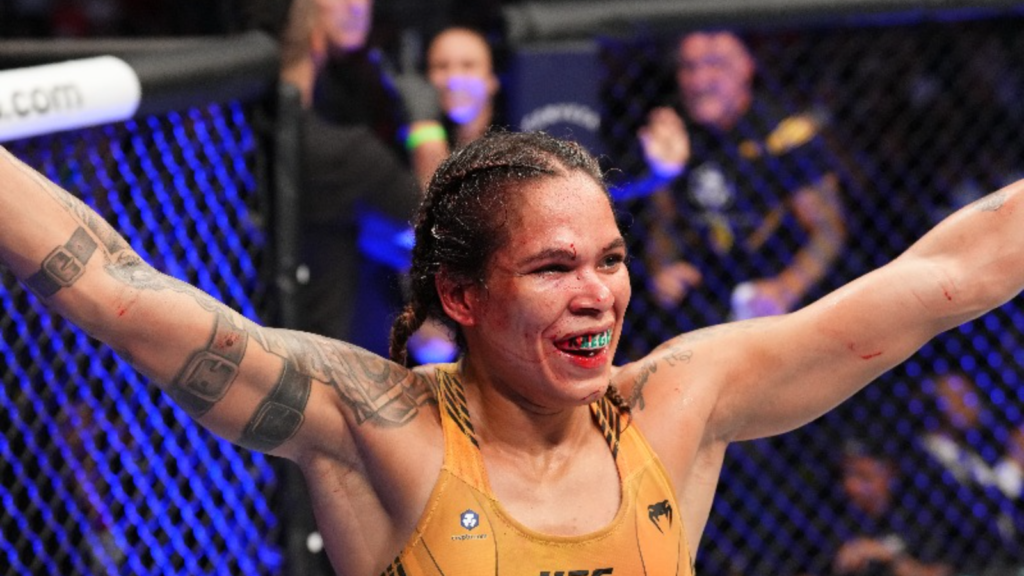 In her Octagon interview with Joe Rogan, Amanda Nunes talks about her victory and game plan for the fight. She makes sure that before standing for the interview, she does her victory marathon in the joy of getting to hold 2 belts together back again. Even though Pena got Nunes in their first fight back in December 2021, who will otherwise think after the rematch that there is any better female combat athlete than Nunes right now.
"When the lionesses don't get their prey the first time, I set the trap better and I know I will get it the second time," says Nunes. "Now, we are here, making history again, double champion again baby! Let's go!"
Nunes also talks about how changing the gym prior to the rematch helped her a lot. "The best thing that I did was, make my gym happen. Because in my gym, I feel like safe you know, I feel like I can grow even more. If I'm trapped in a place that's on myself. And with the person that is only there for me, I really evolve even more. This is actually very simple, I was supposed to do this the first time, but I told you guys, I wasn't ready for that…" said Nunes. Amanda Nunes was formerly trained in American Top Team and post-UFC 269, she decided to open her own gym in the name of Endeavour MMA.
What do you make of Amanda Nunes' post-fight octagon interview at UFC 277? More so, what do you make of her victory against Pena? Who do you think can be the next biggest challenge for Nunes after Pena? Do you think that Nunes is the greatest women's mixed martial artist of all time? For now, in the UFC, there seems no outstanding competition, but in Bellator MMA as well as Professional Fighters' League, Nunes has a lot to gain in terms of a legacy by either having a rematch with Cris Cyborg or fighting former teammate Kayla Harrison.
Also Read: "Missing a chunk of her head," Dana White says Julianna Pena requires immediate plastic surgery after gruesome UFC 277 beatdown
Also Read: "Let's go in December" – Brandon Moreno and Deiveson Figueiredo agree to fight in first-ever quadrilogy at UFC 277
Do follow us on: Google News | Facebook | Instagram | Twitter