Belal Muhammad and Leon Edwards headlined UFC Fight Night in March, earlier this year. The fight ended in the second round due to accidental eye-pokes from Edwards which nearly gouged Muhammad's eyes off his socket. The match was deemed a no-contest.
However, Belal Muhammad was hellbent on fighting Leon Edwards again in a rematch. In fact, he deserved to fight the Brit again. But Edwards was not up for it, as he turned a deaf ear to Muhammad's callouts. Now, the pair are featured in the same card at UFC 263, albeit against different opponents. Edwards will be taking on the returning Nate Diaz, while Muhammad will be fighting veteran Demian Maia.
'To me the immediate rematch made the most sense in the world' – Belal Muhammad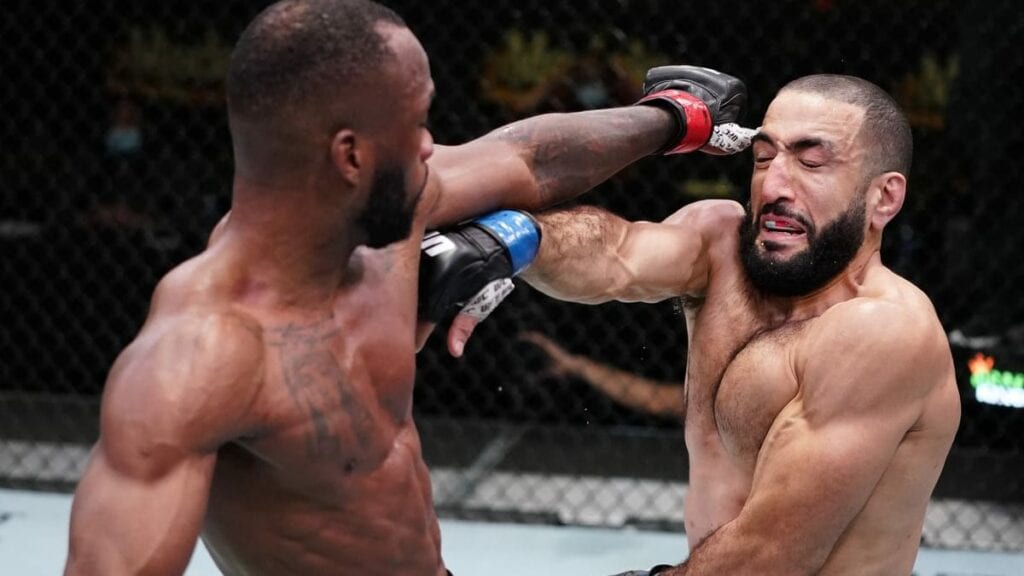 Speaking to MMA Fighting ahead of his fight at UFC 263, Muhammad claimed that an immediate rematch made the most sense, because it was he who had volunteered to step in short notice. Muhammad went on to say that it was Edwards' foul that resulted in a no-contest and not his.
"To me, the immediate rematch made the most sense in the world, because I literally took the fight on three weeks' notice when nobody wanted to fight. I was coming off an injury with my cast and I still stepped up and took the fight."
"I was expecting Leon to be a man and be like, 'This guy stepped up. I'm the one who created the foul. I'm the one who the fight ended because of me, because of my foul that I did twice.'"[Via MMA Fighting]
'I'm not cool with it' – Belal Muhammad
Despite maintaining that he deserved to fight Edwards, Muhammad was content with fighting a veteran like Demian Maia. He said:
"Just being a man, I would expect him to be like, alright, this narrative wasn't supposed to be ran like this, but I'll give you the fight back. I'm not cool with it. Honestly, I really wanted the Leon fight, and I feel like I earned it just by stepping up. … You've seen guys do that like Tony Ferguson against Justin Gaethje, and it affected them terribly. It's not easy to do something like that. So to be doing that, I feel like I deserved it, but this is the next biggest name that I like. I'm glad the UFC gave it to me." [via MMA Fighting]
Muhammad is currently on a four-fight win streak. He hasn't lost since his to Geoff Neal in January 2019. A win against Maia will push him into the top 10 of the middleweight rankings.
Also Read : Alexander Volkanovski Net Worth, MMA career, Salary, Endorsements, Assets and More
Also Read : "My brother just beat Floyd Mayweather"- Jake Paul, Francis Ngannou and Others react to Logan Paul vs Floyd Mayweather