Brandon Moreno came a hard way to eventually secure a fourth fight against Deiveson Figueiredo and that hard way comprises making hard decisions as well, such as that of training under a different coach. In his last outing inside the Octagon, Moreno defeated Kai Kara-France via a third-round TKO and became the interim-UFC flyweight champion. Moreno is now heading to end his legendary rivalry with Figueiredo, the current undisputed champion, for once and for all whenever the fourth fight will take place which is inevitable now.
This was Moreno's second fight against Kara-France and this time, despite fighting a much-evolved version of the Kiwi mixed-martial artist, Moreno also experienced fighting under the tutelage of a different coach. Moreno was coached by UFC welterweight James Krause for the second fight against Kara-France. Krause is 28-8 in his overall MMA career with 22 finishes. Krause is known for his wins over Warlley Alves, Sergio Moraes, Sam Stout and many more.
Also Read: "I was ready to throw the heat," Brandon Moreno explains being respectful to Deiveson Figueiredo at UFC 277 Octagon interview
Brandon Moreno saw passion and craziness in coach James Krause like none other, enough to choose him as his coach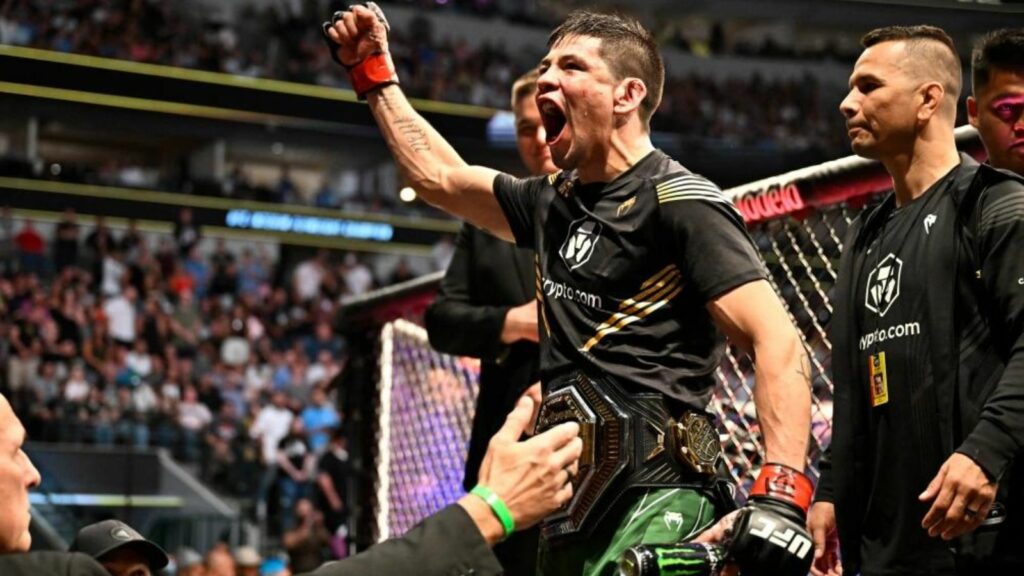 In the post fight media scrum of UFC 277, Moreno talked about being respectful while calling out Figueiredo for a fourth fight, his fight against Kara-France and much more. Moreno was then asked about fighting under a high callibre coach like Krause who for the first time got a world champion under his wing in his coaching career.
"He has been a championship-level coach for like a long time," says Moreno "I went with him for that. Everybody asked me why I went with him… I know maybe he doesn't have like, too many champions like AKA or ATT or whatever but I can see his passion, I can see he is a crazy guy, a nerd who loves this sport and he will be there trying to get a title with me, so that's what I thought of the decision to go with him…"
What do you make of Moreno's transition with the coaching system around him? Who do you think will win in Moreno's fourth fight against Figueiredo? Do you think Moreno is the greatest Mexican mixed-martial artist of all time right now? Who else do you think can be the next champion born out of Mexico?
Also Read: "Copied my style" – Valentina Shevchenko, Kayla Harrison, and others react to Amanda Nunes becoming double champ again at UFC 277
Also Read: "Making history again," Amanda Nunes embedded in greatness at the Octagon interview post-UFC 277 victory
Do follow us on Google News | Facebook | Instagram | Twitter