Conor McGregor responds to former friend Artem Lobov's legal dispute and offers to take things into the gym. The Irish superstar calls out Lobov to step into the octagon at SBG gym in Ireland.
Artem Lobov's fallout with Conor McGregor was very unexpected. The Russian fighter has sued the Notorious One seeking financial compensation from McGregor's Proper No. Twelve Whiskey brand. Lobov has taken the case to the court and this has rubbed the wrong side of the Irishman. McGregor recently came out with a series of tweets to call out his former training partner to a fight.
"This is a call out to Artem 'the fanny, furlypad' Lobov. I'm challenging you to a fight tonight, 10:30 at SBG Concord, and we'll fight for the whole lot. We'll fight for the whole lot. Going through and having lawyers message me about defamation and all this, suing and all. You're a little blouse, mate," said McGregor in an audio message posted on Twitter that is now deleted.
"Artem is trying to sue me and my father for defamation now as well ahahaja oh lord, god bless. Artem you look like an uncooked sausage of a thing. Jump on the pan for a minute pal you look rough mate. God bless ya pal," wrote McGregor in another deleted tweet.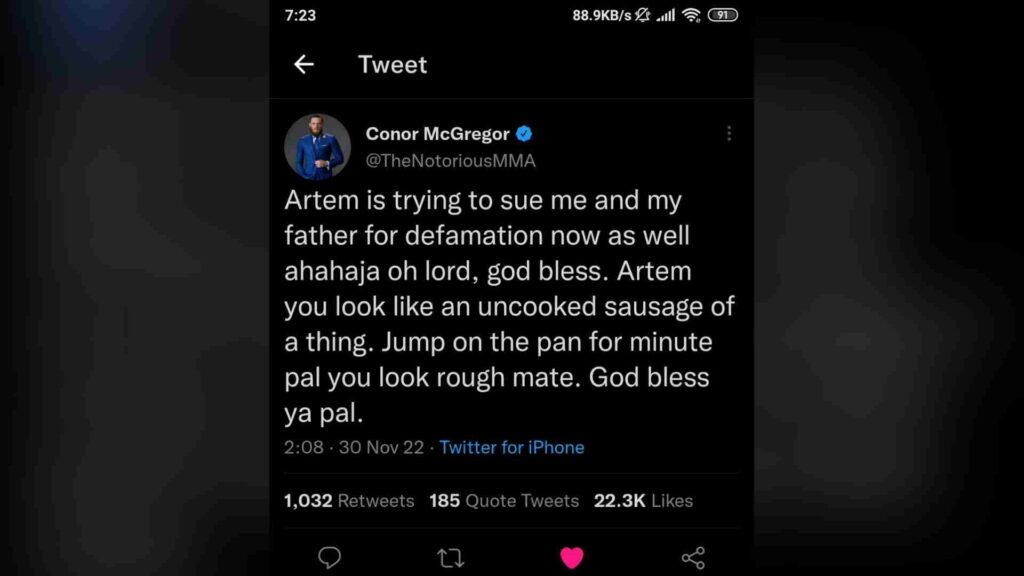 Lobov believes that he deserves a fair share of the Proper Twelve profits as he claims the idea of the whiskey brand to be his. McGregor, a few days ago, trolling Lobov put out an audio singing a chant dissing the Russian fighter. Earlier today in another tweet, the fighter called out Lobov for suing him and his father for defamation.
Read more: "Ramming my fingers up his homophobic a**" – When Conor McGregor wildly justified grabbing Khabib Nurmagomedov's shorts during fight
Conor McGregor's beef with Khabib Nurmagomedov started over Artem Lobov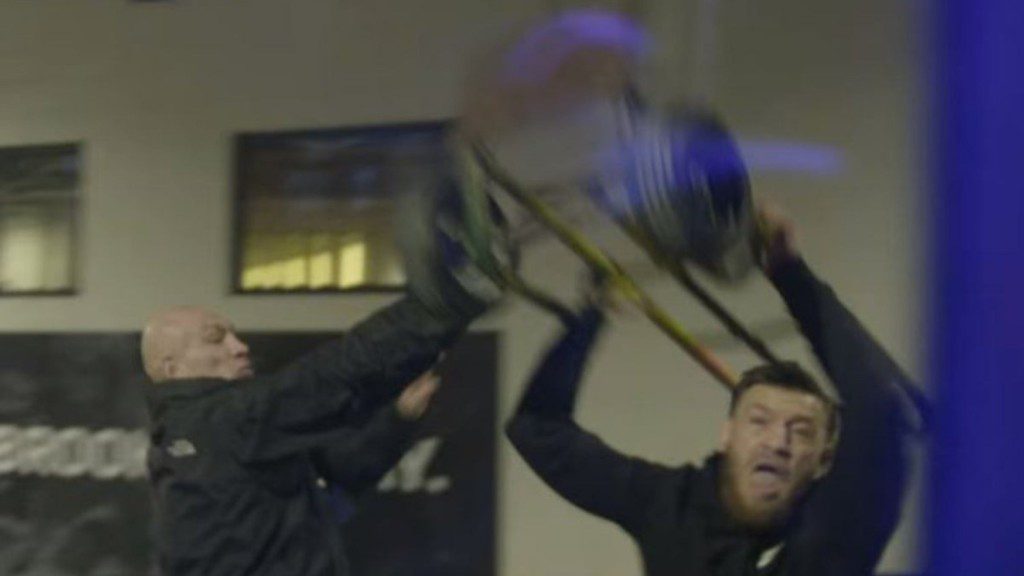 Back in early 2018, leading up to UFC 223, Conor McGregor went rogue and decided to throw a dolly at the bus that was carrying Russian lightweight Khabib Nurmagomedov. This was one of the most controversial incidents in UFC history. The Irishman was also penalized by New York law enforcement for this act. All this happened because McGregor wanted to stand up for his then-friend, Artem Lobov.
Khabib Nurmagomedov had confronted Artem Lobov which then triggered the Irishman to fly all the way from Ireland with his own crew and decided to respond to Nurmagomedov's confrontation. McGregor threw the dolly on the bus that had Nurmagomedov causing a lot of damage and severely injuring fighters who were scheduled to fight on that card. This happened to be the seed to what would be the greatest rivalry in UFC history.
Also read: "He looks traumatized" – Fans hilariously react to Neil Magny looking devastated after training with Khamzat Chimaev
Conor McGregor has stood beside Artem Lobov on several other occasions in the past. McGregor was seen cornering his friend in many fights in the past. Lobov is yet to accept or deny McGregor's challenge for a fight at the SBG Gym in Ireland.
Also read: UFC Orlando just got better! "Wonderboy" Stephen Thompson to walkout with Hollywood star Jack Black for Kevin Holland fight