It is safe to say we will never see Amanda Nunes and Cris Cyborg run it back inside the UFC octagon. Dana White is not a big fan of the two women fighting again. The UFC boss also wants to make it clear that he no longer hates the former UFC champ anymore.
If you are a fan of the UFC, you know that the beef between Dana White and Cris Cyborg was very real. However, like the quote, "time heals everything", looks like Cyborg and Dana have come to peace. This doesn't mean that the UFC boss will allow the 37-year-old Brazilian to compete against one of her biggest rivals in the UFC.
Amanda Nunes has once again won her belt back to retain her title as the bantamweight champion in the UFC. At this point, the promotion has run out of opponents to put in front of Nunes for her to fight. After her win against Julianna Pena, fans threw Cris Cyborg and Valentina Shevchenko as potential opponents but Dana believes Cyborg is completely out of the equation. Cyborg is currently the champion of Bellator MMA's featherweight division.
Related "Dana White shut it out," Ex- UFC Champ Cris Cyborg talks grappling match with Miesha Tate
Dana White reveals why Amanda Nunes vs Cris Cyborg 2 won't happen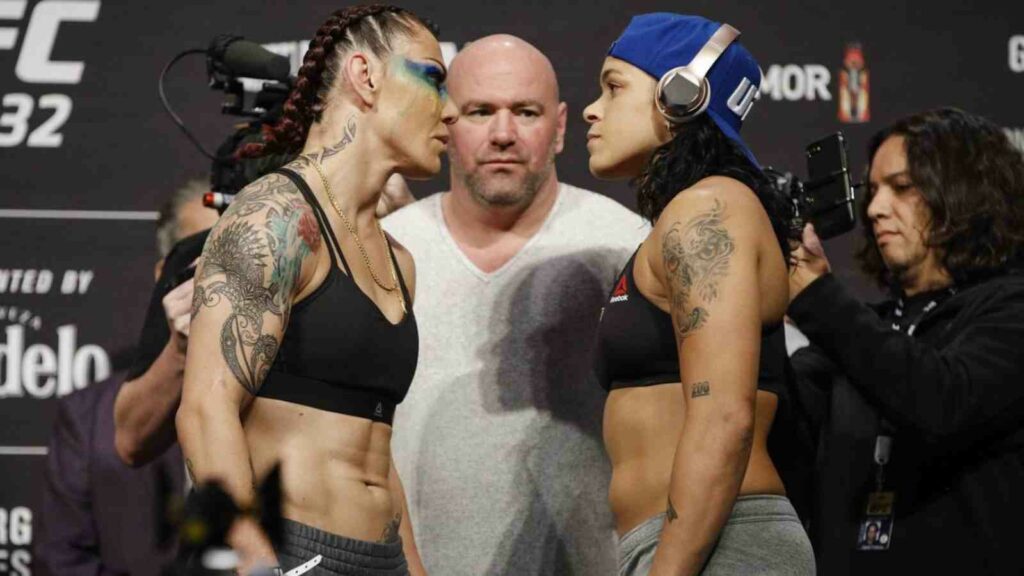 Cyborg and Nunes fought each other at UFC 232 for the UFC women's featherweight championship. During their fight, Amanda was the reigning bantamweight champion and was aiming to become the two-division champion. Amanda knocked out Cyborg via a first-round KO which handed Cris the first-ever KO defeat in her professional MMA career. Dana believes after a defeat like that, a rematch does not make any sense.
"I mean Amanda absolutely dominated Cyborg. The Schevchenko fight makes way more sense," said Dana at the Contender Series press conference. According to White Amanda could fight whoever she wants. The UFC boss believes a trilogy fight against Shevchenko would make a lot of sense than bringing Cyborg back to the UFC for a rematch.
Dana wanted to make sure that nobody took his statement the wrong way and said, "I'm not sh**ng on Cyborg even though we've had our history." Dana then revealed that he got a birthday wish from Cyborg just to make it clear that those two are not on bad terms anymore. Dana then wished Cyborg the best of luck with her ventures outside the UFC.
Also read "It will be a banger" – Jamahal Hill says title fight against Jiri Prochazka will be "one of the biggest in history"
Also read Conor McGregor's pub in Dublin gets trespassed by two burglars in "unsophisticated" attempt to rob
Do follow us on Google News | Facebook | Instagram | Twitter