Donald Trump Jr.'s X account fell victim to a hacking incident early Wednesday. The Trump Organization officially acknowledged the incident but the tweets already went viral in the media. The posts that emerged during this security breach were strange, to say the least. This bewildering sequence started with the shocking and false announcement of Donald Trump's demise. But it was the subsequent target that certainly grabbed fight fan's attention – none other than Logan Paul.
Amidst the escalating tension surrounding the upcoming showdown between Logan Paul and Dillon Danis, Paul's fiancee, Nina Agdal, found herself the unfortunate subject of relentless public scrutiny and mockery. Seizing this opportunity, the hackers behind the attack also aimed to take a jab at Logan's fiancee. Donald Trump Jr.'s compromised account conspicuously tagged Logan Paul and proceeded to send out a controversial tweet, stating, "I also f—ed your girl, @LoganPaul."
The contentious posts mysteriously disappeared from Trump Jr.'s page by morning. This was likely due to swift intervention by X moderators. However, a vigilant Instagram page managed to capture the tweet, and Dillon Danis didn't waste a moment. He swiftly shared the post on his Instagram story, reaching out to his substantial 2.5 million followers.
Combat sports enthusiasts are now eagerly counting down the days to the impending showdown between Logan Paul and Dillon Danis. Scheduled for October, this six-round cruiserweight battle will take place at the iconic Manchester Arena in the United Kingdom. It is shaping up to be a spectacular joint main event, featuring another highly anticipated bout between KSI and Tommy Fury. As the event date approaches, anticipation continues to build among fans.
Related: "Nina does it better"— Fans bizarrely react as Logan Paul and Dillon Danis perform 'head conditioning' before a much-anticipated boxing match
Dillon Danis finally served with a lawsuit by Logan Paul's fiancée Dillon Danis
Nina Agdal has taken a significant step by initiating legal proceedings against Dillon Danis. The Bellator fighter was recently sued for his ongoing online harassment and trolling of her personal life. Following several months of online trolling, Nina has decided to take the matter to the courts.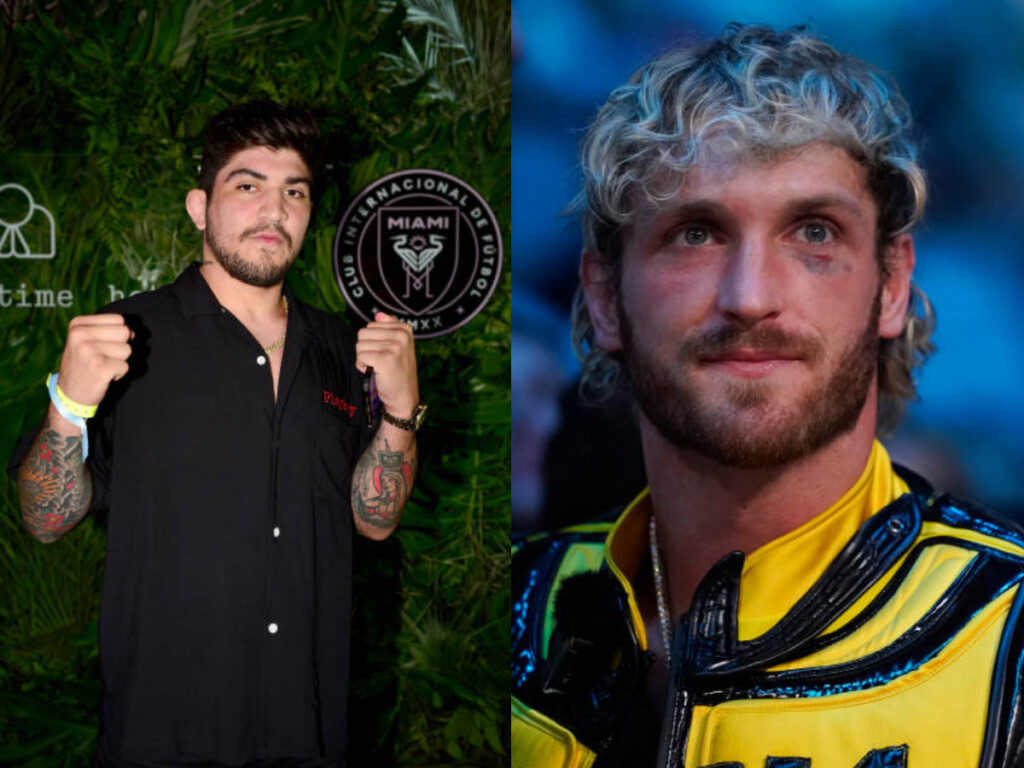 This lawsuit was officially filed against Danis in response to the constant trolling and threats directed at Nina before his match against Logan Paul. A video surfaced on the internet. The footage featured a process server stationed outside Dillon Danis' residence, hand-delivering the lawsuit to him.
Contained within the lawsuit is a detailed account of the adverse impact that the relentless trolling has had on Nina's reputation. Agdal has accused Dillon Danis of engaging in online bullying and persistent trolling. She reportedly asserted that she has suffered significant emotional distress and humiliation as a result. In accordance with New Jersey law, Dillon Danis now has a 21-day window to respond to the complaint and address the matter legally.
In case you missed it!