After the altercation between Dustin Poirier and Michael Chandler at UFC 276. Fight fans were excited and started speculating about a matchup between the two former title challengers at Lightweight. While The Diamond is currently ranked #2 in the lightweight rankings and #7 ranked pound-for-pound in the UFC. On the other hand, The Iron is ranked #5 in the lightweight division. Both the fighters are looking for their next opponent and they do not have any fights scheduled.
While The Diamond's (28-7-1) last fight was for the 155lbs title which he lost by submission against #1 Charles Oliveira at UFC 269 in December 2021. The Diamond has had two back-to-back wins over the megastar 'The Notorious' Conor McGregor in his two outings before losing to Do Bronx. On the other hand, The Iron (23-7) too, has lost to Oliveira in a title fight. The Iron bounced back to the win column after his 'KO of the Year' knockout of the veteran Tony ' El Cucuy' Ferguson at UFC 274 on 7th May, in Arizona.
Up to a point it looked like The Diamond is going to face Nate Diaz. However, even after multiple attempts by both the fighters on social media the matchup never came to be. Following The Iron's win at UFC 274 The Diamond took a jibe by tweeting out, "A lot of names being said by Iron Michelangelo but I'm not hearing mine. Respectfully"
After their clash at UFC 276, The Iron gave his side on what transpired in an interview at UFC London, "I walked down there with my beautiful wife who's here with me in London. We had our seats and we were walking over there and the security guards came over there and basically said something to the effect of 'Hey, he's not going to sit over there.' And I thought ok that's interesting."
He added, "We walked over. All of a sudden I heard some chirping. Some very vile venom being spit in my direction. Didn't know if that was being thrown at me or not. I look over and Dustin Poirier is pointing at me so he obviously had a bone to pick with me that night."
Related: "We end up getting answers"- Michael Chandler reveals his next opponent if a Conor McGregor clash fails to materialise
Dustin Poirier's representative Tiki Ghosn gave an update on the potential fight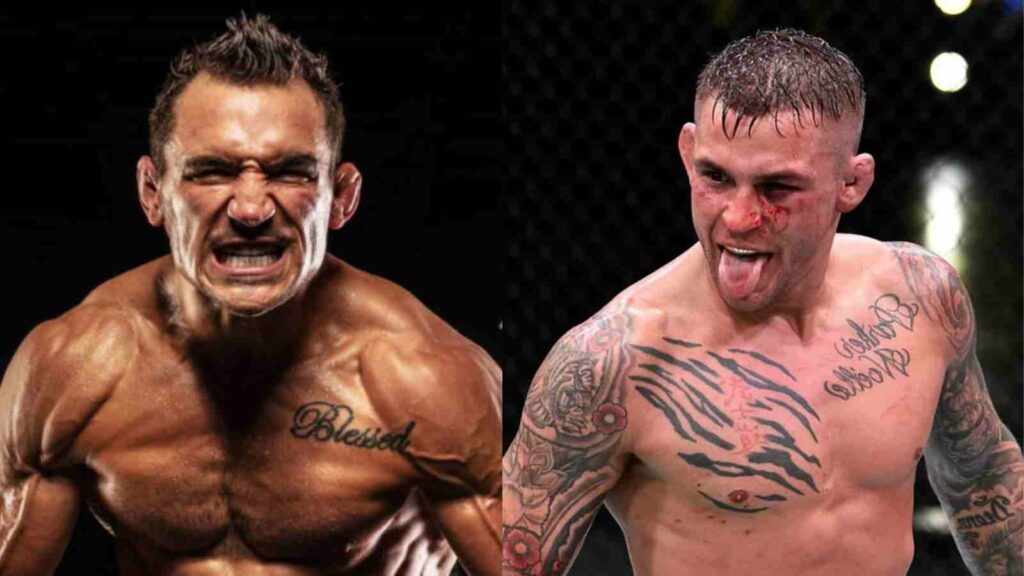 In the past, The Iron has stated that he doesn't want to fight The Diamond as he feels a lack of respect from the former interim champ upon his arrival in the UFC in late 2020. After the UFC 276 altercation, it seems as if The Iron has changed his opinion. In an interview at UFC London, The former Bellator champion hinted at a potential fight by stating, "I think you're going to hear some fight news coming pretty soon, and it could be me and Dustin Poirier. We'll see."
Brett Okamoto recently tweeted after talking to Tiki Ghosn who is a representative of The Diamond for an update. Tiki stated "Looks like it's going to be Michael Chandler (@MikeChandlerMMA). Sounds like he wants the smoke and Dustin is going to give it to him."
He further stated that the UFC hasn't reached out yet regarding this fight.
A potential matchup between the Diamond and The Iron looks like a possibility. The fight would be an interesting one as both the fighters are strikers with a good ground game. It would be interesting to see who walks out with a win. Only time will tell Whether this fight will come to be.
Also Read: "Can get the #1 contender spot if-" Chael Sonnen says the winner of Michael Chandler vs Dustin Poirier can fight for title under one…
Also Read: "He goes out there to finish him," Michael Chandler predicts UFC 280 title fight between Charles Oliveira and Islam Makhachev
Do follow us on Google News | Facebook | Instagram | Twitter