After a week full of unsubstantiated rumors it has finally been revealed that Mark Zuckerberg was in fact the reason why the UFC had closed its doors to the public and the media over the weekend. It marks the first time that a UFC event was closed to the public due to a private viewing.
Last week when Dana White abruptly announced that UFC Vegas 61 would be closed to everyone except UFC staff, rumour mills started murmuring about every single possibility, including a lack of ticket sales to a possible movie shoot. However it was Ariel Helwani who first hinted that the closure had something to do with META CEO Mark Zuckerberg.
In the past few months, Zuckerberg has made his love for the sport of MMA more public, from an appearance on the JOE Rogan Experience to posting footage of himself training with DWCS fighter, Khai Wu. While many fans accepted him with open arms, his recent stunt at the Apex may have soured a few away.
Related: "You can hear her scream" – WATCH: Mark Zuckerberg's wife TERRIFIED sitting cageside for UFC Vegas 61
Fans react to Mark Zuckerberg renting out the UFC Apex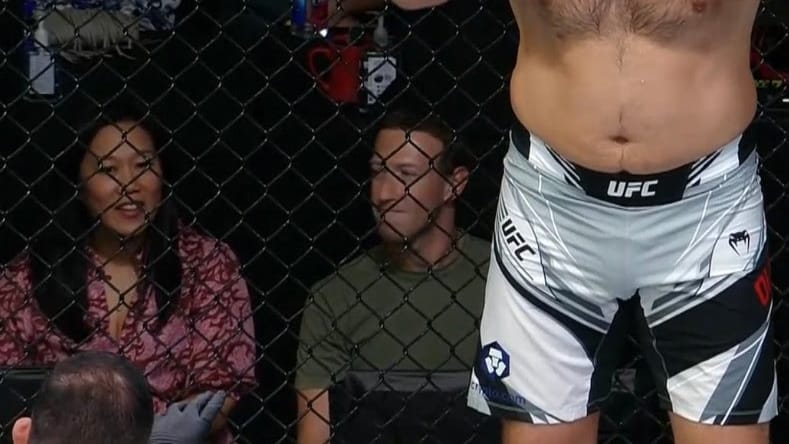 Zuckerberg is an extremely introverted individual and has stated in the past that his introverted nature is what led him to create Facebook. It is understandable that he would not want to be thronged by strangers and media members while out in public. Many have also suggested that instead of Zuckerberg renting out the event, it was White who offered to do an empty arena show for him.
Fans were mixed in their reaction to the news with some being happy with the inclusion of one of the most well known people into our sport, others took offense to Zuckerberg only showing up during the later fights while many others noted the massive wealth gap this instance reveals.
Also Read: "Jiu-Jitsu is the best sport" – Billionaire Mark Zuckerberg surprises Joe Rogan with his love for mixed martial arts
Here are the best reactions to Zuckerberg at the UFC Apex.
Also Read: Watch: "No robots in the UFC please" Mark Zuckerberg training video breaks the internet