Glover Teixeira is pushing 43 and has been fighting for a long time. The recently crowned UFC light heavyweight champion hears a lot of talk about his retirement and the Brazilian reveals when he plans on hanging up his gloves.
Glover Teixeira is one of the greatest MMA fighters of all time. The light heavyweight fighter has been in the UFC for the past decade and has fought elite opponents all his life. The fighter is currently 42 years old and has a professional record of 33-7-0 in his mixed martial arts career. Over the years in the promotion, Teixeira holds several records and will surely go down as a Hall-of-fame fighter.
Like all good things, Glover also realizes that his career will have to come to an end sooner or later. Glover will have nothing to regret the day he decides to hang up his gloves. The fighter has the most finishes in the UFC light heavyweight division history and also the most submissions in the history of his weightclass. With four performance of the night bonuses, one knockout of the night and submission of the Night bonus, and two fight of the night bonuses, Teixeira is undoubtedly one of the most decorated UFC fighters.
Related "Don't wanna retire like Cejudo"- Glover Teixeira roasts Henry Cejudo as he describes his perfect retirement plan
Glover Teixeira wants to continue defending his belt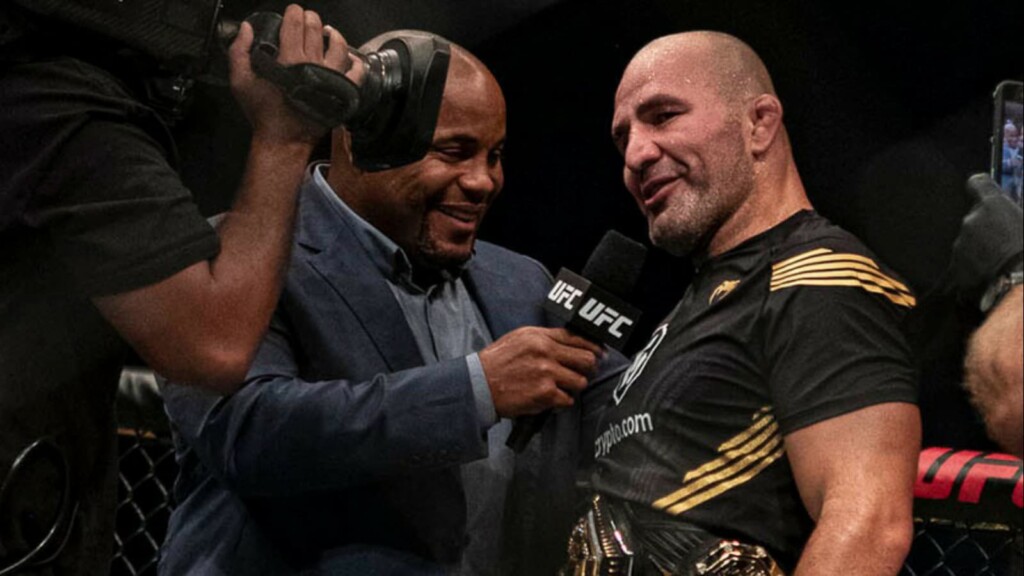 Glover is now set to make his second title defense of his career as a champion at UFC 275. The Brazilian light heavyweight defends his belt in the main event against the fan-favorite Jiri Prochazka in Singapore this weekend. Ahead of his huge pay-per-view bout, Glover sits down with UFC broadcaster, Jon Anik and talks to him about his retirement plan.
"I feel like I am gonna defend my belts two more times. That's my plan right now. I am gonna defend my belt in Singapore and I like to fight one more time in the United States, defend the belt again, and on to the next chapter, my friend," said Teixeira while talking to Jon Anik in a recent interview. Watch the interview below:
Glover became the champion on October 30th in 2021, right after turning 42. Glover Teixeira became the second oldest fighter to become the champion in UFC as he submitted Jan Blachowicz in the second round to fulfill his dream of becoming the champion in UFC after failing to capitalize on his shot in 2014.
Also read "Ground & pound and find the finish" – Jiri Prochazka won't 'play Jiu-Jitsu' with Glover Teixeira at UFC 275 title fight
"Been ready since the first fight in UFC" – Glover Teixeira hails Alex Pereira to beat Israel Adesanya in future