Khabib Nurmagomedov's perfect MMA record is something to marvel at. However, there is what many consider a blemish on that resume. And that came all the way back in 2012, at UFC 148: Silva vs Sonnen 2, in Brazil.
In only his second fight in the UFC, he was pitted against veteran, Gleison Tibau. The fight did not go as Khabib's fights usually do. Gleison in the beginning snuffed a couple of takedown attempts and landed some brutal strikes in the process. He even got two takedowns on Khabib despite only one being officially recorded as a takedown. He also outstruck as he landed 46 significant strikes to Khabib's 33.
However, the most shocking aspect of the fight was that Khabib never took down Gleison Tibau. Even though he tried many times, 13 to be precise, Nurmagomedov and his signature brand of chain wrestling weren't able to get Tibau down. The fight went the distance. Despite all this, Nurmagomedov was awarded the win against Gleison Tibau via unanimous decision. And this was in spite of commentator Joe Rogan's dismay as he thought Khabib had lost the fight.
Related: When Khabib Nurmagomedov turned down "powerful" Saudi men's $100 million offer to fight Floyd Mayweather
Why was Khabib Nurmagomedov awarded the win against Gleison Tibau despite the stats saying otherwise?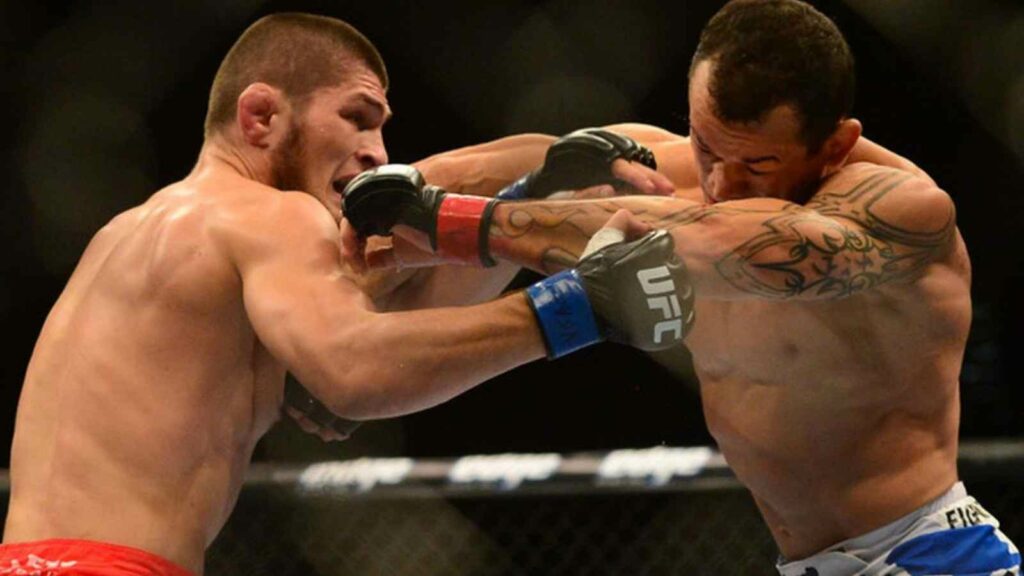 Was this fight really judged unfairly? Well, to understand that, one must first understand how UFC fights are scored. Each fight is scored round-by-round. And Khabib won the fight with a 28-25 margin, winning every round (10-9) despite Glieson's best efforts to neutralize him. And in essence, this is also why Nurmagomedov came out as the victor of this fight.
Throughout the entire fight, Khabib controlled the octagon, getting Gleeson up against the cage or getting him in a clinch. And despite not managing to get him down, Tibau spent most of the match defending the takedowns attempts of Khabib Nurmagomedov.
Also Read: "Significantly quicker guy" – Joe Rogan believes Alexander Volkanovski's speed may be a deciding factor against Islam Makhachev
Most of the Brazilian's energy and breath were spent attempting to neutralize The Eagle's offense. And unlike most of the Dagestani fighter's other opponents, he did so successfully. However, simply defending against an opponent's offense is not the way a match is won.
The match was mostly uneventful with neither fighter really managing to string together any meaningful offense. Despite this, Khabib Nurmagomedov kept the pressure on through all three rounds. And ultimately, this may have been what made all three judges score the fight in favor of the future Dagestani UFC lightweight champion. And regardless of what some may say, his perfect record will remain etched in UFC history.
Also Read: "If he can stop the…" – Michael Bisping believes Jan Blachowicz must do THIS to recapture the belt against Magomed Ankalaev