Kamaru Usman doubles down on jump to light heavyweight and finally gets a response from Jan Blachowicz who himself is a current title challenger and the former champion at the division. Usman, known as "Nigerian Nightmare" can't help but consider the future as he prepares to defend his welterweight title against old adversary Leon Edwards at UFC 278 in August for the sixth time in a row. 
Usman talked about moving up to light heavyweight and why he feels good about doing so during the UFC 278 Press conference Usman stated,"I'm still thinking about going to get that light heavyweight title, too, I just think I can beat some of those guys. Some! Before you all kill me, I said some. There are some killers in that division and I definitely respect that, but I think those guys who were at the top, there was a couple of guys out there that I would probably take out."
Related:- "Learnt that from Mcdaddy"- Fans brutally troll Kamaru Usman and Leon Edwards for mimicking Conor McGregor's trash talk
"Good fight for you bro and I fight Jiri"- Glover Teixeira subtly takes shot at Jan Blachowicz for engaging with Kamaru Usman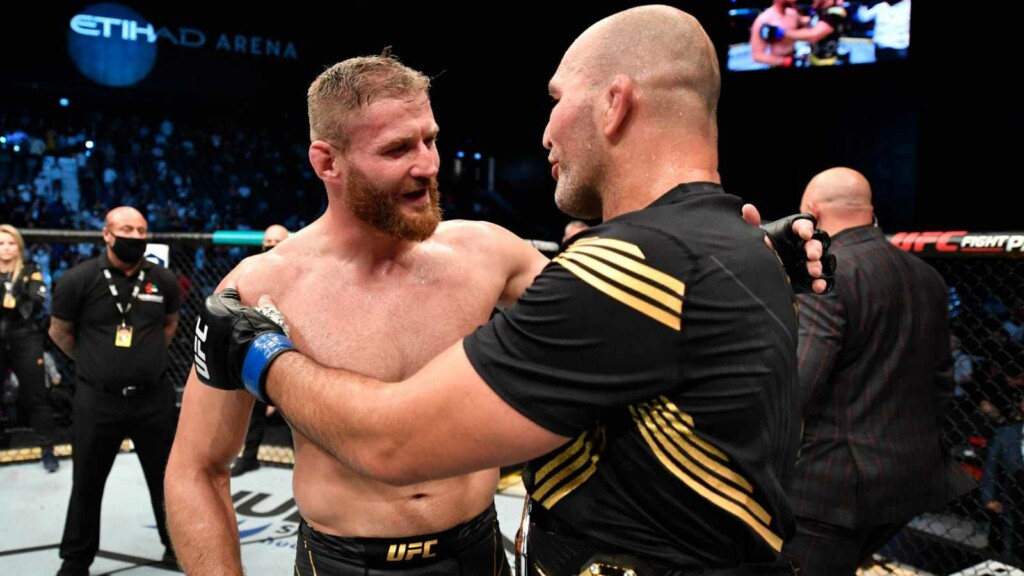 Usman and Blachowicz squared off during the UFC 276: "Adesanya vs. Cannonier" pay-per-view (PPV) event last weekend in Las Vegas. The event was a part of the promotion's International Fight Week, which saw a who's-who of MMA fighters in Las Vegas for a number of fan-friendly MMA events and sponsorship appearances.
Jan took to Social Media where in he stated, "So, you say people call you "The Nigerian Nightmare" … a monster. Good. I hunt monsters. Makes no difference how scary they are. Here is the said post:-
On the same post Teixeira, his former opponent took to comment wherein he stated, "Good fight for you bro and I fight jiri". It seems like the former champion and veteran of the sport is throwing shade at the fact that the former light-heavy-weight champion is entertaining fighting a Welterweight who clearly looks small in the frame in the face-off. Maybe Jan receiving credit for beating a middleweight in his first title defence thought would be accepted if he fights a welterweight. However, in reality the matchup between generates very few interest. However, you never know what's next in this sport, one can only sit back watch how the cards unfold.
Also read:- "I like silencing boos" – Kamaru Usman says Leon Edwards would have no advantage fighting in England
Also read:-Watch: Kamaru Usman and Leon Edwards bring back Conor McGregor's iconic 'Let's wrestle' moment at UFC 278 presser