Jiri Prochazka left home as a fighter but returned to the Czech Republic a Champion. To welcome their new champion, the people of the republic showed up in droves to show Jiri the love and adoration he deserves.
Prochazka faced Glover Texiera in a 5 round phone booth brawl at UFC 275. For the light heavyweight champion, the bout was Glover's first defense and the 42-year-old unfortunately came up short. In a back and forth fight that saw both men get shaken off their feet, Jiri was able to pull off the improbable feat of submitting Glover Texiera
As Round 5 progressed it was clear to everyone that despite Jiri's monumental effort he would come up short on the scorecards. Being the samurai he is, Jiri was able to come back in round 5 after being wobbled and taken down by Texiera. With less than 35 seconds to go on the clock, Jiri would sink in a hail Mary RNC to the truest sense of the phrase and to the shock of the world manage to make Texiera tap out with less than 28 seconds in the fight.
Related: UFC 275 referee Marc Goddard reveals why Jiri Prochazka tapped during fight against Glover Teixeira
Conor McGregor joins in to congratulate stablemate Jiri Prochazka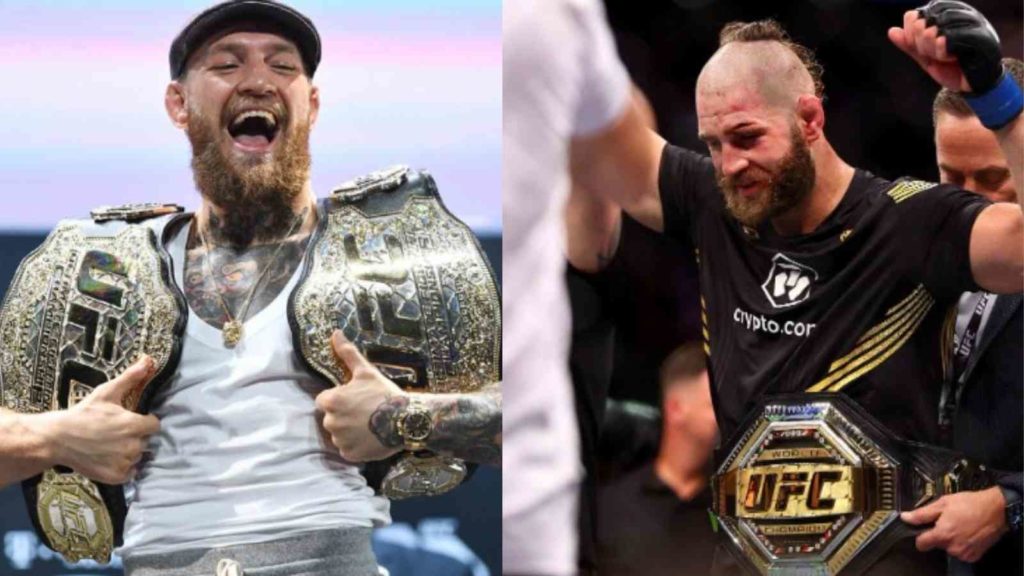 The finish came up as the second latest finish in a Championship fight in the UFC. After a fight that many argued was the greatest in light heavyweight history Jiri returned home to the absolute heroes welcome he deserved. First published by Paradigm sports, the video shows Jiri on stage holding up his championship in a packed Town Square in his hometown of Brno.
Fellow Paradigm management team member Conor McGregor also congratulated Jiri on receiving the triumphant welcome. He also said he felt a little jealous as all he had received was, "a howsya from Mary at baggage claim"
Jiri was also seen interacting with a few fans right in front of the stage. He is the first UFC champion in the history of the Czech Republic. After his victory calls for a European super fight between him and Jan Blachowicz has intensified, calls that Jiri has been much obliged to answer.
Also Read: Jiri Prochazka blows a kiss to Jan Blachowicz after historic title fight against Glover Teixeira at UFC 275
Also Read:
Also Read: "Congratulations"- Jiri Prochazka greets Zhang Weili after her victory at UFC 275