UFC welterweight champion Kamaru Usman and challenger Leon Edwards will square off for the second bout at Salt Lake City's Vivint Arena.
The UFC 278 pre-fight press conference took place Friday before the UFC 276 ceremonial weigh-ins, and the main event combatants, including Usman and Leon, were in attendance to address questions.
Usman and Edwards were met with endless questions by the press. Usman says he is "100 percent ready" to return to the Octagon after a recent surgical surgery to fix a ligament problem in his hand. Edward, while predicting his own title coronation with the opportunity to avenge his most recent loss in 2015, he tells how he would truly defeat Usman while facing the Pound-for-Pound.
Both competitors, though, recognised their opponent as a relatively advanced, competitive danger. In their first meeting, Edwards highlights his lack of experience in the octagon and believes that the Nigerian should demonstrate how he rose to the top.
Read: "Is he high"- Fans react to Dana White hailing Kamaru Usman as the greatest welterweight of all time
"Give it to me", Leon Edwards asks Kamaru Usman's Championship Belt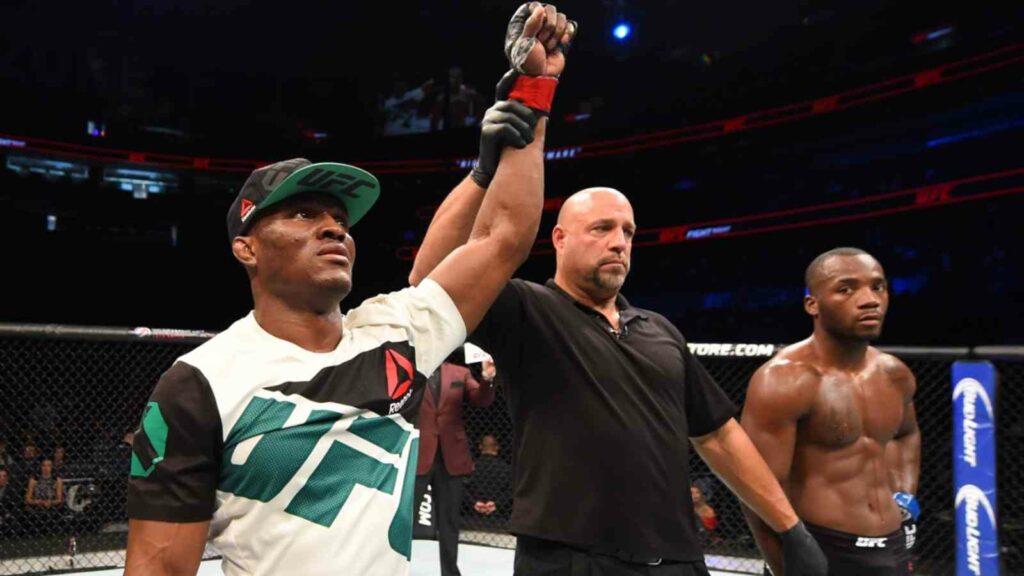 After a heated staredown, Kamaru Usman and Leon Edwards pose for a photo at UFC 278 Press conference. While doing so, Kamaru could be heard asking Edwards, "Do you want to touch it?" referring to his UFC belt, and when Edwards went out to grab it, Usman walks away, with title in hand. Edwards then shouts out, " Give it to me."
Usman has won 15 consecutive UFC fights, second only to Anderson Silva's 16-fight winning streak. Last November, the Nigerian won a unanimous decision over competitor Colby Covington at UFC 268. Usman has successfully defended his welterweight championship five times since obtaining it in March 2019.
Edwards on the other hand hasn't fought since beating Nate Diaz by unanimous decision at UFC 263 in June 2021. Since losing to Usman seven years ago, the Jamaican-born fighter has gone unbeaten in ten straight fights. Edwards has since defeated Vicente Luque, Donald Cerrone, and Rafael dos Anjos on his way to the championship bout.
Also Read: "He needs to beat Belal first"- Belal Muhammad hilariously trolls Ali Abdelaziz after calls for Kamaru Usman to move up to 205 lbs
Also Read: "I'll get my a** in shape"- Jorge Masvidal won't back away from a title shot opportunity against Leon Edwards