Khabib Nurmagomedov's retirement in 2021 took the MMA world by storm. He was at the peak of his powers when he retired after defeating Justin Gaethje at UFC 254. This fact alone has caused fans to yearn for his comeback to this very day. However, Khabib, who retired because of a promise he made to his mother, has stuck steadfastly to his word.
In his sit-down interview for Class A events, Khabib revealed why he was so resolute in his desire to stay retired. He explained, "Not only this promise, I follow, not only this promise to my mother. I follow everything about mother because you can have friends, or kids, whatever. You can have whatever you want, but you never gonna have one more mother. You have only one mother. For me it's everything." Khabib also revealed that his mother lived with him and that he still treats his mother "like a queen."
The idea of Khabib coming back for one last fight has been floated by many times. A rematch with Conor McGregor, an exhibition boxing match with Floyd Mayweather, and most recently, a fight against former lightweight champion, Charles Oliveira had he beaten Islam Makhachev at UFC 280. All of these ideas were thrown at Khabib Nurmagomedov for one last showing in combat sports. However, he declined them, instead choosing to honor the promise he made to his mother.
Related: "You're all out of your minds" – MMA Journalist shuts down GOAT shouts for Khabib Nurmagomedov in epic rant
Khabib Nurmagomedov once turned down an offer of $100 million to fight Floyd Mayweather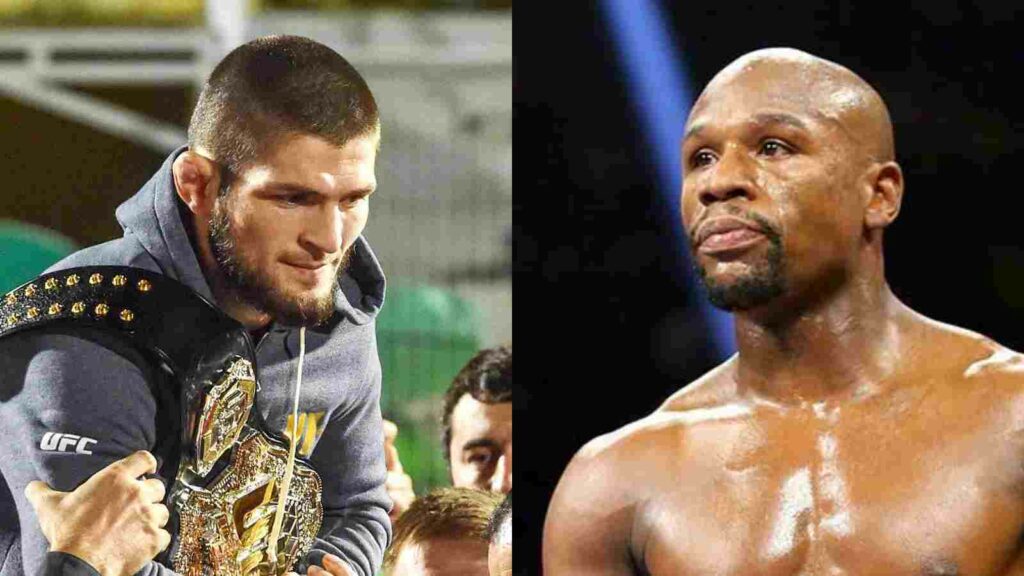 Khabib Nurmagomedov became a global superstar after his win over Conor McGregor and the conclusion of their insane rivalry. However, even before that, in 2017, he had the chance to become a multi-millionaire and gain huge notoriety by fighting one of the best boxers ever. As revealed by his manager Ali Abdelaziz, Khabib was once offered a $100 million deal to fight Floyd Mayweather Jr. aka, "Money" Mayweather.
Also Read: Joe Rogan discussed the possibility of advanced civilizations and ATLANTIS existing long before modern society
Ali said, "They want to pay Khabib a hundred million dollars to fight Floyd in Saudi Arabia." However, according to his manager, Khabib was not interested in the fight and was solely focused on fighting Tony Ferguson. Khabib was intent on cementing his legacy in the sport of MMA, and was not very interested in the money he could have made from boxing.
Also Read: "Michael Chandler's a quitter" – Jorge Masvidal believes Chandler doesn't have the attributes to become the BMF champion
In the end, neither of those fights ended up happening. Khabib vs Tony would go down as one of the greatest UFC lightweight bouts to never happen. And as for Floyd, he has since fought in a number of exhibition matches, most notably, in a boxing fight against kickboxer Tenshin Nasukawa, and influencer Logan Paul. Though a Khabib-Floyd match is an intriguing prospect, it seems fans will always be left wondering 'What If?'
Also Read: "He's getting bingoed" – Paddy Pimblett promises an EXPLOSIVE FINISH of Jared Gordon at UFC 282