Two of the best light heavyweight prospects on the UFC roster, Magomed Ankalaev (17-1 MMA, 8-1 UFC) and Anthony Smith (36-16 MMA, 11-6 UFC) kick-started the main card of UFC 277.
Ankalaev was on an 8-fight win streak, and he was looking to get the biggest one of his career against a true veteran, and the former title challenger. Smith was on a 3 fight win streak as well, and he wanted to derail the hype train.
Round 1 – Anthony and Magomed got to the center of the octagon but they took their sweet time to engage. Smith knew Magomed has power, and he wanted to get his timing right before coming in close. Smith started closing the distance with some leg kicks, but Magomed did a great job of defending them.
Magomed Ankalaev landed a leg kick that broke Anthony Smith's ankle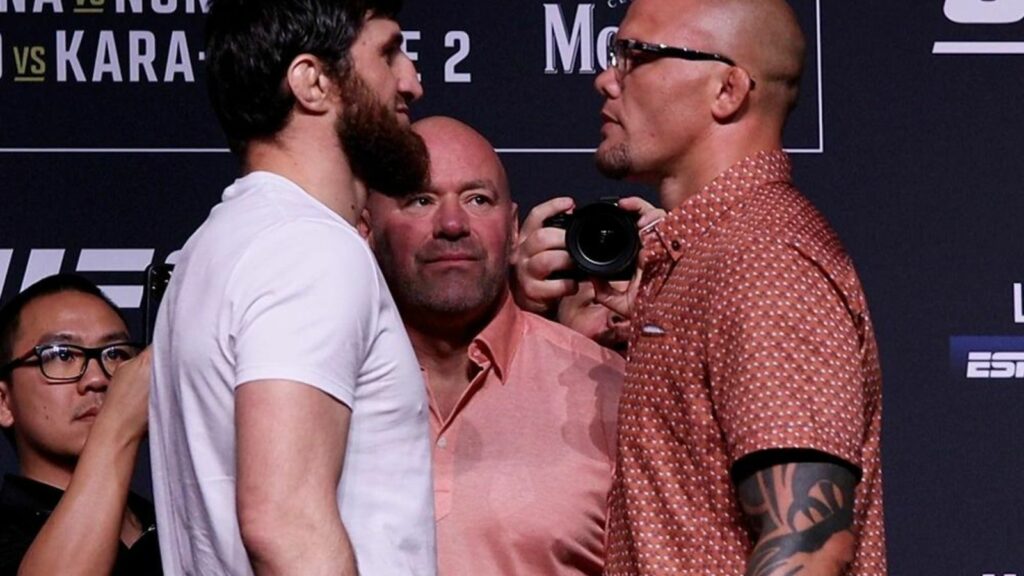 Smith was moving in close, inch by inch, but Magomed didn't really give him any chance to get going, and after landing some leg kicks of his own he started getting busy with his hand. Smith slipped while landing a combination, and he ended the last 30 seconds of the round on his back.
Round 2 – Smith told his corner that he was having some issues with his ankle, but he had no choice but to continue. He started putting pressure on his opponent, but Smith's ankle was definitely hindering his performance. Ankalaev landed a good punch that forced Smith against the fence.
He immediately took Smith to the ground and finished him with a barrage of punches. Great start to the main card of UFC 277.
Also read – "Perfect comeback"- Michael Bisping thinks Conor McGregor should make his comeback in a boxing fight versus Floyd Mayweather
Also read:- "Way more entertaining"- Jake Paul compares a potential fight against McGregor with the Irishman's rematch against Floyd Mayweather
Do follow us on Google News | Facebook | Instagram | Twitter