Santiago Ponzinibbio has not managed to find his right grove ever since he returned to the UFC in 2021, after a long 3 years lay-off. The Welterweight who is 2-1 in his last three will try to stay in the top ranks of welterweight against Brazillian viral sensation Michel Pereira. Periera the 28-year-old is still unranked but has gathered an undying fandom thanks to his antics in the octagon. A win over Santiago could land him in the top 15 at Welterweight.
Round 1
Heavy lateral movement from both athletes with the action being stopped after the first exchange after Santiago pokes Michel in the eye off of a retreating punch. Periera is on the backfoot as Santiago tries to land body shots, Periera tries to counter this by feinting a high knee. Santiago makes a wrong entry leading to an opening for Periera who lands a knee and pushes him to the cage.
Periera now goes on the offensive landing on Santiago while sliding his way out of counterpunches. Periera lands an overhand right at the 1-minute mark that wobbles Santiago. With 30 seconds left Ponzinibbio goes on the offensive landing a heavy leg kick followed by a body kick
Round 2
Michel Pereira opens the exchanges in round 2 with a heavy right cross, and pressures Ponzinibbio to the cage landing another knee that visibly shakes Ponzinibbio. Perriera swings a huge right hook and missed but follows up with a knee to the face of Ponzinibbio that partially lands.
Ponzinibbio stays out of range only entering to throw body shots. Perriera answers with an uppercut followed by a flurry of 3 punches A change of pace from Ponzinibbio in the second half of the round sees him swing and land some heavy shorts on Perriera. Perriera though on the backfoot regains momentum landing 4 of his 5 strike attempts. Ponzinibbio responds with a takedown at the 10-second mark and possibly seals the round in his favor.
Related: Tabatha Ricci triumphs in a spectacular 3-round affair against Polyana Viana at UFC Vegas 55
Michel Pereira inches out a split decision against Santiago Ponzinibbio at UFC Vegas 55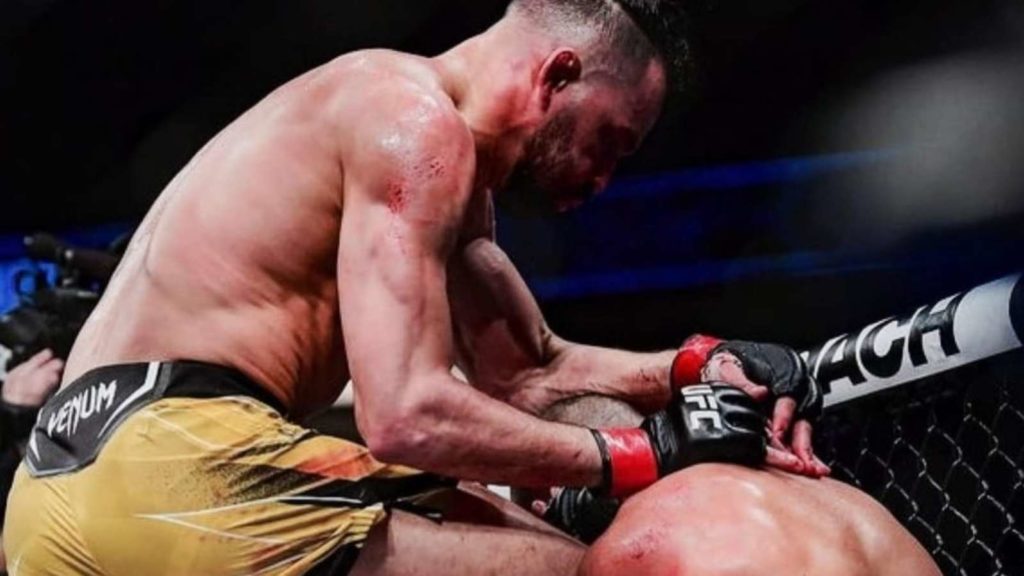 Round 3
Michel Pereira opens up the round with heavy swings and manages to land another knee to the face of Ponzinibbio while the argentine is on the cage and the back foot. Both fighters throw haymakers sensing urgency from both their corners. The fight is an excellent example of lateral movement and how to use it in MMA. Ponzinibbio lands a leg kick followed by 2 right hands and manages to walk out the way of Periera's counters.
Pereira lands a heavy front kick to the things with 2 minutes remaining. Ponzinibbio shoots for another takedown but fails to complete it. Both fighters start swinging at the 1-minute mark though Ponzinibbio is smarter about it, swinging out of Periera's punches' trajectory. The fight ends on the feet with both fighters landing on the face of the other, attested by their bloody faces.
Official Results: Michel Pereira wins by split decision
Also Read: UFC Vegas 55: Jun-Yong Park outclasses Eryk Anders to secure split-decision victory
Also Read: UFC Vegas 55: Holly Holm vs Ketlen Vieira fight preview, final prediction and betting odds