Nate Diaz, against all odds got the fairytale UFC send-off that a veteran like him deserved. Despite Dana White and the rest of the UFC brass' best attempts to build a young superstar at Nate's expense in his last fight, things just fell into place for Nate resulting in his final fight against Tony Ferguson.
However it's no secret that Nate was more exhausted than usual in his fight with Tony. Unlike fighters like Romero or Chandler who may have questionable gas tanks but manage to generate explosive power even in the later rounds, Nate is more consistent but ultimately lighter with his strikes, looking for constant connections rather than one big shot.
However there seemed to be a point in the fight where the Stockton native just totally gave up even trying and a recent episode of Thrill And Agony tells us why. After gaining the submission win over Tony, Nate can be seen talking with his boxing coach, Richard Perez on how he couldn't throw anymore punches during the fight.
"The whole camp I didn't punch, I was doing wrestling", said Diaz as he embraced his long-time coach. "So i was getting tired throwing those punches", revealed Nate with a smile as if he didn't mind it either. Perez would comfort Nate saying, " you were landing though" as the entire Diaz crew walked off into the sunset.
Related: "I'm only fighting The Rock" – Nate Diaz has bizarre call out for Hollywood superstar following final fight at UFC 279
Did Nate Diaz give up during his fight with Tony Ferguson?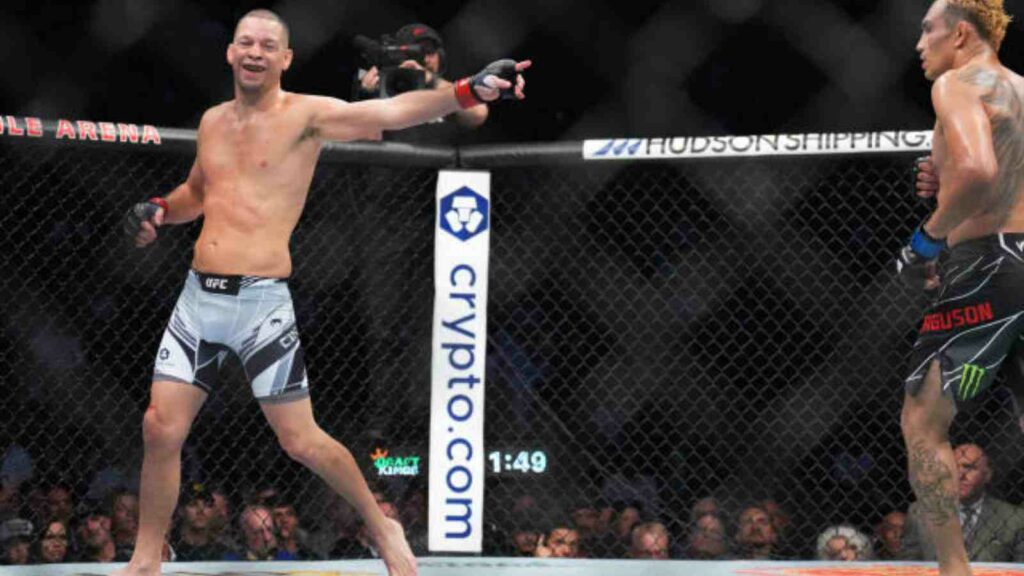 Nate was originally supposed to face Khamzat Chimaev but that fell off when the Chechen missed weight by 8lbs causing the entire event to be shuffled all over. The guillotine that Nate sunk on Ferguson looked eerily similar to the only counter many ex fighters like Dan Hardy kept saying Diaz could effectively utilize over Chimaev.
Even during his bout with Tony, there were certain points in the fight where Nate would turn his back on his opponent and seemingly be uninterested in continuing. The officiator of the bout Marc Goddard was even asked if he considered stopping the fight at that point.
Also Read: Here's how Nick Diaz prepared his brother Nate Diaz to have a captivating send-off against Tony Ferguson
"It was just a little Diaz gamesmanship! A couple of words & we were back at it! You have to read sometimes & not take things to literal", said Goddard as he revealed that the thought hadn't crossed his mind having much experience in his back pocket.
Also Read: "I would NOT advise that," Daniel Cormier speaks of Nate Diaz's chances of fighting in bare-knuckle boxing after enclosing UFC career