Brazilian mixed martial artist Tabatha Ricci is a flyweight UFC competitor with a record of 8 wins and 1 loss. Being a young woman with a lot of success, she is bound to expose herself in the dating scene. With a lot of encounters, she recalls this as the most embarrassing one.
On episode 88 of the 'S** and Violence with Rebel Girl' hosted by fellow UFC Fighter Ashlee "Rebel Girl" Evans-Smith, Ricci recollects her memory of a humiliating date she went on with a guy who wasn't well-endowed and how she had to make up an excuse to leave the date. Throughout the segment, she was brutally honest about what happened and how she felt about the whole situation.
In the interview, Tabatha Ricci went into detail to explain how as he 'put his pants out', she was shocked and had to pull the plug on the date that was perfect until then. "It was super fun and then I wanna like have s** with him." says the Brazilian fighter. Then went on to add "When he put his pants out, I was in shock." referring to her date's phallus.
'The Baby Shark' goes further deep into the story saying "Then I had to give some excuse, I was like, I can't do that" alluding to the fact that she didn't wanna advance the date that was going well. "Everything was perfect until that time," said Tabatha.
Tabitha Ricci says you better be the right size if you going to mess with her 😂 pic.twitter.com/Z8IGrnUZHG

— Jason Williams (@jasoneg33) March 27, 2023
Related: Tabatha Ricci triumphs in a spectacular 3-round affair against Polyana Viana at UFC Vegas 55
Fans react to Tabatha Ricci's embarrassing date story on Twitter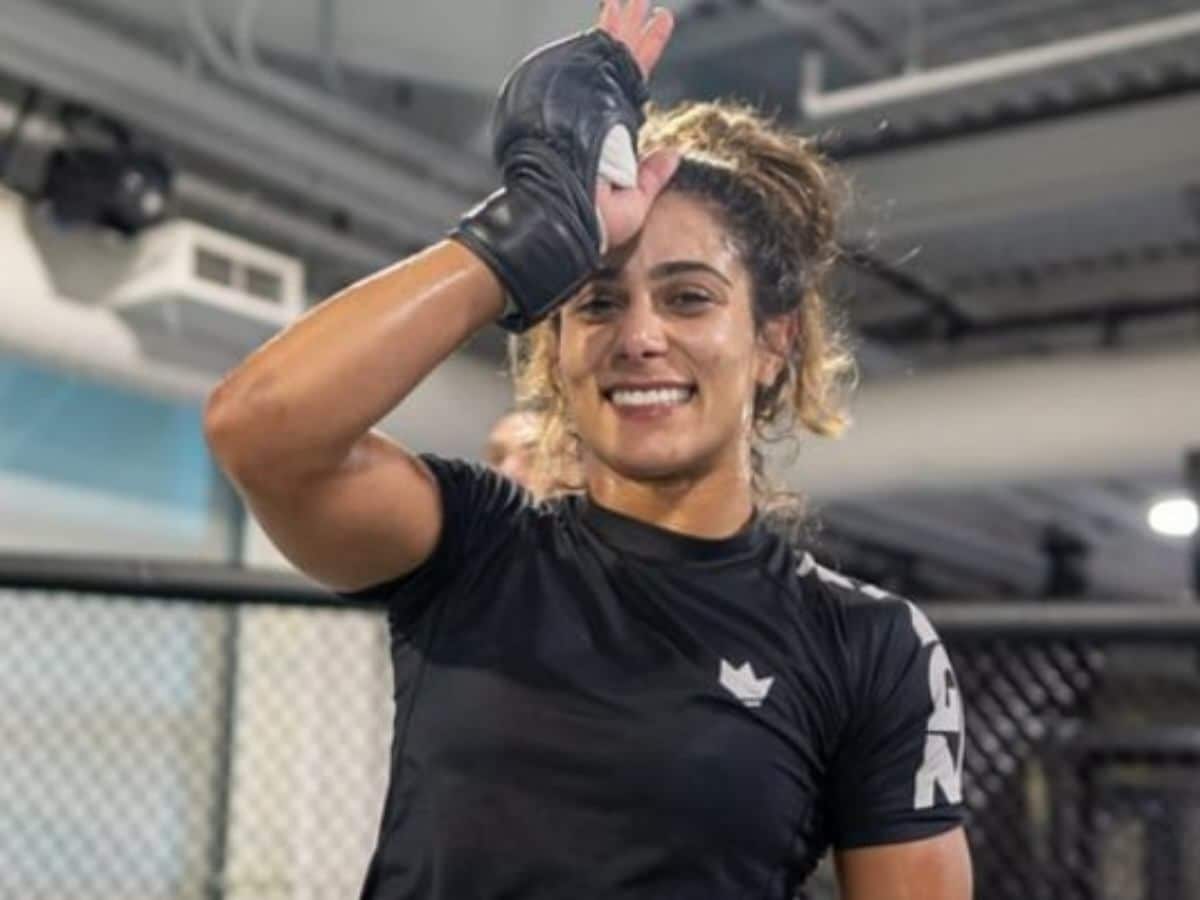 Fans of the Brazilian UFC fighter, upon listening to this interview, engage themselves in a Twitter thread where a small portion of the interview was clipped and posted.
The demographic of Tabitha Ricci's fans is dominated by men and they had their own thoughts about this funny story that the fighter shared. Some of them went as far as to say that they have 'lost their chance' against dating her. Here are some of the Twitter reactions to her embarrassing encounter:
Tabitha Ricci says you better be the right size if you going to mess with her 😂 pic.twitter.com/Z8IGrnUZHG

— Jason Williams (@jasoneg33) March 27, 2023
Jessi Law disagrees 😂😂😂 pic.twitter.com/CTIlZqjHlQ

— #Dizz (@TalkMMA) March 27, 2023
I bet he had a wonderful personality and would never cheat on her 💔

— 𝙃𝙖𝙡𝙖𝙡 𝘾𝙖𝙧𝙩𝙚𝙡🕋 (@badvibescartel) March 27, 2023
The guy that this happened to after listening to her tell this on a podcast 👇 pic.twitter.com/b7c7qBeEHM

— MMAPrecisionBets (@PrecisionMMA_) March 28, 2023
Oh well there goes my 0% chance

— SPG (@SletKentDome) March 27, 2023
🤣🤣🤣 she loves it pic.twitter.com/Q7UQrCpapQ

— Fernando Torres (@RadgeGoat23) March 28, 2023
Damn girl. Should have at least gave ole boy a chance.

— FrozenHell138 (@evilive1381) March 28, 2023
Tabatha Ricci recently beat tough competitors Jessica Penne and Polyana Viana. She recently revealed that she is not rushing into things and wants to get more experienced in the octagon. The fighter asks fans to have high hopes for her in the year 2023.
Incase you missed it:
"Make weight first," Veteran Jorge Masvidal has tough advice for 'pu**y' Khamzat Chimaev
"He doesn't lift weights," Jorge Masvidal leaves Joe Rogan in awe with the shocking fact about Yoel Romero