Conor McGregor and his feud with Khabib Nurmagomedov is a never-ending one! The Irishman and the Dagestani to date are going at each other despite fighting each other in the octagon four years ago.
Leading up to his fight against Dustin Poirier in 2021, McGregor was a wild boy on Twitter. The Irishman wouldn't shy away from getting into exchanges with random fans on the social media platform. One such exchange with a fan gave birth to one of the wildest tweets from Conor McGregor. And the Irish superstar has a lot of absurd tweets to pick from.
McGregor faced defeat to his nemesis Khabib Nurmagomedov at UFC 229 via submission in the fourth round. The Irishman was accused by many including the commentator Joe Rogan of using several illegal tricks to evade danger from Nurmagomedov's relentless grappling and pressure. One of the many accusations was that the Irishman held on to Nurmagomedov's shorts during the fight.
McGregor wrote a series of tweets trashing his biggest rival and in one of them he called the Dagestani, "Homophobic". Replying to one of the fan's criticism, McGregor wrote, "I wasn't holding his shorts! I was ramming my fingers up his homophobic a**. And just look at this happy face here. He loves it. He's a fingers in the bo*ty a** b**ch."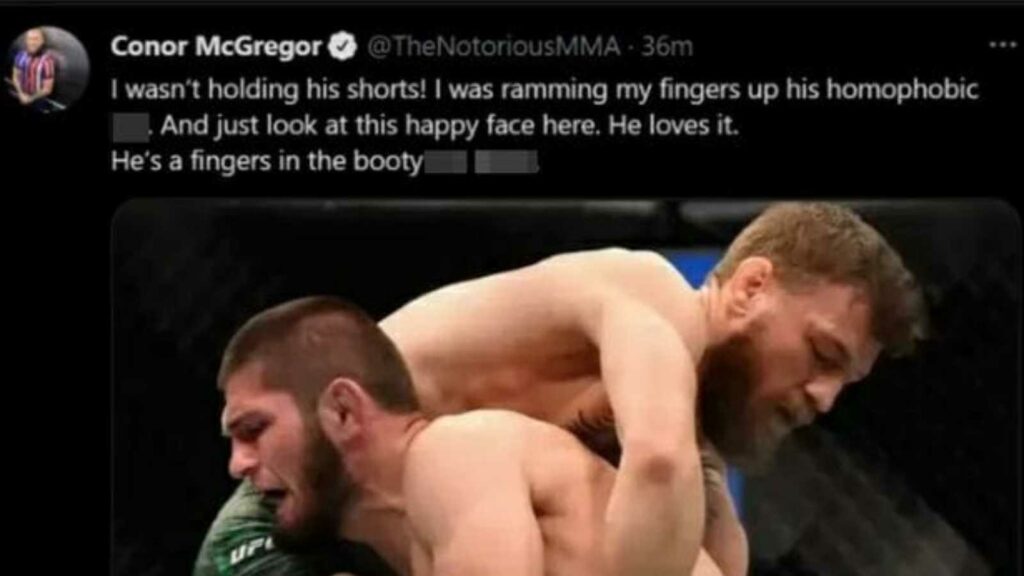 Surely enough McGregor deleted this controversial tweet. However, once you put something out in the Twittersphere, you can never fully erase it. Even if you managed to delete the tweet just hours after putting it out. The fans were quick to screenshot the image and this absurd tweet often resurfaces on the internet.
Read more: When Khabib Nurmagomedov turned down "powerful" Saudi men's $100 million offer to fight Floyd Mayweather
4 years later Conor McGregor still wants a rematch against Khabib Nurmagomedov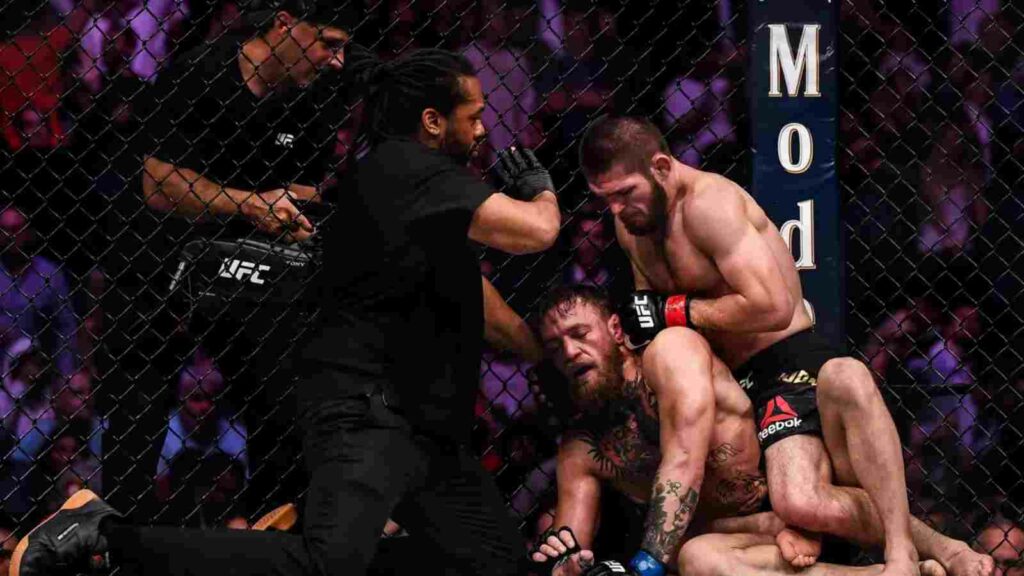 Not long ago, McGregor went on another rant about his past opponent, Khabib Nurmagomedov. The fighter is still not over the defeat he faced against the Dagestani at UFC 229 and is certain he can do wonders if he faces the former lightweight champion again. Unfortunately, the fans will never be able to see this super fight again.
After defeating Conor McGregor, Khabib went on to defend his title another two times and called retirement following the demise of his father, Abdulmanap Nurmagomedov. In a recent fight, McGregor, like the true Dubliner he is, wrote, "2 or the bang of poo," in a tweet posting a picture of his fight against Nurmagomedov.
Also read: HILARIOUS doorbell video shows Paddy Pimblett apologizing to neighbor for his dog's "sloppy sh**" outside their house
Sat here wondering what on earth does he mean with this tweet pic.twitter.com/myw4KIxqP1

— Brock's Load (@_MMAMindset) November 27, 2022
The tweet pretty much translates to Conor McGregor saying if Nurmagomedov doesn't fight him another time in a rematch, the Dagestani smells of "poo". "The Eagle" has said multiple times since his retirement that he won't be fighting again. McGregor, on the other hand, is recovering from a devastating injury and is hopeful to make a return in 2023.
Also read: 'Most disgusting thing ever…other than fighter pay' – Fans left shocked as Dana White ruins Thanksgiving Dinner in new "F**k it Friday" episode