UFC commentator Joe Rogan and former fighter Brendan Schaub have been friends for a long time. The former UFC fighter was advised by the popular podcast host and commentary veteran to quit fighting and move to a different career field.
In one of the episodes of the Fighter and The Kid podcast, hosted by Brendan Schaub and his comedian friend, Bryan Callen, UFC commentator Joe Rogan had one of the most honest conversations with Schaub about his fighting career. Schaub, losing to Travis Browne made Rogan believe that Schaub would never be able to beat elite fighters like Cain Velasquez and Junior Dos Santos.
At UFC 181, Schaub lost to Travis Browne via TKO in the very first round. Rogan on the podcast honestly said to his friend, Schaub that he believes he's too late into fighting and should probably consider switching careers. "If you had a wrestling match with Cain Velasquez, how will do you think you'd do?" asked Rogan to Schaub. The former fighter replied, "I think people would be surprised."
"Really? You think so? I think you'd be surprised. I really do. I think he'd f**k you up. I say that as a friend and a guy who loves you. I think he's just on another level," said Rogan as he continued to be brutally honest with the fighter. Rogan admitted to Brendan Schaub that he doesn't think he is a championship-material fighter.
greatest joe rogan podcast momentpic.twitter.com/5KDkDP6Wov

— Dovy🔌 (@DovySimuMMA) November 26, 2022
Prior to the podcast, the UFC heavyweight was coming off two straight losses against two of the best heavyweight fighters, Travis Browne, and Andrei Arlovski. Schaub retired after the Browne fight with a record of 6-5 in his UFC career.
Read more: "So Dumb" – Joe Rogan has no time for Brendan Schaub's conspiracy theory about UFC 279
Joe Rogan believes Cain Velasquez is the best heavyweight of all time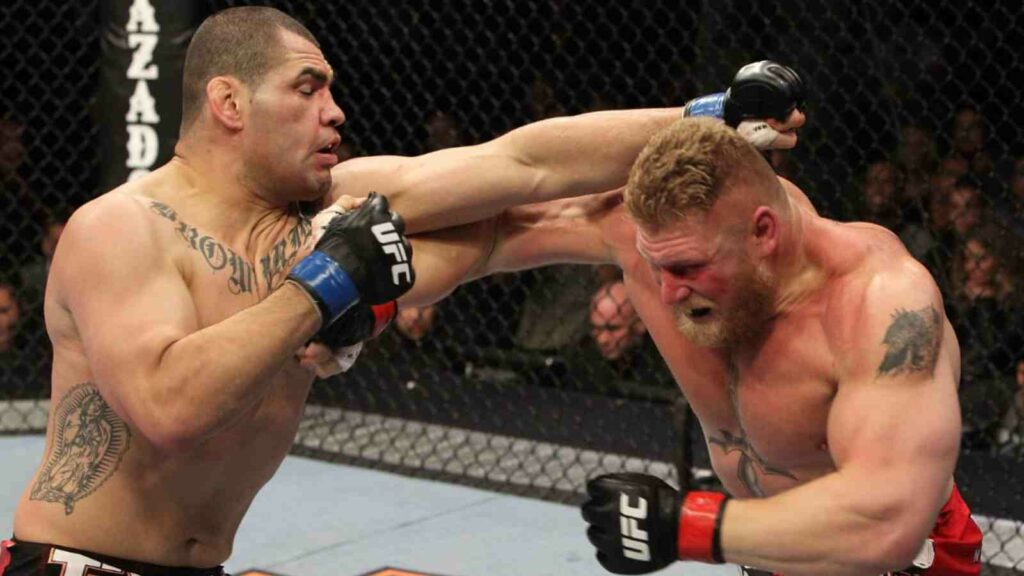 When Joe Rogan said that Cain Velasquez would "f**k up" Brendan Schaub, he fully believed in that. The UFC commentator strongly believes that the fighter from AKA (American Kickboxing Academy) in San Jose is the greatest heavyweight fighter of all time in the UFC. And Velasquez's resume and time in the UFC truly back up Rogan's claims.
One of the main reasons that made Cain Velasquez a great fighter in Rogan's book was his cardio as a heavyweight. According to the podcast host, the former champion was a rare breed of heavyweight fighter that could punch and hit like a heavyweight but also move like a fighter from the lower weight classes. That's what made Cain special to Joe Rogan.
Also read: "Send his a** to prison"- Netizens shockingly rally against Cain Velasquez after the former champ gets bailed
"It didn't even make any sense. His cardio was great. When he was in his prime, here's a thing about prime when people talk about the greatest of all time. I put Cain in that category," said Rogan in his JRE MMA podcast episode #117.
Also read: "If she ever lose I will leave MMA" – Ali Abdelaziz's old tweet gets dug up following Kayla Harrison's biggest upset defeat to Larissa Pacheco at PFL