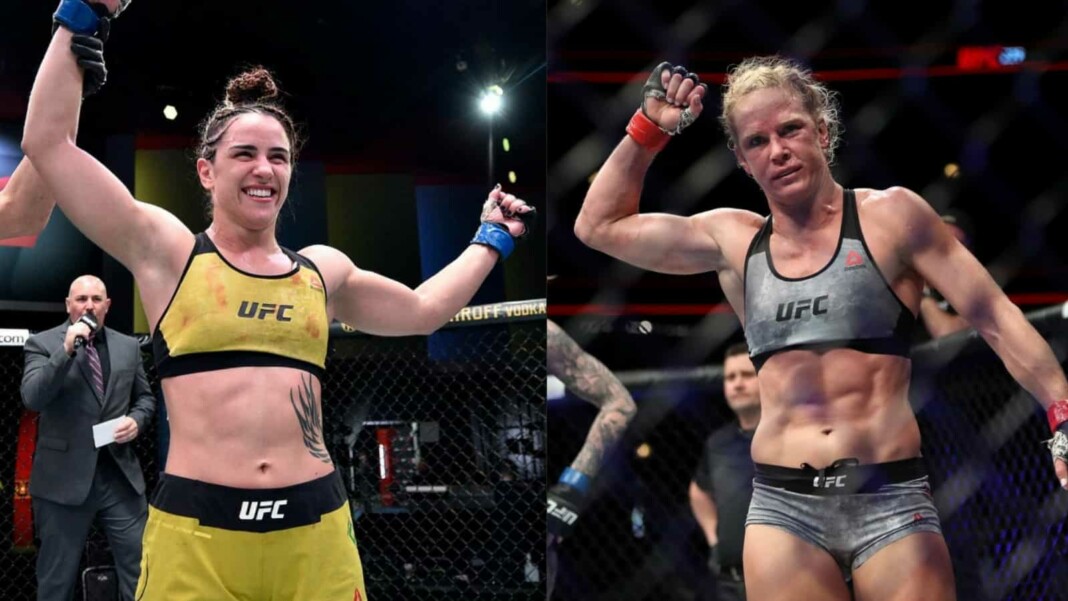 UFC women's featherweight "The Immortal" Norma Dumont is on the top of her world with a dominant unanimous win against debuting featherweight Aspen Ladd at UFC Vegas 40. Dumont is on a three-fight winning streak and therefore has some rights to make some callouts of her own, including what she just asked. Dumont is seeking an interim title belt on the line in a potential fight against former UFC bantamweight champion Holly Holm.
This comes from her post-fight media scrum where Dumont tells multiple media outlets through a Portuguese translator talking about her win and the match-up with Holly Holm. For those who aren't aware, Dumont was originally supposed to fight Holm at this fight card but Holm had to pull out on short notice due to some reason. This paved the way for Aspen Ladd's entry into the featherweight division since she was facing weight cut issues at bantamweight.
Here's what Norma Dumont had to say about her potential matchup with Holly Holm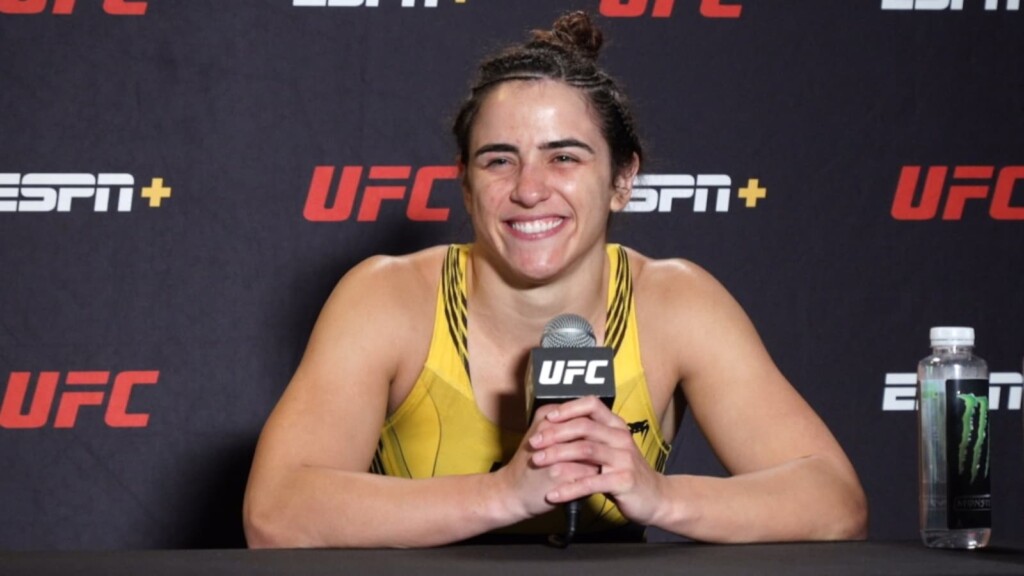 Dumont first covers her fight with Aspen Ladd, which has been widely criticized as an extremely boring fight due to Ladd's inactivity. "I knew (Ladd) was going to give me a fun fight… Aspen did exactly what she does in her other fights," Dumont said, "except this time she actually faced a fighter that can hit her, can stop her from doing it… She's not a fool. She knew if she came towards me I was going to knock her out."
Dumont then had her easygoing take on getting a title shot against reigning champion Amanda Nunes. "It's a division where we don't know who we're fighting," Dumont said. "I'm going to leave it to the hands of UFC. I've never backed down from a fight. I'm going to continue to prepare at the gym and I hope it is a big name and I hope it is the main event, as well, because I thought this was pretty cool."
Next up is where Dumont opens up for an inter-title fight with Holm "I don't want the division to get stagnant. I want us to have fights, so I'm totally willing to have that fight. I understand Amanda is going to do a title defense and then later on a possible fight with Valentina (Shevchenko), so we'd only be able to meet mid-year next year. I definitely don't want to be not fighting that long. I think a fight, even for interim belt with Holly, could bring some attention to the division and have other athletes come into the division with the winner of this fight to go on and face Amanda."
Dumont has surely earned her place in the title conversation, so if it has to be an interim one for now, maybe that's a good idea. Holly Holm can also use this opportunity to get another run at the featherweight title and perhaps avenge her loss to Amanda Nunes. The UFC is yet to decide what's next for Dumont and Holm separately as of now.
Also Read: Bellator 268: Vadim Nemkov dominates, submits Julius Anglickas to retain the light-heavyweight title at the main event