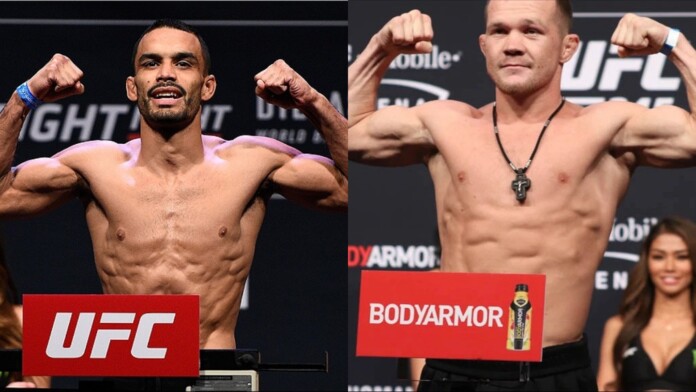 Petr Yan has hit back at Rob Font after he recently claimed that he would like to fight Yan for the interim bantamweight belt. Font's comments didn't sit well with the Russian because he is awaiting a title rematch against Aljamain Sterling after he lost his belt due to disqualification.
Speaking to What the Heck with Mike Heck, Font had claimed, "Best case scenario? They give me Petr Yan right now and we get it going. Maybe do it for an interim belt, but I doubt that happens. We'll see what's up, but give me Petr Yan. He's the only one available, the fans want to see exciting fights and I know that's an exciting fight and then I'll take care of the belt for him. Just sit back, don't worry about the belt, I'll take it for him."
'Don't try to bite off more than you can chew' – Petr Yan
Petr Yan took to Twitter to respond to the claims from Font. He warned him to not bite off more than he could chew, while also dragging Cody Garbrandt into the discussion, referring to him as Cody No Chin.
Yan tweeted, "Don't try to bite off more than you can chew. You couldn't even knock Cody No Chin out with your pillow hands."
Petr Yan is waiting for a rematch against Aljamain Sterling. The date for the fight has not been revealed as of yet. Rob Font, on the other hand, cemented his position as the number 3 ranked bantamweight contender after beating Cody Grabrandt, he might possibly take on the winner of the upcoming fight between Cory Sandhagen and TJ Dillashaw.
If Font manages to win one more fight, he might go on to possibly face Petr Yan as he wishes. But in order to do that, he will have to go through some of the toughest bantamweights in modern times.
Also Read : Who won the heated rematch between Jon Jones and Daniel Cormier?
Also Read : UFC confirms that TJ Dillashaw vs Cory Sandhagen has been rebooked for July 24