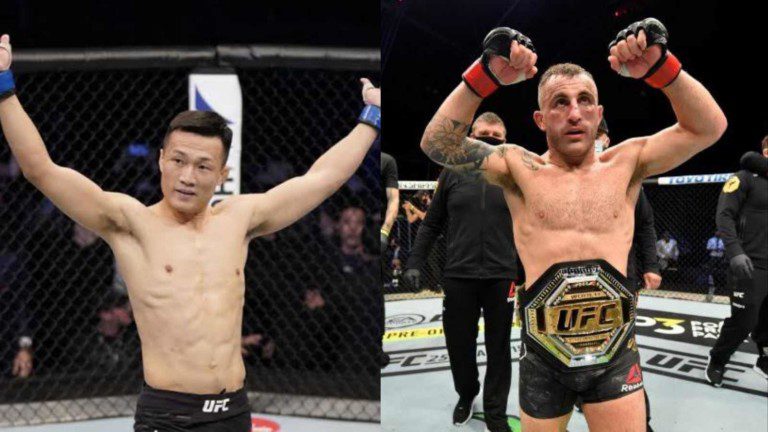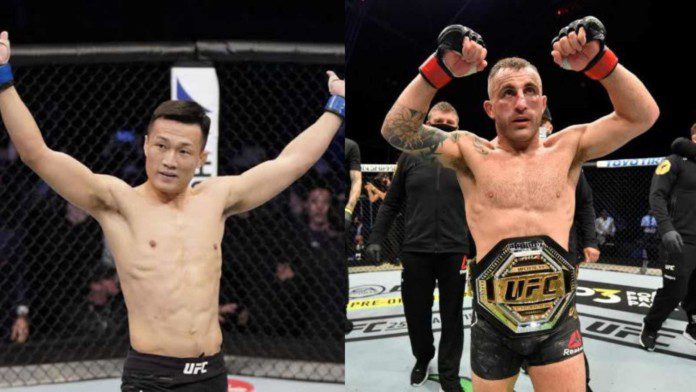 The Alexander Volkanovski – The Korean Zombie showdown in April has gotten a lot of heat packing up amidst the MMA community. A lot of big names in the MMA world like Dan Hooker, Henry Cejudo, Urijah Faber, Gilbert Burns, and Javier Mendez give their thoughts on how the fight might probably go down.
Helen Yee talks to the bunch and peeks into their minds who know quite a lot about the two fighters and fighting. All of them unanimously (Except Cejudo) say that the Champ is probably going to reign longer and that this just might be a hiccup he faces. Alex did receive quite the praise from Gilbert Burns, who said that Volkanovski was looking 'Crazy' and was looking like a 'Terminator' in that division and added that he would keep his belt, no doubt.
Coach Javier Mendez also praises Volkanovski and says that "Maan he's is just really good, I think it would be a fun fight for the fans but I think the champ keeps the title" while adding that we could never know and The Korean Zombie might just pull up an upset for all the Volk fans out there.
Urijah Faber says that he had trained with Zombie a long time ago and praises his standup, says that it's 'fluid' and that Zombie is 'lanky' but thinks that the champ Alex will have an edge over TKZ as he can be very pressurizing and durable making him a tough match for Zombie. Faber also believes that Alex would keep his belt but is indeed excited for the fight.
Henry Cejudo on the other hand has been apparently helping Zombie to prepare for Alex says that there's no doubt that it's an uphill battle and reveals that he advised TKZ to go for that 'One big punch' and not to have the trade-off with Alex. "We're adjusting Zombie more so than what Alex has been adjusted to." and believes that if he were Zombie he'd beat him.
Related: Watch: Alexander Volkanovski analyses his escape from Brian Ortega's guillotine choke at UFC 266
"Volkanovski is gonna take the fight, Yeah" Ilia Topuria picks Alexander Volkanovski for the win
When asked what will happen when Alex defends his belt against 'The Korean Zombie' Chan Sung Jung later this year, Topuria didn't waste any time in giving a formal prediction. "Volkanovski is gonna take the fight, yeah. I think so. Volkanovski is gonna take the fight."
Topuria won against Jai Herbert at UFC London the past week which was also the highest-grossing fight night in the history of the UFC.
Dan Hooker adds his POV and says that it's as easy as 1+1 and isn't hard MMA math, as he believes that Alexander will keep the belt. Dan also stands by his statement of Alex knocking TKZ out cold and that Zombie would definitely get hit as the champ hits too hard.
Also read: "The weight off my shoulders"- Alexander Volkanovski highlights a change in mentality and the effect of social media