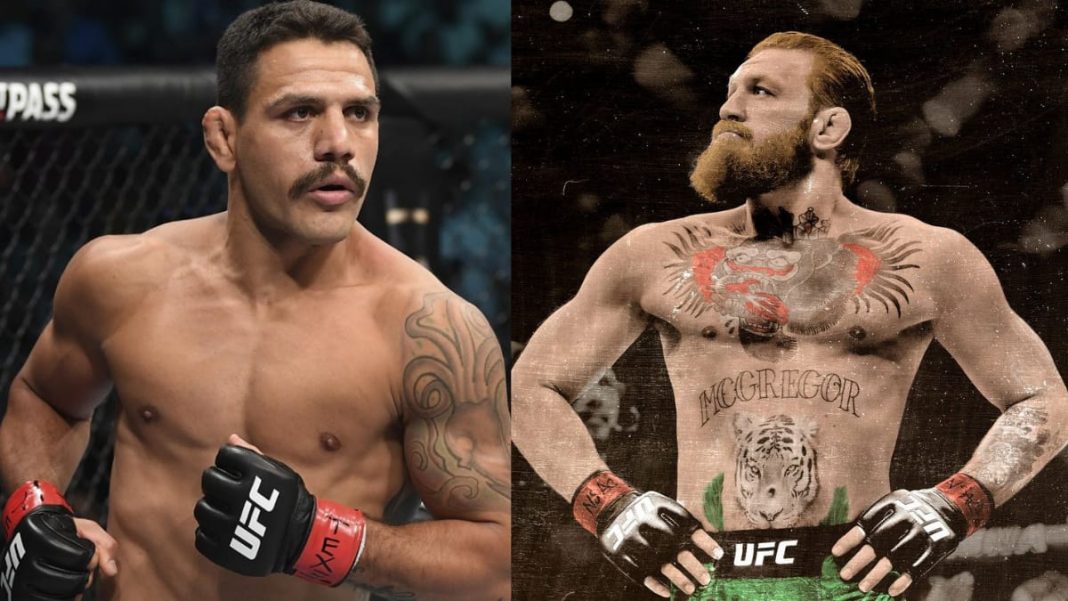 Rafael dos Anjos was at the T-Mobile Arena in Las Vegas for the weigh-ins. The reason? He will be the backup fighter for the trilogy fight between Conor McGregor and Dustin Poirier. He successfully made weight, and took to Twitter to rip apart McGregor. The former lightweight champion called 'The Irishman' a snake.
Just yesterday, McGregor claimed that he would fight both dos Anjos and Poirier at the same time inside the Octagon, if given a chance. This didn't sit well with Rafael dos Anjos as he branded McGregor an alcoholic. And now he has once again hit back at the Irishman, following the weigh-ins.
'Sneaking from behind and playing tough' – Rafael dos Anjos does not hold back
Rafael dos Anjos' tweet read, "Conor you're such a snake, sneaking from behind and playing tough. Soon or later we will finish business. I'm not like the guys you play around with."
McGregor and dos Anjos have had their history. At UFC 196, it was supposed to be McGregor vs Dos Anjos, and not McGregor vs Nate Diaz. However, dos Anjos withdrew at the last moment due to a foot injury. Diaz then stepped in, and handed McGregor his first-ever UFC loss.
And more recently, dos Anjos' weigh-in at UFC 264 might probably do him a world of good. This is exactly what Michael Chandler did during the Khabib Nurmagomedov vs Justin Gaethje fight at UFC 254. A freshly-joined Chandler was ready to be the backup, cut weight, and was present at the Fight Island. Almost six months later, he fought for the lightweight title.
Although, RDA's position in the rankings isn't too high, he has very well reminded that he would be going nowhere.
Also Read: Instagram Rich List 2021: Conor McGregor and Floyd Mayweather feature in the top 100
Also Read: Sean O'Malley Net Worth, MMA Career, Income, Personal life, earnings and more