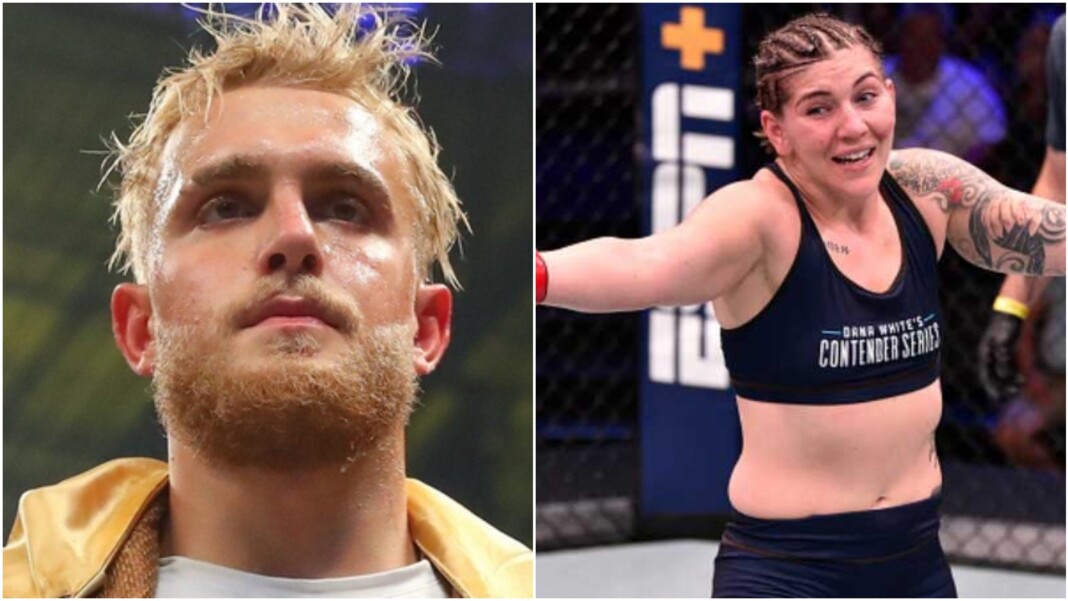 The fighter debate issue is being blown wide open very often of late. Recently, Sarah Alpar who is set to take on Erin Blanchfield on the 18th of September, recently started a GoFundMe page to help her cover the costs for the training preparation, training camp and several others.
Despite being in the biggest MMA promotion in the world, Alpar has been reduced to such a sad state, which begs the question – 'Are the second and third-tier fighters being payed a decent amount?' In her request to fans on Instagram, Alpar said, "If you want to donate even $5, $10, anything is so helpful in order for me to be able to focus on training and to be able to win my next fight. I want to thank everybody again for the donations that have already been put in. I would like to make a goal of $1000 by July 1. Let's make this happen, you guys. I need your help, I need your help."
"Imagine a rookie in the NBA had to start a GoFundMe" – Jake Paul
Thankfully she has been receiving a ton of donations, and more recently YouTuber-turned-boxer Jake Paul donated Alpar a whopping $5000. Paul wrote on his Twitter, "SMH… Imagine a rookie in the NBA had to start a GoFundMe to play.. I let Sarah @TOOSWEET_Alpar know she has my support and contribution It's my honor and privilege to help fellow fighters in anyway I can."
Paul had been the one who blew open the fighter pay issue recently. In an inspiring speech following his faceoff against Tyron Woodley, Paul blasted UFC President Dana White for not paying what they deserved.
Sarah Alpar responds to Jake Paul's $5000 donation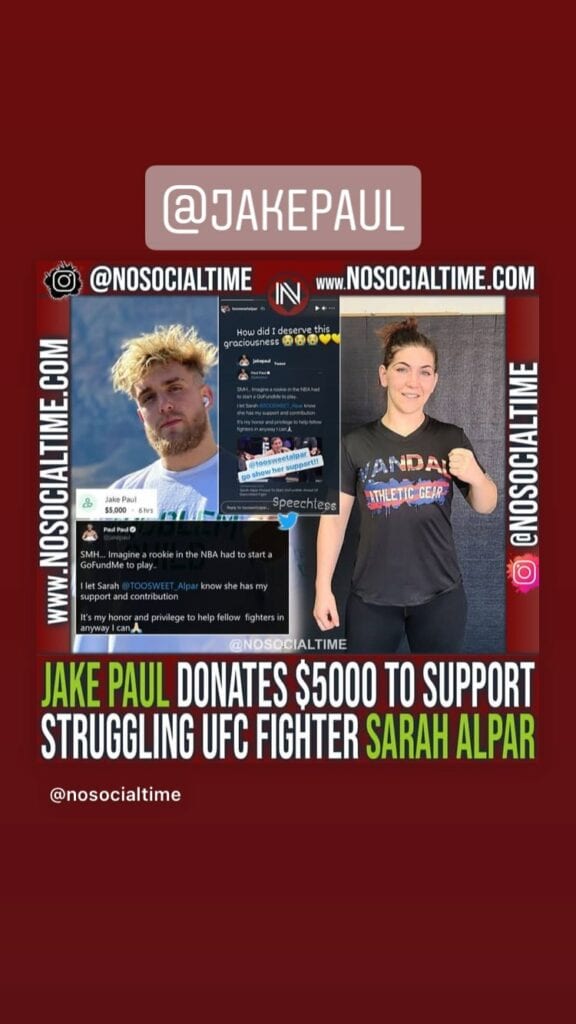 Alpar was elated following Jake Paul's donation. Taking to Instagram Stories, she expressed her gratitude towards Paul. She also wrote, "How did I deserve this graciousness?."
Paul has been gaining a lot of support and followers from the MMA community of late. However, he will be looking forward to making a statement on the 28th of August when he takes on Tyron Woodley in his fourth professional fight.
Paul then expressed his delight, as Sarah Alpar raised $34201. He wrote – So happy to see Sarah hit her goal." Alpar then replied tweeting, "I'm so so grateful. Thank You!"
Also Read : Conor McGregor fastest knockout: What is The Irishman's fastest KO and how many knockouts does he hav
Also Read : "All respect but I thought he would fight anyone" – Khamzat Chimaev turned down a fight against Luke Rockhold