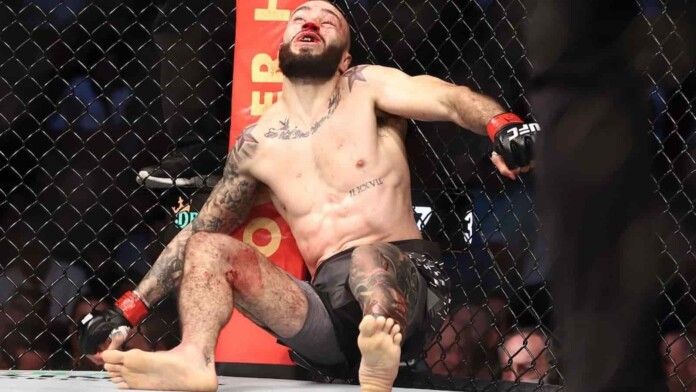 Shane Burgos didn't have the night he expected at UFC 262. He was going toe-to-toe with Edson Barboza until the final round of his featherweight bout against the Brazilian. But, then something really weird happened. Burgos was caught by a right hook from Barboza. He ate it and appeared to be steady and unaffected. However, after 5 seconds his body gradually started shutting down, as he went crashing into the cage.
Barboza won the fight via. TKO. Fans watching were left worried, but Burgos regained consciousness a while later. He took to Instagram to thank everyone for their support. He also mentioned that it was an honour to fight Edson Barboza, while assuring that he will be back soon.
'Overwhelmed by all the love and support I've been getting' – Shane Burgos
Burgos wrote, "Overwhelmed by all the love and support I've been getting. This sport can bring the highest highs of highs and the lowest of lows. Disappointed is an understatement for how I'm feeling but it is what it is, all I can do is learn and grow from it. Gonna take some time off to spend with my wife and daughters but excited to get back in there later in the year and show a better version of myself."
He thanked Barboza: "It was an honor to share the cage with @edsonbarbozajr it was his night and he has all my respect! Thank u to my team, family, friends and all the fans for the support. This is all part of God's plan and I trust it. I will keep chasing greatness.. #AlwaysForward"
'It freaked me out' – Dana White on Shane Burgos' KO loss
UFC President Dana White was worried too. He thought something bad had happened, because of the way Burgos fell down. White then revealed that he made sure Burgos went straight to the hospital despite regaining consciousness.
White said, "It freaked me out…The way he was lying there, I thought something bad had happened."
Also Read : 'I don't give a f**k about you' – Dana White goes off on a violent rant against Oscar de La Hoya and Triller Productions
Also Read : Anthony Joshua vs Tyson Fury set to take place on the 14th of August 2021; Tyson Fury confirms on social media