The UFC has some explaining to do to their biggest star, Conor McGregor after their UFC store mishap. There seems to be a toy on the UFC store that resembles the infamous "Sleepy Conor McGregor" pose from UFC 257.
In January of 2021, Conor McGregor took on Dustin Poirier for a rematch at UFC 257. The Irishman faced his first-ever TKO loss in UFC that fight as Poirier dropped him. Following that TKO, McGregor was seen in a sleeping position inside the octagon which was one of the most used images for memes as it till today circulates the internet.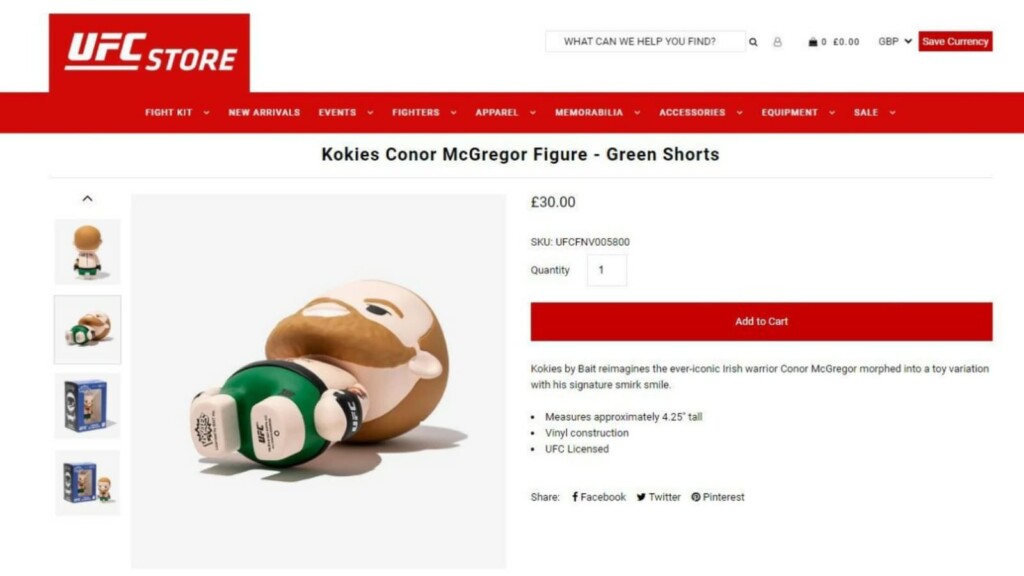 The MMA organization's website is popular for selling memorabilia and action figures. Recently an action figure which strongly resembled the UFC 257 pose was put out for sale in the official UFC store. It is a Kokies figure of the Irishman which is available for 30 pounds. "Kokies by Bait reimagines the ever-iconic Irish warrior Conor McGregor morphed into a toy variation with his signature smirk smile," reads the description of the figure.
How Jake Paul and Dustin Poirier made fun of "Sleepy Conor McGregor"
While the second fight between the two lightweight fighters might have been really respectful, things went downhill during the trilogy fight at UFC 264. Both the fighters were spiteful towards each other and the trolling went overboard. Even YouTube boxer Jake Paul got into the mix with his Sleepy McGregor Chain which apparently was customized for $100k.
Jake then gave the chain to Dustin after the trilogy got over and Poirier won the fight again via TKO but this time through doctor stoppage. Poirier gave a shout-out to Jake for making the chain and decided to auction it for $500k for his foundation.
Also read: "He f*cked up," Jake Paul denies Tyron Woodley a rematch after the UFC champ broke the "Tattoo bet"