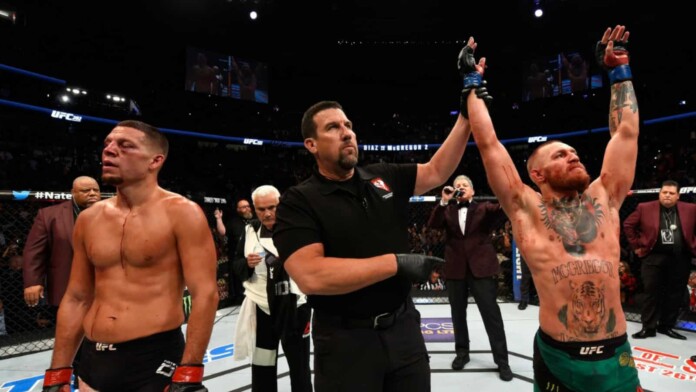 At a time when "The Notorious" Conor McGregor was deemed to be unbeatable, Nate Diaz handed the Irishman a humiliating defeat. McGregor vs Diaz was one of the biggest fights in the history of combat sports. Nate Diaz though he was an extremely tough and top fighter, no one ever saw him beating the great Conor McGregor.
Nate Diaz proved the world wrong in the first bout they fought at UFC 196. Conor and his fans couldn't believe what had just happened, UFC sure enough booked a rematch for McGregor vs Diaz just 5 months later. This time Conor was all set and prepared for his welterweight bout. Nate Diaz was as confident one could be. Though Diaz had no belt he sure did leave a chip on the Irishman's shoulder. That found Conor walking into the rematch.
McGregor vs Diaz 2, unlike the first bout went on for all five rounds. At the end of 25 minutes, Conor's hand was raised. 'The Notorious One' won by decision that led to mixed feelings in the viewers. A mix of both joy and anger. A very close bout that had all the viewers to the edge of their seats. Nate Diaz landed a total of 166 significant strikes and McGregor a total of 164 strikes at the end of McGregor vs Diaz 2.
Nate Diaz yells "What the f*ck" after Conor McGregor's hand gets raised
Nate Diaz was not necessarily happy after he watched his opponent's hand being raised by the referee as the judges declared Conor the winner by majority decision. McGregor on the other hand was very gracious with his victory and gave props to the fighter from Stockton. "You've got to respect Nate and the style of fighting that he brings," McGregor told the media during the post-fight press conference. "How can you not?"
A lot of fans sure could not believe that McGregor won by majority decision after the fight. But to be fair to the judges, the fight was a very close fight. Every round both fighters came out and showed why they were the best to do this sport. Read ahead to see how the judges scored the rounds at McGregor vs Diaz 2.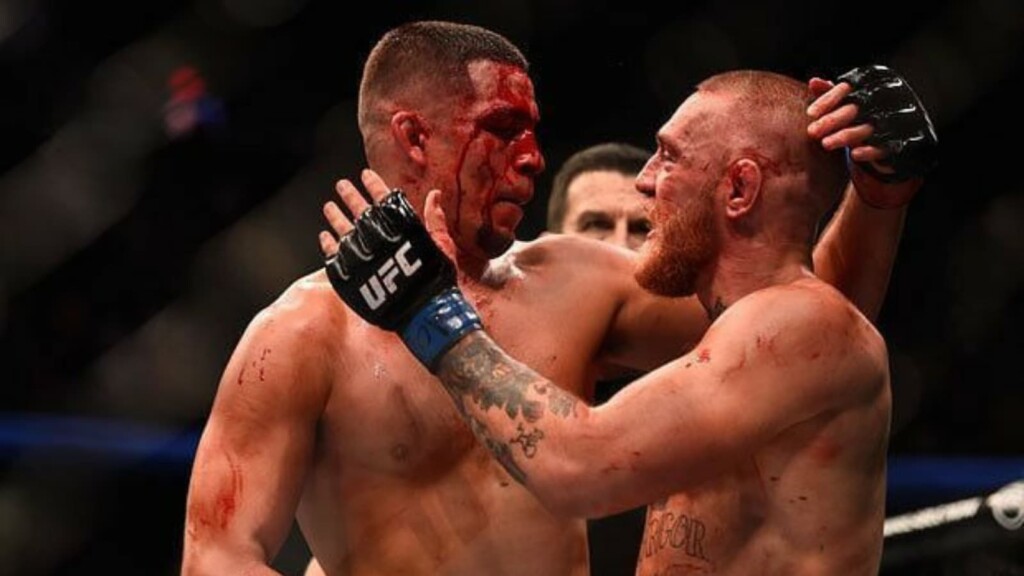 How did the judges score McGregor vs Diaz 2?
Round 1:
| | |
| --- | --- |
| Derek Cleary | 10-9 McGregor |
| Jeff Mullen | 10-9 McGregor |
| Glenn Trowbridge | 10-9 McGregor |
McGregor played it smart coming into the first round as he decided to not rush things he usually does and save his gas in the tank. Diaz with his wide stance allowed his opponent to dominate him with leg kicks. Conor even knocked the Stockton fighter down in the beginning. Conor landed a total of 34 strikes and Nate a total of 25.
Round 2:
| | |
| --- | --- |
| Derek Cleary | 10-9 McGregor |
| Jeff Mullen | 10-9 McGregor |
| Glenn Trowbridge | 10-9 McGregor |
This time, by the end of round 2 both the fighters landed 71 significant strikes. Conor still had the edge over Nate with his leg kicks and couple haymakers. But Nate seemed to get his rhythm by the end of the rounds.
Round 3:
| | |
| --- | --- |
| Derek Cleary | 10-9 Diaz |
| Jeff Mullen | 10-9 Diaz |
| Glenn Trowbridge | 10-9 Diaz |
There was no doubt that Diaz dominated Conor in this round. "How much gas fighters have left in their tank?" started to play a huge role in this round. At the end of the third round Diaz completely destroyed Conor in 'Diaz style' throwing punch after punch.
Round 4:
| | |
| --- | --- |
| Derek Cleary | 10-9 Mcgregor |
| Jeff Mullen | 10-9 Mcgregor |
| Glenn Trowbridge | 10-9 Mcgregor |
Conor felt like he had to prove something after the beating so he came back stronger. And boy did he fight well. We had never seen Conor switch up this well in the past. Conor landed a total of 46 strikes which was 10 more than that of Diaz.
Round 5:
| | | |
| --- | --- | --- |
| Derek Cleary | 10-9 Diaz | 48-47 McGregor |
| Jeff Mullen | 10-9 Diaz | 48-47 McGregor |
| Glenn Trowbridge | 10-9 Diaz | 47-47 Draw |
The whole show of McGregor vs Diaz 2 boiled down to this round. Diaz was dripping in blood sitting in his corner after the round 4. But as the bell went for the final round, the bleeding meant nothing to the Stockton gangster. According the judges card, he needed a finish, but Diaz thought differently. This round showed how tired both the fighters were as Nate put Conor against the cage and it was mostly a stalemate.
Make McGregor vs Diaz 3 happen
It has been 5 years since one of the greatest rematches in the history of UFC. Conor McGregor is now training to take on Dustin Poirier for the trilogy fight which is tied 1-1 just like McGregor vs Diaz. Once the Poirier fight is over, I think the UFC should be driving towards another trilogy for Conor. Nate is making his return to the octagon at UFC 263 against Leon Edwards.
There is so no doubt that a trilogy fight between Conor McGregor and Nate Diaz would be a house-filled packed show. The UFC fans have missed what it feels like when both two fighters who go at each other and give everything fight in the octagon. So Dana White please make this happen. A trilogy is the only way to settle the debate between Diaz and McGregor.
Also read: "Thank you for everything," Dana White reveals what 'elated' Charles Oliveira said to him at UFC 262