| | |
| --- | --- |
| Name | TJ Dillashaw |
| Net Worth | $3 million |
| Nickname | "Lieutenant Dan" |
| Age | 35 years old |
| Residence | Denver, Colorado |
| Marital Status | Married |
| Sources of Wealth | Mixed Martial Arts |
| MMA record | 17-4-0 |
| Last Updated | July 2021 |
TJ Dillashaw is one of the greatest bantamweight fighters of all time. TJ Dillashaw net worth is estimated to be around $3 million. He is a former two-time bantamweight champion, was suspended for two years by the USADA for testing positive for EPO. He now returns to the octagon after a long time looking to capture the title once again. TJ Dillashaw net worth predominantly comes from his MMA career.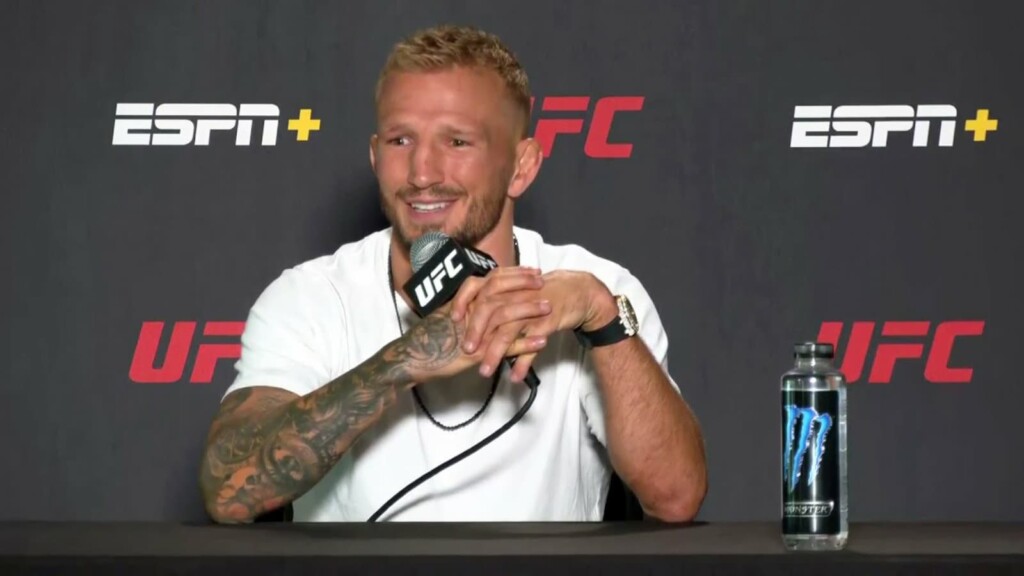 TJ Dillashaw was born on February 7, 1986, in Sonora, California. He stands at a height of 5 ft 6 in tall and competes primarily in the bantamweight division of the UFC. He is a former two-time champion and his successful career has added to TJ Dillashaw net worth.
TJ Dillashaw net worth 2021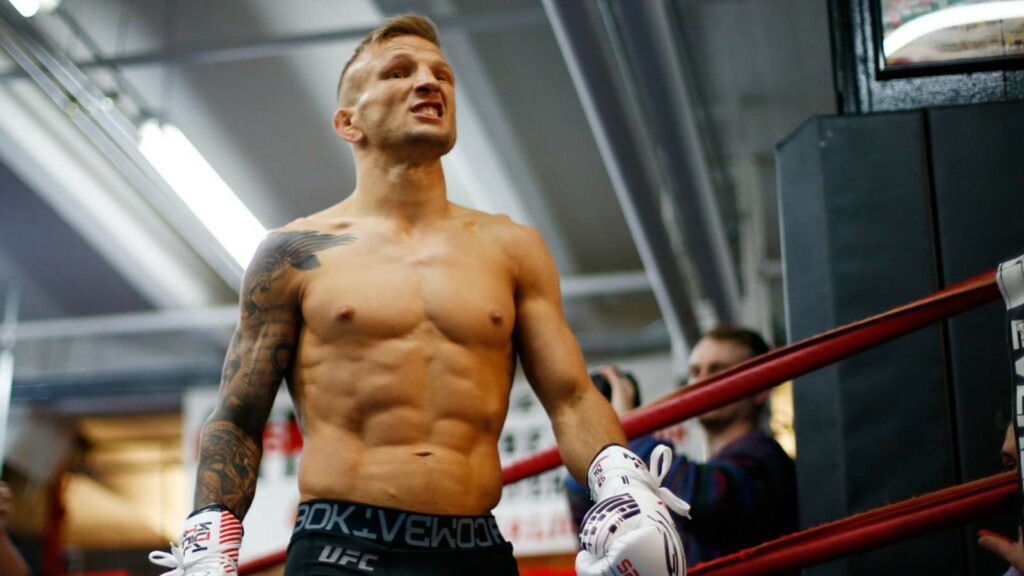 According to Celebrity Net Worth, TJ Dillashaw net worth is estimated to be around $3 million. Most of his riches come from having a very dominant run in the UFC. He started earning when he was in high school. TJ saw the most significant increase in his net worth around the years 2019 and 2020. The fighter doesn't have any major endorsements given his ban.
TJ secured his biggest paychecks in the last two fights, against Cody Garbrandt and Henry Cejudo. He won against Cody and took home a paycheck of $440,000. Not only did he take home the fighter's purse, but he also got a Performance of the Night bonus for that fight which was a hefty $50,000. Out of his $3 million net worth, $2,214,000 come from the UFC.
TJ Dillashaw fighting career
Dillashaw made his professional MMA debut in the year 2010. In 2011, he signed with the Ultimate Fighting Championship to take part in The Ultimate Fighter: Team Bisping vs. Team Miller. Later he made his official debut on December 3, 2011, at The Ultimate Fighter 14 finale. When Dillashaw beat Renan Barao via TKO to become the Bantamweight champion, he became a popular name in the UFC. Not only did dominate that fight he took home both the Fight of The Night and Performance of the Night bonus.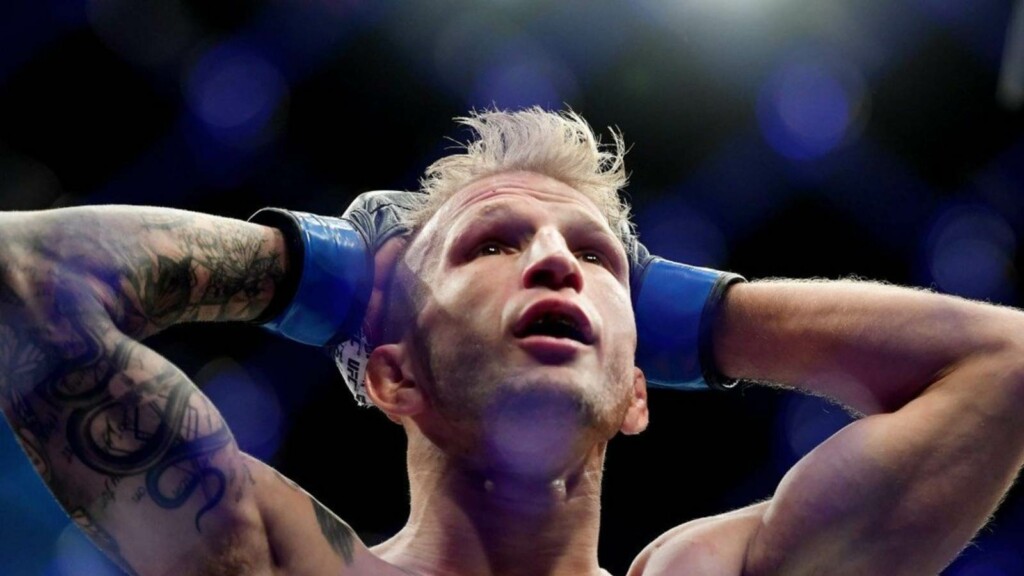 Another important career highlight was his matchups with Cody Garbarndt and a super fight with Henry Cejudo. The bout against Cejudo was contested at Flyweight and TJ attempted to become a two-division champion but became a failure as he got knocked out within 32 seconds. The biggest turnaround in his career came when the USADA banned the champion for the consumption of EPO which is a performance enhancement drug. He had to vacate his bantamweight title after that.
TJ Dillashaw personal life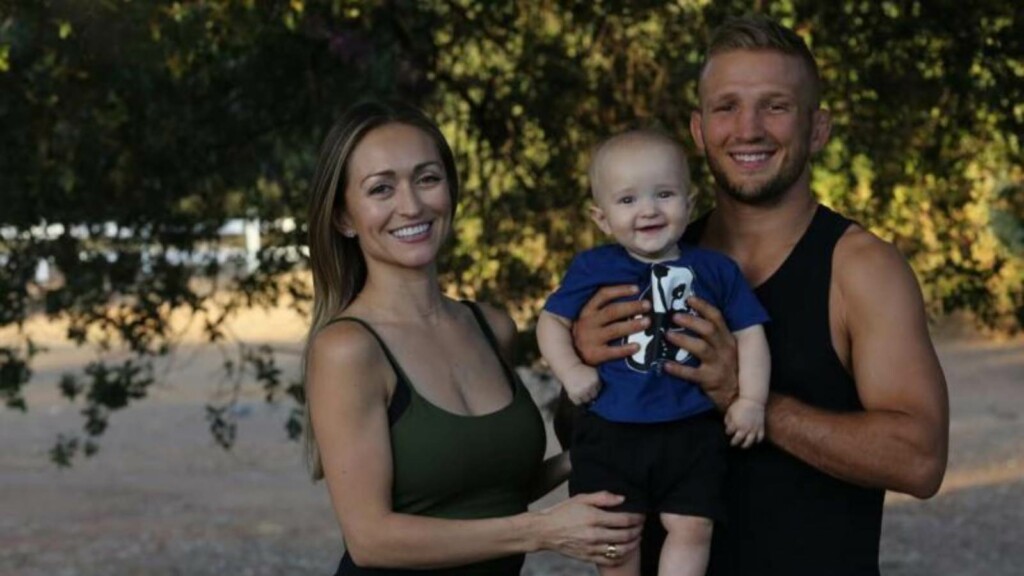 TJ is married to his wife, Rebecca Dillashaw. He got married in June 2014 and they are still together. The beautiful couple also has a son by the name of Bronson Jack Dillashaw. They live in Denver, Colorado. The fighter is now training under the former UFC fighter, Duane Ludwig.
Q. How much is TJ Dillashaw net worth?
TJ Dillashaw net worth is estimated to be around $4 million.
Q. Is TJ Dillashaw married?
Yes, the former UFC champion is married to his wife Rebecca.
Q. Why was TJ Dillashaw banned?
TJ Dillashaw was banned for having tested positive for EPO.
Q. Is TJ Dillashaw returning to fight?
Yes. TJ Dillashaw is scheduled to fight Cory Sandhagen at UFC Vegas 32.
Also read: Miesha Tate Net Worth, MMA Career, Income, Personal life, massive earnings, and more